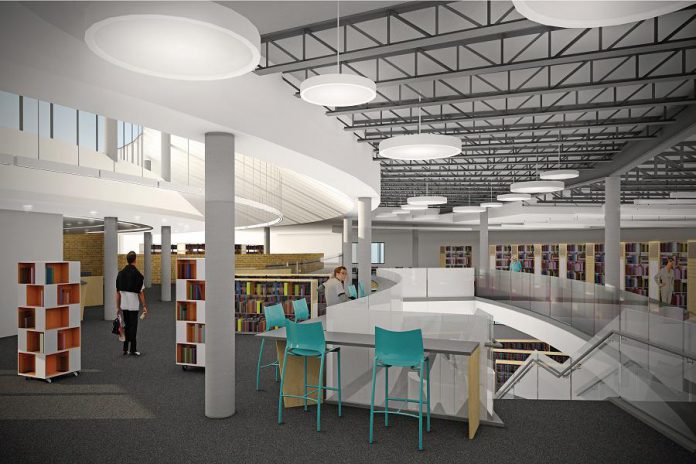 The Peterborough Public Library has shared a first look of the interior of the new library, slated for completion in the late summer of 2017.
The design rendering was created in collaboration with +VG Architects and Intercede Design Consultants.
"The objective with the interior space was to accentuate the existing curving design of the original architecture while transforming it to an open, airy and bright active community hub," says Nicole Crabtree, Associate Partner at +VG Architects.
The Peterborough Public Library has been operating temporarily out of the lower level of Peterborough Square while the Main Branch on Aylmer Street has been under major renovations since June 2016. Now that demolition is complete, the construction of the addition has begun.
The integrity and shape of the building has stayed relatively the same, but everything else about this Peterborough landmark is being updated. From the new addition and glass entryway to the open concept design, the new library will be a flexible community space. There will be upgraded lighting, more windows and natural light, new floors, an updated HVAC system, and a number of new amenities which will make the library a bright and inviting space for the community to explore.
Seen in the image is one of the highlights of this project: the central staircase that leads down to the children's area on the lower level. Accessible public seating wraps around the staircase, allowing patrons to use the library's computers on one side, or sit comfortably enjoying a beverage from the onsite café on the other.
Visible at the far end of the image is the wall that once concealed the upper level of the library. It as been partially removed to create an inviting entrance into a completely re-imagined space. This upper level will be home to the Library's new teen zone, the café, a new mid-size program room, and three smaller study/meeting rooms.
More details will be coming as the project gets closer to completion. You can see updates about the renovation project on the library website at www.peterborough.library.on.ca.