January. Back to work full force, back to school. If you're not a full-fledged snowthusiast then you might be feeling the mid-winter meltdown creeping in. Luckily, there's no lack of activity, entertainment and talent in Peterborough and the Kawarthas for you to choose from. There is so much going on (and more every year) that I have a challenge limiting my picks. So this week's list is designed to get some glow back in your January blues. Oh, and just so we're clear — we're 69 days to the first day of spring!
---
Snofest! Because January.
Snofest is back of course and it's on for the full month. Snofest Idol wrapped up this past weekend, with the winner — 16-year-old Snelgrove Eadie, a Thomas A. Stewart Grade 11 student — announced at Showplace Performance Centre.
Carnival on the Hill happens on Saturday, January 21st, starting with the Mayor's Pancake Breakfast followed by fun events indoors and outdoors beside the Liftlock canal and at the Peterborough Museum and Archives.
Speaking of the Liftlock canal, keep an eye out for our canal skating updates as conditions freeze further (and thaw, and freeze). Here is our most recent update.
For the full lineup of Snofest events in one convenient place, check out our Snofest column.
It's hot inside the Market Hall this month with Mudmen, Lee Harvey Osmond, Broadway Gender Benders, and more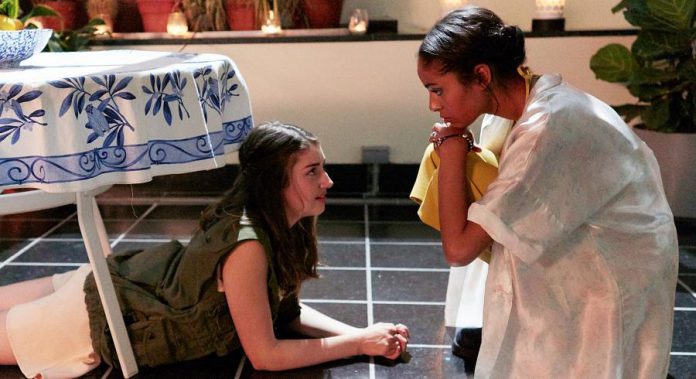 Kudos to the Market Hall (140 Charlotte St., Peterborough) for presenting extra shows and bringing in some unusual events and hot acts this season.
This Thursday night, A71 Entertainment — founded by Peterborough's own Chad Maker and Kirk Comrie — presents Canadian indie film Sadie's Last Days on Earth at 7:30 p.m. This movie isn't playing in local theatres and it's a one-night-only screening. More event details are here and make sure to read Sam Tweedle's exclusive interview with co-producer and actor Paula Brancati.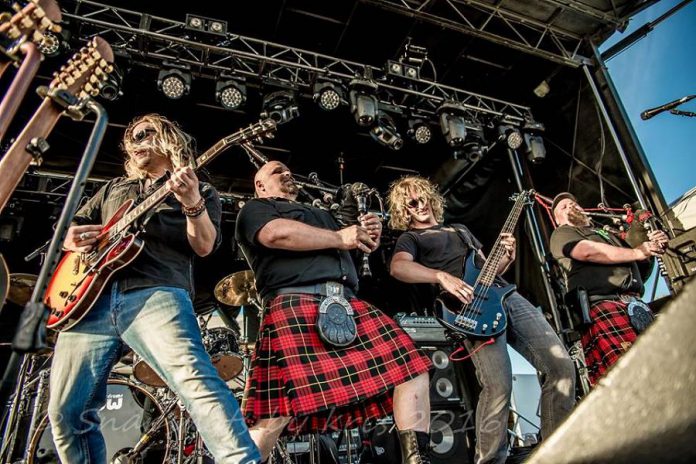 Then on Saturday night, Mudmen will definitely heat up the Market Hall stage starting at 8 p.m. Always entertaining and definitely unique, Mudmen are a blast of Celtic energy whose members — including the bagpipe-playing Campbell brothers — are known to be characters both on and off stage. And they're challenging you to wear some plaid. Read our music writer Josh Fewing's interview with Robby Campbell.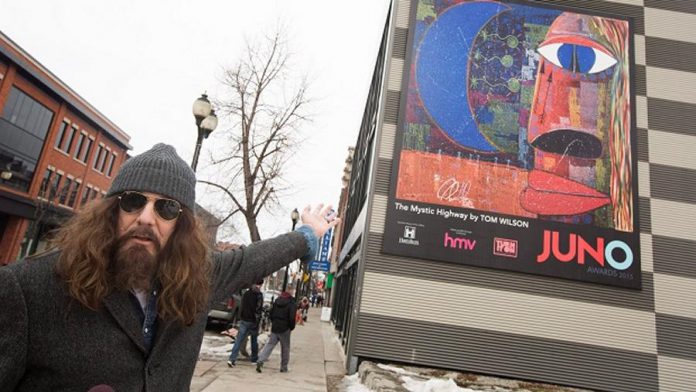 And next Thursday (January 19), Tom Wilson is back as Lee Harvey Osmond with his very talented band made up of his son Thompson Wilson, drummer Ray Farrugia (formerly of Junkhouse), and pedal steel talent Aaron Goldstein. Tom's a renaissance man, a lot of fun on stage and these are some of the best musicians in Canada. Does it get better than that? Read our interview with Tom by Josh Fewings.
Also at the Market Hall next Friday night (January 20) is New Stages Theatre Company's annual Cabaret Night. It's typically a sellout, so don't delay and get your tickets now. This year's theme is "Broadway Gender Benders", when some of Canada's (and Peterborough's) finest musical theatre performers sing songs from roles they would never be cast to play. This promises to be one of the most exciting and unique nights of theatre all year.
Bobcaygeon gets lucky with Mayhemingways this Friday the 13th at the Kawartha Coffee Co.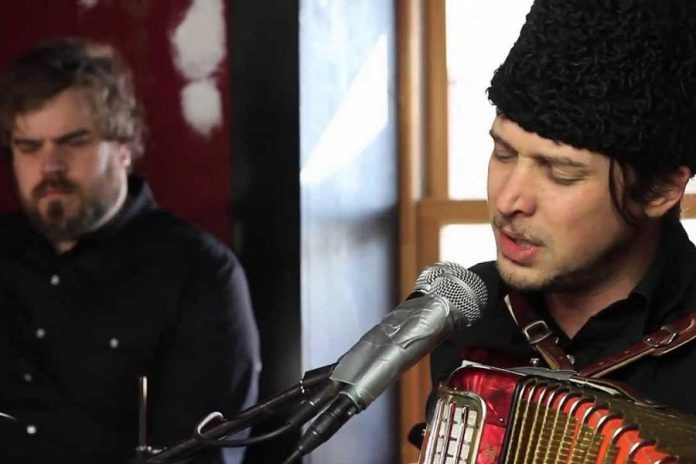 kawarthaNOW kudos to Kathleen Seymour at Kawartha Coffee Co. (49 Bolton St., Bobcaygeon), who clearly recognizes talent when she sees it. This Friday night, she's bringing Mayhemingways in to play a show.
Mayhemingways — the multi-talented Benj Rowland and our very own Josh Fewings — are a duo with a big sound of fuzz-folk. It's roots music tinged with bluegrass, Cajun, and Celtic music, delivered by accordion, banjo, guitar, drums and bass pedals.
The show at Kawartha Coffee Co. takes place on Friday from 7 to 8:30 p.m. The hat will be passed over the course of the evening (with a suggested donation is $10).
This booking is fresh off the announcement that Mayhemingways will be the backing band this spring for Joel Plaskett, who's touring a new record with his dad Bill. Read our interview with Josh and Joel by Paul Rellinger.
Back to business! Save the dates for these notable business events
You may have noticed that Peterborough and area has stepped up the networking game over the past few years. Every week, there's a great selection of events where business owners can learn, be inspired, and network. If you haven't browsed our business networking column lately, you might want to take a look — and it's regional too!
Coming up later this month, on Wednesday, January 25th at The Venue (286 George St. N., Peterborough) is the second annual Power Hour presented by the Greater Peterborough Area Chamber of Commerce. Keynote speeches will be delivered by Maryam Monsef (MP Peterborough-Kawartha and Minister of Status of Women), Jeff Leal (MPP Peterborough and Minister of Agriculture, Food and Rural Affairs), J. Murray Jones (Warden, County of Peterborough) and Daryl Bennett (Mayor, City of Peterborough).
This event is an important opportunity for the business community to speak and hear directly from Peterborough's elected officials. City and County Councillors, First Nations Chiefs, and City and County CAOs have also been invited to attend. It was a sellout last year, so don't delay to book your seats.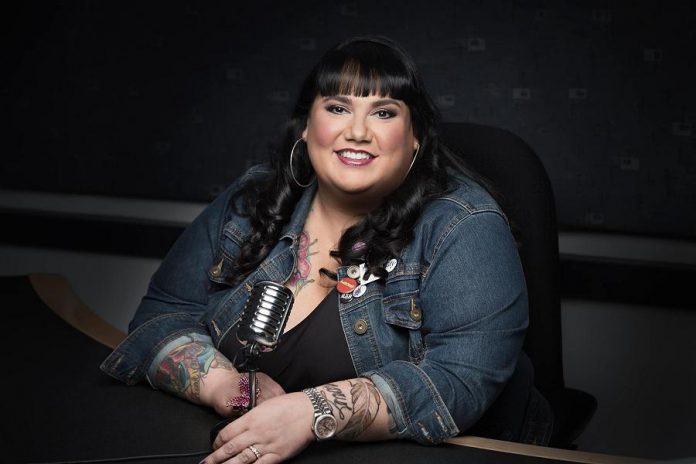 And save the date of Wednesday, March 8th for the first International Women's Day Conference Peterborough. I have to admit, I'm pretty excited about this event. It may have something to do with me falling into a woman-crush zone with Candy Palmater last summer when she hosted her first show on CBC Radio. Well, if you're a Candy fan too, you'll definitely not want to miss the conference on International Women's Day 2017, because Candy Palmater will be one of three keynote speakers, along with author Sarah Vermunt and our local angel Linda Kash.
The conference is a full day of workshops and learning, under the theme of "Inspire, Empower and Act", and was conceived by Louise Racine, local business owner of Thirteen Moons, when she won the Judy Heffernan Memorial Award. She was inspired to put her win to good work, and is leading a local committee to organize the event, which has been endorsed and promoted by the Women's Business Network of Peterborough. Read our story on the conference — and watch for more updates coming soon!
That's a wrap for this week. And just another reminder there are 69 days to the first day of spring. Stay warm. Because January.
If you'd like to have your event considered as a top pick, your first step is to make sure to submit it to our event system.
If you want to be in the know about what's coming up (and maybe win tickets!), you should subscribe to our VIP Enews which will arrive in your inbox every Wednesday morning — along with a link to the most recent version of this column. Sign up for our VIP Enews here.
Thanks for reading and please let me know what you think by posting a comment below.