This month, Eva Fisher tastes extraordinary vegan treats with Vegan Sweet Home and talks to Executive Chef Jess Hendren from Peterborough's new small plates bar, the Lounge by Lignum. She discovers what's growing in January with Tiny Farm, and learns how Springville Chinese restaurant Golden Wheel Restaurant is honouring its honky tonk history.
---
Have your cake and eat it too with Vegan Sweet Home
As a vegan who loves baking, Courtney Vanden Anker has had to get creative. She makes indulgent vegan baked goods using her own recipes for her business, Vegan Sweet Home.
While visiting her market stall you might find decadent chocolate brownies, thickly iced carrot cake, chocolate peanut butter cups, or even her own take on Pop Tarts.
Before she became a vegan, Courtney loved to bake. When her sister became vegan, it was important to her that her sister be able to eat the food that flowed like a conversation between their two households.
"I didn't want her not to be able to eat a muffin off my kitchen counter."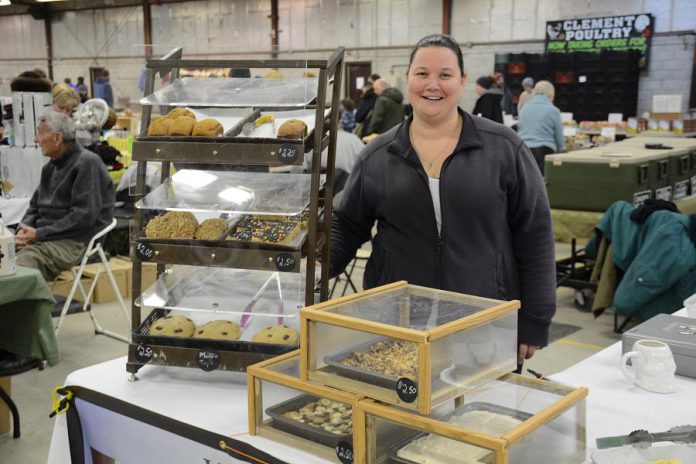 Rather than look through vegan recipe books, she used her own recipes and makes substitutions: ground flaxseed and water for egg and chickpea flour paste for meringue. Her sister encouraged her to start a business, and two years ago Vegan Sweet Home was born.
"It's about trying out recipes and seeing what works. The kitchen is my favourite place."
You can also order vegan pot pie, shepherd's pie, macaroni and cheese, and lasagna from Vegan Sweet Home. Courtney has plans to start bringing these to the Peterborough Farmers Market within the month, but you can now order them directly.
Courtney is also planning to share her recipes. She is currently working on a cookbook that uses easy to source ingredients. She admits that "there are lots of awesome vegan cookbooks out there, but often they have ingredients that are very hard to find." Her focus is to create decadent treats from vegan ingredients that are easily accessible.
You can find Vegan Sweet Home on Facebook and Twitter, or you can call 705-761-2931 to place an order.
The Lounge by Lignum brings small plate dining and hard to find wines to Peterborough's downtown
The Lounge by Lignum (442 George St. N., Peterborough, 705-775-9463) is a new restaurant, wine bar, artisan furniture gallery, and event space opening on Wednesday, January 18th.
The design part of the business, Lignum by Design, will feature tables, cabinets, and wine racks created by owner Steve Verge.
Executive chef Jessica Hendren says that the restaurant will feature small plates, a favourite format for her that she honed in several high profile chef positions in Ottawa. Rather than order one entree, you can order several smaller plates to try. To Jessica, this offers an opportunity to experience more flavours.
"I like to go to a restaurant and try different things. I don't like to be limited to one dish. When I go to a nice restaurant I want to be able to experience everything."
Jessica notes that the menu will change regularly, and will feature a variety of cuisines.
"It will be an international menu. I could be doing basically anything: Italian or Japanese or Greek. I'm not limited."
Jessica will be working closely with front of house manager and sommelier George Anagnostou, formerly of The Original Greek. "George and I have been looking for an excuse to work together."
Wine will be offered by the glass or in tasting flights of three, with three different white wine flights and three different red wine flights. The Lounge by Lignum will feature wines otherwise unavailable in Peterborough.
On February 11th they are bringing Tony Aspler, a Toronto sommelier and published writer, to do a wine and food tasting and seminar. There will be seven different courses and seven different wines, and Tony will speak between each course. Jessica says that they plan to do more of this type of event in the future.
"For me this business is about exploring different flavours and learning about different types of wine: the region, the grape, and also the food and why you've paired it with that. It's a concept of learn, explore, and share."
The 27-seat venue will also be available for private parties. For reservations and more information, visit their website at loungebylignum.ca.
Growing in the snow: extended season farming in the Kawarthas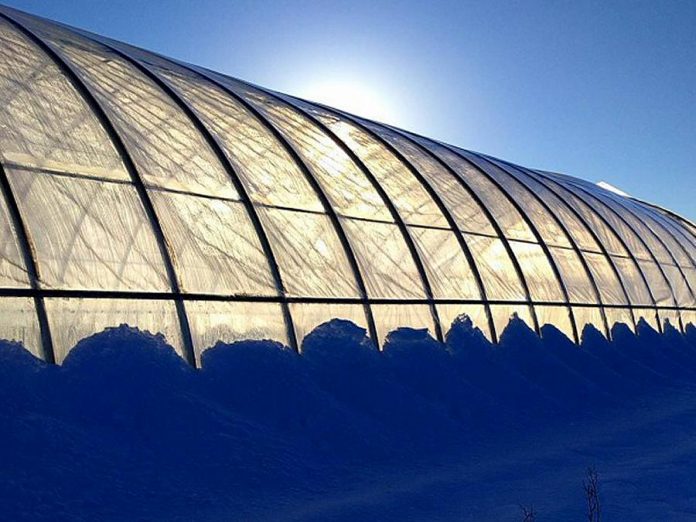 With snow blanketing the fields, it can feel like nothing is alive in January. Farmers and gardeners across the region know that delicious local vegetables can still be harvested.
Mike Mannix from Tiny Farm doesn't offer his bright and flavourful market greens in January, but he uses an unheated greenhouse so he can bring his harvests to the farmers' market as late as December and as early as March. The greenhouse warms Mike's plants significantly.
"Minus 32 was the lowest we recorded last winter. In the greenhouse, the lowest we recorded was minus 13. That's a pretty significant reduction for just a layer of plastic."
That being said, like any farming endeavour, the weather plays a vital role in the success of the crops.
"It's old fashioned, low-tech farming. The only thing that's mitigating the winter conditions is a layer of plastic."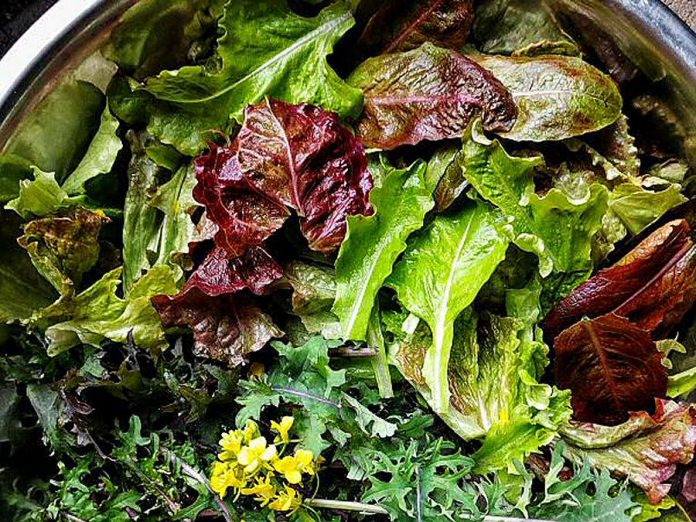 Cold hardy plants use solutes and special proteins that act as a natural antifreeze. This allows vegetables like kale, carrots and spinach to survive well below freezing.
"You have to know your crops. From one variety of kale to another you can get a difference of several degrees of hardiness. Choosing the right variety can be the difference between surviving or not."
Mike says that the key to harvesting winter salad greens in an unheated greenhouse is to wait for a sunny day when the greenhouse warms up dramatically.
"If you cut leaves while they're partially frozen, they will thaw out and turn to mush."
Mike notes that even without a greenhouse, snow can act as an insulator, allowing some hardy plants like spinach to survive and grow again in the spring.
Spinach, kale and lettuce are three of the hardiest salad greens that Tiny Farm grows in their greenhouse. They also grow arugula, mizuna, and mustard, which tend to die out in December. Even in extreme cold, the farm yields incredible flavour. According to Mike, that flavour is often different from that of summer greens.
"The taste can change in the cold. It's never bad but it's different."
You can find Tiny Farm at the Peterborough Farmers' Market beginning in March or April, or right now on Instagram.
The Tung family returns to Golden Wheel Restaurant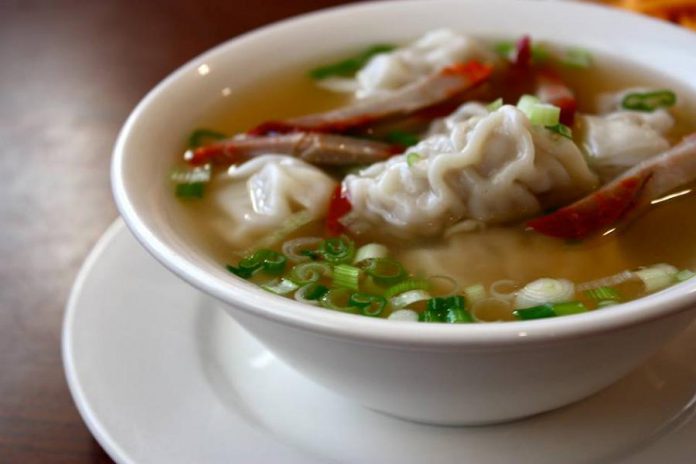 The Tung family is back in the restaurant business.
In 2014, Mei and Patrick Tung sold their popular Springville location, Golden Wheel Restaurant, (6725 Trans-Canada Hwy, Peterborough, 705-749-6838). Little did they know that they'd be reopening in 2016 with daughter Susan Tung as restaurant manager.
Susan brings with her a love of the hospitality industry, cultivated while working as a bartender during her time at the University of Toronto. She found it a great way to connect with people in her community.
"I really like creating experiences for people. I like making people feel very special. I think it goes a long way when you remember someone's name and what they usually get, down to the little things that they like about their meals and their drinks."
Through Golden Wheel Restaurant, she plans to bring a greater diversity of Chinese food to the Kawarthas.
"It's nice to be able to educate people about what Chinese people actually like to eat."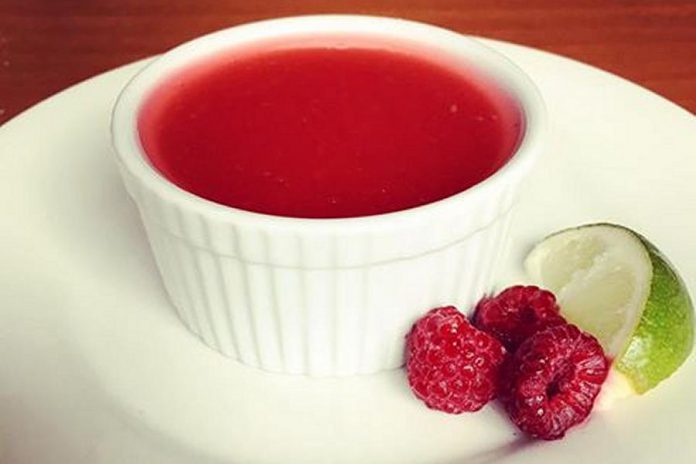 Alongside Chinese-Canadian dishes, Golden Wheel Restaurant serves several more traditional dishes including a stirfry beef dish with Chinese vegetables, and a rice noodle with beef and black bean sauce.
Golden Wheel Restaurant is also innovating on Western Chinese food. Mei Tung recently created a sugar-free sweet and sour sauce using a pureed raspberry base. According to Susan, "you still have that sweet and tangy flavour but it's not overbearing."
Susan is also developing the space as a live music venue, a nod to its past when it was known as the Honkytonk.
"People have so many memories with that building and what it used to be. As much as we are a Chinese food restaurant, we still embrace what it was. We're trying to bring back live music and events."
On January 28th, you can come for all you can eat buffet and live music with Guelph County Line. It costs $15 for buffet admission and, if you want to just watch the music, entry is free after 8 p.m.
You can find Golden Wheel Restaurant on Facebook or visit their website at www.goldenwheelres.com.