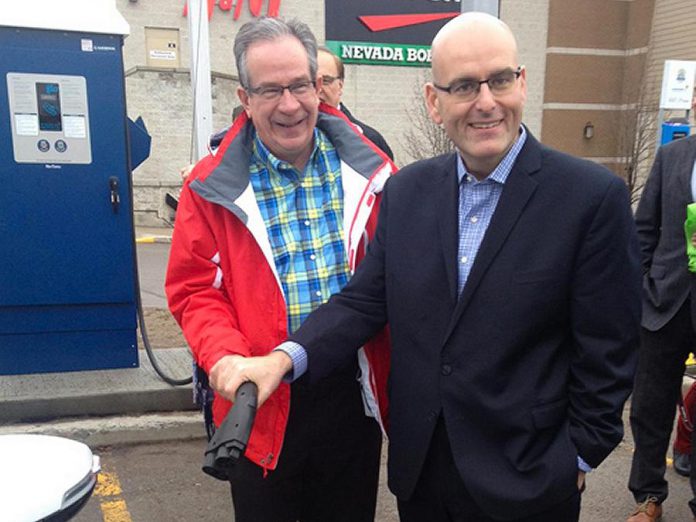 Steven Del Duca made the most of his first visit to Peterborough as Ontario's transportation minister, announcing Friday (February 24) that Peterborough Utilities Group has installed nine electric vehicle (EV) charging stations at seven city and county locations.
The recipient of $291,480 from the Electric Vehicle Chargers Ontario (EVCO) program, the local utility group has installed Level 2 and/or Level 3 chargers at the following locations:
McDonald's, Lansdowne Street West at The Parkway (Level 3)
Lansdowne Place (Levels 2 and 3)
King Street Parking Garage in downtown Peterborough (Level 2)
Riverview Park and Zoo (Level 2)
Tim Horton's, 1527 Water Street (Level 2)
Downtown Lakefield (Level 2)
Asphodel Norwood Township office (Levels 2 and 3)
Level 2 charging stations use a 240-volt system and can fully charge a vehicle from zero percent in four to eight hours. Level 3 charging stations, meanwhile, use a 480-volt system and can charge a vehicle to 80 percent in just 30 minutes.
The Peterborough EV charging stations are part of a move to install close to 500 across the province to service an estimated 9,000-plus electric vehicles currently on the road.
For the first year of operation, charging is free. After that time, that will be re-evaluated based on demand.
"Climate change is one of the single most challenging circumstances that we face…transportation emissions pose one of Ontario's greatest challenges with respect to achieving the greenhouse gas emission targets that we have," said Minister Del Duca.
"Emissions from the transportation sector, at 35 percent of all emissions in the province, account for more than any other industry. More than iron, steel, cement and chemical emissions combined."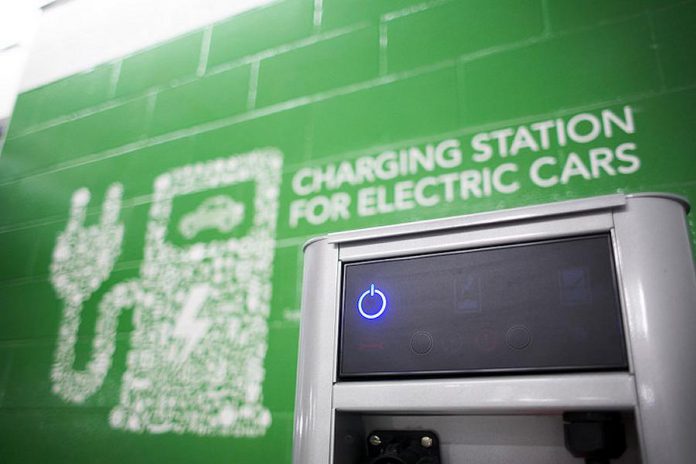 Minister Del Duca explained the Province's goal is to reduce greenhouse gas emissions to 15 percent below 1990 levels by 2020, 37 percent by 2030 and 80 percent by 2050.
"We can get there unless we break the back of that 35 percent in the transportation sector," he added, speaking specifically to the encouragement of wider electric vehicle acceptance and use.
The Province is investing $20 million from its Green Investment Fund to build close to 500 EV charging stations at more than 250 locations province wide. To that end, the Province is working with 24 private and public sector entities "to create an unprecedented network of electric vehicle charging stations in cities, along highways and at workplaces and other public spaces."
A byproduct of charging stations being operational, added Minister Del Duca, is a reduction in "range anxiety" experienced by electric vehicle operators.
"With the EVCO network of public EV charging stations, electric vehicle drivers will be able to travel from Windsor to Ottawa, or from Toronto to North Bay, not mention within and around our major rural and urban centres," he explained.
"Electric vehicle owners will be able to plan longer trips and have the confidence that they can recharge nearby."
EV charging stations, he added, also send a strong signal to those considering switching to an electric vehicle that the infrastructure is in place to look after their charging needs.
Also speaking were Peterborough MPP Jeff Leal, Mayor Darryl Bennett, County Warden Joe Taylor and Peterborough Utilities Group president/CEO John Stephenson, who praised his people for their involvement in, and contribution to, the EV charging station project.
"EV adoption has to be led by infrastructure," said Stephenson. "This is the first step through our utility, through government participation, to making that happen."