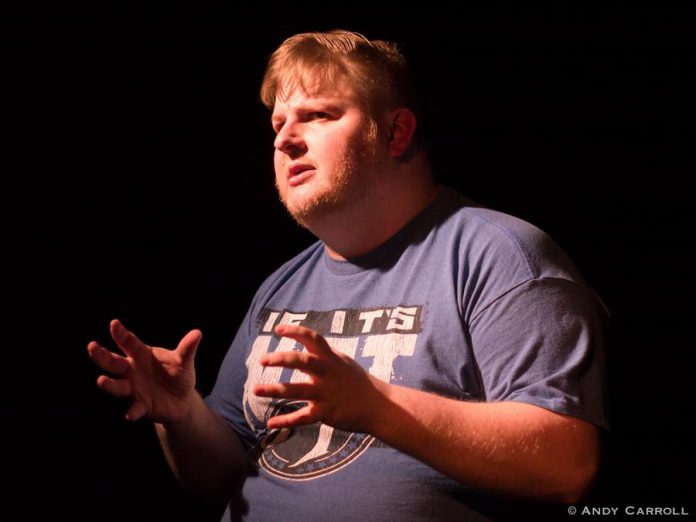 I've been watching Josh Butcher on stage for a number of years now. Highly likeable and wonderfully talented, Josh has been one of those familiar faces on the Peterborough theatre community, and has been seen performing with 4th Line Theatre, the Anne Shirley Theatre Company, and the Peterborough Theatre Guild.
A versatile actor, Josh has done musicals, comedies, family productions, and dramatic roles. But as familiar as Josh is to me as a performer, I'll admit I didn't really know much about him — until now.
From March 16th to 18th, Josh puts himself in front of his theatrical peers with the debut of his one-man show The Origin of a Designated Driver at The Theatre On King (TTOK). With the assistance of director Lucas DeLuca and stage manager Carly Webb, Josh tells personal stories and shares his thoughts about his past and present through stories and song, while contemplating the way he fits into the world around him.
Although the show is titled The Origin of a Designated Driver, this subject matter only provides the framework for a larger platform in which Josh can discuss deeper thoughts and bigger subjects. He opens the show talking about the reasons he doesn't drink. As he reminisces about drinking stories with his pals, Josh begins to create a portrait of who he is and how he fits amongst his peers: loyal, dependable, and often self-sacrificing.
Throughout the performance, Josh continues to return to this dialogue, but interjects with other monologues ranging from the challenges of growing up with Aspergers, to teaching karate, to his relationship with his grandmother, to his insecurity with the opposite sex.
Often his stories are filled with their own sort of whimsy, but the show often takes deeper tones as Josh discusses his reasons to live and his desires to die. By baring himself to the audience, Josh creates a character sketch of himself as a sensitive and clever young man who has something to say about his personal truth, but the only way he knows how to do it is by performing upon a stage.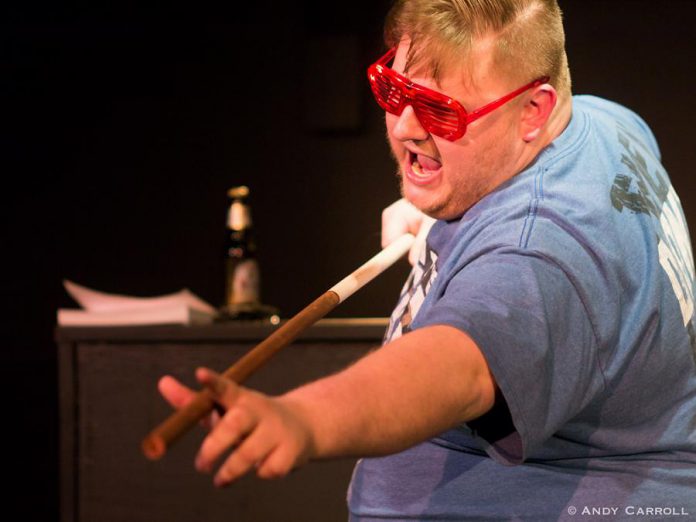 Beyond the ongoing theme of being the sober one amongst his friends, another subject Josh returns to is his love of wrestling. Among my favorite moments of the show, Josh's reflections on wrestling becomes some of the more interesting and passionate parts of the night.
Don't allow any possible biases about wrestling get in your way. Josh's defense of his love for the spectacle is personal to the point of being philosophical. It's refreshing to see a cerebral and artistic discussion about modern wrestling in a Peterborough theatre space. Whether or not you know anything about wrestling, Josh will make you think about it in a very interesting and real way.
A natural performer and a gifted storyteller, Josh focuses on a certain aspect of his past or present in each vignette. He pulls it apart, analyzes it, and makes the audience understand his point of view. But it's more than just conversational dialogue. Josh's words are almost like poetry at times, and his word play is often very beautiful. This is not just a man telling his stories, but a theatrical performance.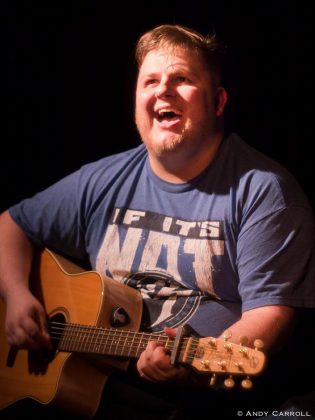 What is wonderful about The Origin of a Designated Driver is that Josh pulls it off with a raw sensitivity that's both revealing and captivating. He truly bares his soul to the audience.
In the hands of another performer, a show like may come off as self-serving or smug. But Josh draws you into his world and makes you really care about what he has to say. He is just trying to share some ideas with the audience, and wants you to have a little bit of an insight into who he is and how he feels.
Another interesting thing is that, although Josh is of a different generation than me, not once did I feel alienated by his youth. He discusses universal truths shared by us all: love, life, death, insecurity, loyalty, and pride. These are things that we can all relate to no matter what our age.
The Origins of a Designated Driver is an on-stage portrait of Josh Butcher's soul. His honesty is refreshing, his delivery is gentle, and there's a humble rawness to his performance. It's a remarkable and brave show by a very talented man; the spotlight is well deserved.
If you know or have worked with Josh, this is a show you won't want to miss. If you don't know who Josh is, you should come to TTOK anyway and get to know him. If this show is any indication of who Josh is, I personally think he's someone worth knowing.
The Origins of a Designated Driver runs from March 16th to 18th at TTOK. Performances begin at 8 p.m. and admission is $10 or pay what you can.