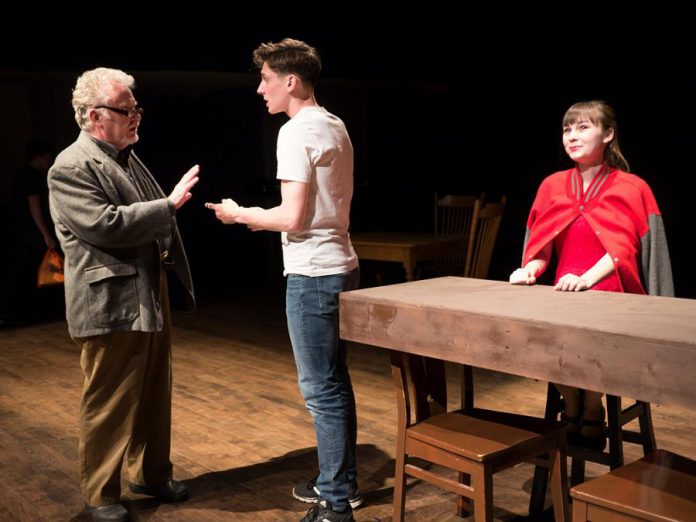 This weekend, New Stages' highly anticipated production of Thornton Wilder's Our Town opens at Market Hall Performing Arts Centre in Peterborough. Directed by Linda Kash and produced by Randy Read, Our Town brings together many of Peterborough's top theatrical performers in one of the most celebrated stage productions of all time.
Written by Wilder in 1938, Our Town won the Pulitzer Prize for Drama that year and has been considered by many critics to be one of the greatest modern plays. An example of metadrama, the premise of the production was groundbreaking at the time it was first produced and is still unique by today's standards.
Our Town bends the boundaries of reality by having the actors realize they are actors on a stage in front of an audience. The main performer, called "The Stage Manager" in the script, is played by Randy Read who addresses both the audience and his performers by breaking the fourth wall with nearly every line. The actors mingle on the stage before each act as if they are one with the audience, and each of the three acts is introduced and closed that way. It's difficult to describe but it results in an effective theatrical experience.
Set in 1901, 1904 and 1913 in the fictional small town of Grover's Corners, Our Town gives the audience a look into the daily lives of two neighboring families, the Gibbs and the Webbs. The Gibbs household includes Doc Gibbs (Tom Quinn), Mrs. Gibbs (Alison McEwen), and their children George (Matthew Finlan) and Rebecca (Samuelle Weatherdon), and their neighbours consist of newspaper man Mr. Webb (Andrew Root), Mrs. Webb (Megan Murphy), and their children Emily (Bethany Heemskerk) and Wally (Michael Brennan).
The Stage Manager (Randy) first introduces the audience to the Webb and Gibbs families during a typical morning at Grover's Corners. The families eats their breakfast, the women work in their gardens and gossip, and the children go to school.
But a larger world of Grover's Corners is also introduced. There is Joe Crowell (Logan Sword) who delivers the paper, Howie Newsome (Ben Birrell) who delivers the milk accompanied by his cow, Constable Warren (Wyatt Lamoureaux) the friendly police officer on his beat, and the explosive choir director Simon Stilman (Luke Foster), who is the town drunk.
Grover's Corners is a place where nothing extraordinary seems to happen, but a place where people live out their daily lives. A place where they are born, dream, and fall in love.
The show shifts when it begins to follow the romance between George Gibbs (Matthew) and Emily Webb (Bethany). The second act is dedicated to their relationship and the audience finally gets to know them. It's charming to watch these two key characters fall in love and begin a future.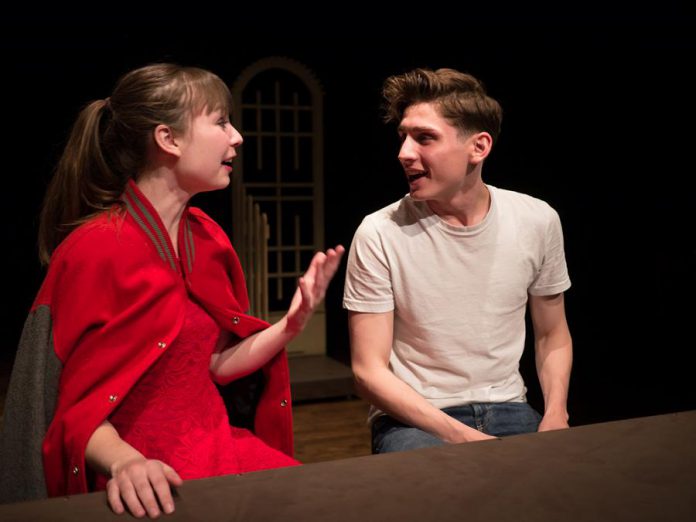 And then there is the third act. The all-important final act, where Our Town all comes together. I'm not going to tell you about the third act, except to say it's is a powerful theatrical spectacle you'll be thinking about for a long time.
When going into Our Town, I only knew the play based on its reputation. I'm sure many people are familiar with the play, but I was experiencing it moment by moment for the first time, with few expectations. Needless to say, it was an interesting experience.
Our Town is not written like most plays. It has all the elements a play needs: relatable characters, a strong sense of the world that they live in, and a definitive beginning, middle, and end. But what Our Town is lacking in the first two acts is a strong plot. The acts are all very short, and primarily consist of The Stage Manager explaining things to the audience.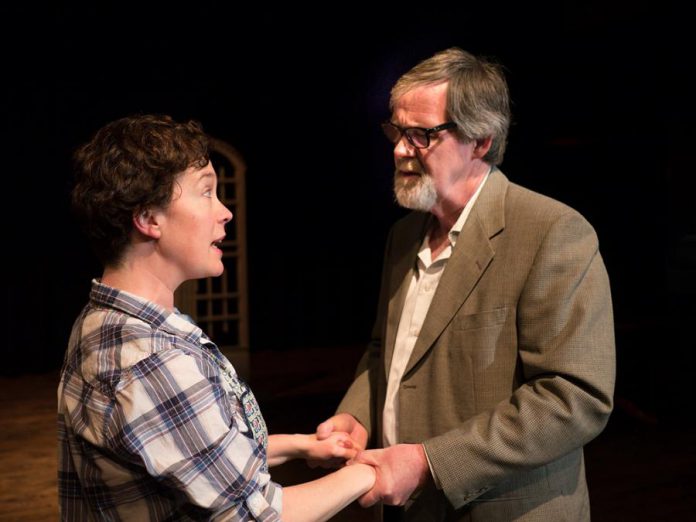 At the end of the first act, I'll admit I had no idea what was going on. By the end of the second act, it was a bit more coherent but still didn't seem to have much of a plot. And that is the brilliance of the show: every single little insignificant detail and every over-explanation throughout the first two acts all prepare you for the third act, where the pieces begin to fit in a way that is both devastating and thought provoking.
Our Town is a show that takes some patience to watch, which may be a challenge for a modern audience. Anybody who gives up on it in the first two acts is going to miss the point of the show: a third act that will affect your mind and emotions in a profound way. The third act is the key to Our Town, and where the true brilliance of Thornton Wilder's work comes together.
The cast of Our Town is extremely tight and continues New Stages' reputation of casting Peterborough's most recognizable and talented performers. At 19 cast members, Our Town is a far cry from the more compact casts of previous New Stages productions. But, once again, New Stages outdoes itself by bringing together an incredible amount of talent to the stage.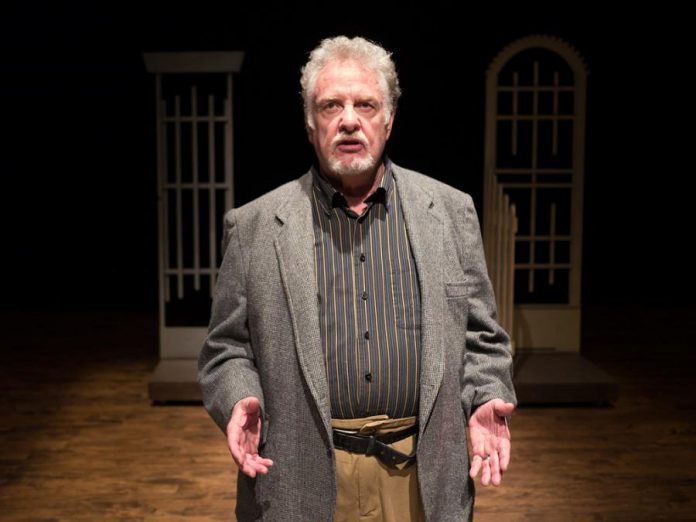 Randy Read is a true gift to watch on stage. Having worked behind the stage in the director's chair for years, this is Randy's return to the stage after a long absence. It's an interesting performance, in that Randy really seems to just be playing himself. I've had the great pleasure to visit with Randy on many occasions and, as he delivers his lines to the audience, it often was like he was talking directly to me during one of our one-to-one visits.
However, except for improvisations to Wilder's script, these are not Randy's words. He is going from script while bringing his own sense of warmth to the production. But there is also an underlining dark cynicism to his character, which often manifests when he breaks out of the role of The Stage Manager in the third act. In these moments, he becomes the voice of Wilder himself, speaking to the audience from somewhere beyond. Randy guides the audience by the hand through this unique theatrical experience in a wonderful way that only he can do.
Matthew Finlan is no stranger to the role of George Gibbs, having just performed the same role in a Toronto production of Our Town at Buddies in Bad Times Theatre. Alongside Bethany Heemskerk as Emily, the two make a charming pair. They bring a sense of warmth and innocence to the stage, which makes you yearn to be young and in love again.
Bethany turns the production on its head in the third act, when she is really able to show her dramatic talents. Again, I am limited in what I want to reveal, but it's a powerful performance by a wonderful actress. Her performance is both beautiful and painful to watch. Bethany caught my eye in a pair of performances in 2016, but Our Town is her breakout performance and really puts her on Peterborough's theatrical map. I'm really looking forward to seeing what she does next.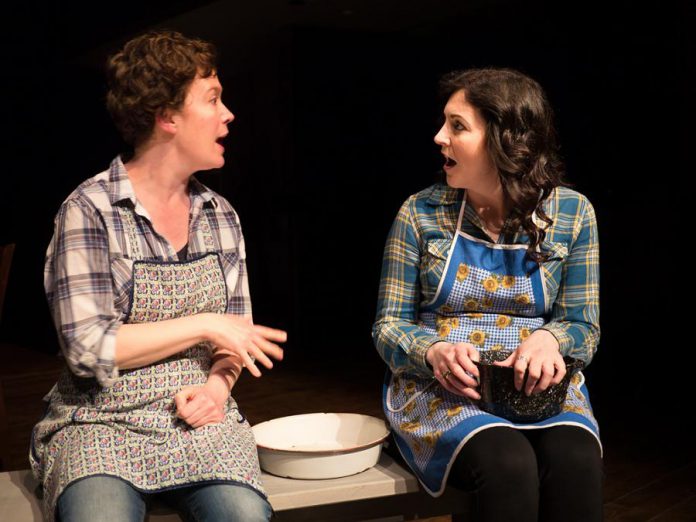 The joy of watching Our Town is seeing so many of my favourite Peterborough performers bring their unique strength to the stage. Andrew Root brings his subtle sense of comedic timing to Mr. Webb, creating some of the few laughs in the show. He is paired beautifully with Megan Murphy, who brings her own charm and humour to Mrs. Webb. Tom Quinn plays Doc Gibbs with a sense of dignity and respect, while Alison McElwain creates her big impact as Mrs. Gibbs in the third act.
Our Town is also filled with wonderful small character moments featuring Wyatt Lamoureaux, Samuelle Weatherdon, Luke Foster, Patricia Maitland, Dani Breau, Ben Birrell, and Steven Brak. These are the performers who make up the world of Grover's Corners, which becomes the audience's world as well.
I also want to give a shout out to the lighting design by Spencer Allen in the third act of the show. Contrasting brightness and darkness to depict past and present and life and death, as well as creating an incredible effect of a night sky, the lighting aids to the emotional presentation on the stage. It's a wonderful effect and, in a show with little set, becomes all the setting that you need. Spencer's lighting in the third act is an amazing piece of theatrical magic.
A powerful piece of theatre, there is good reason why Our Town is held in such high esteem. Wilder was trying to say something very deep and profound and, despite the play being nearly 80 years old, his message is more important now than ever before.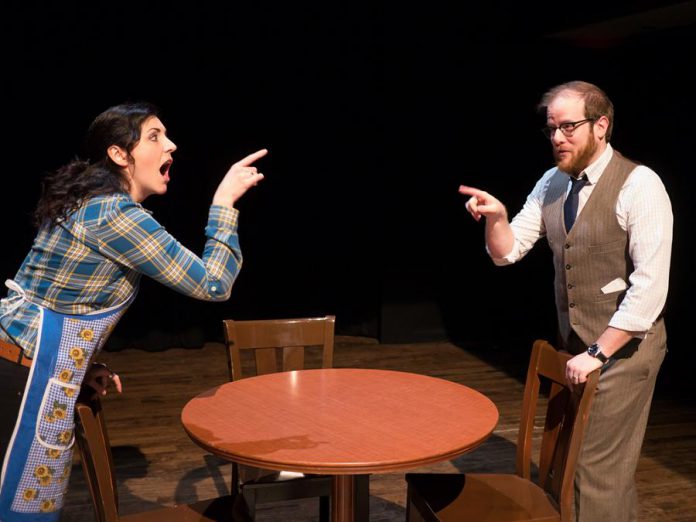 Without revealing what happens in the third act, it is difficult to fully explain the meaning of the play. But essentially Our Town exposes how beautiful our ordinary lives are and how, just by living day to day, we often become oblivious to the importance of the people, places, and moments that surround us. It's also about how precious the time we are given is, and how we need to live life fully and not take the time we have for granted.
Coming out of Our Town, I suddenly regretted any morning I slept in until noon, every time I didn't take a new opportunity, and every time I didn't tell someone how much they meant to me.
In our current society where we are so connected with modern technology, the message of Our Town is even more relevant. In a world where people will sit around a table looking at their phones instead of talking to each other, where a text message replaces a phone call, and where an email replaces a letter, we are losing the ability to communicate with each other directly as human beings. We spend so much time wired into our devices that we miss the ordinary details around us, and the personal relationships we could have with people.
Wilder could not have even imagined this type of technology in 1938, but he already saw it happening. Our ability to allow our lives to pass by due to our own ignorance was as real then as it is now. This is what Our Town is trying to tell us: it's about the ordinary moments in our lives, and how important it is to cherish what we have, and live life as fully as possible. It is a beautiful and profound piece of theatre that will move you and make you re-examine what is truly important in your world. You may find out a lot more is important then you realize.
The New Stages production of Our Town is must-see theatre. It brings together a gifted director, a talented cast, and the warmth and wisdom of Randy Read into an emotional theatrical experience. If you are like me and have never seen Our Town before, then this is the production you want to see. If you have seen it before, it's time to revisit Grover's Corners.
Our Town runs until May 6th at Market Hall Performing Arts Centre (140 Charlotte St., Peterborough). Tickets are $28 ($15 for students or art workers).