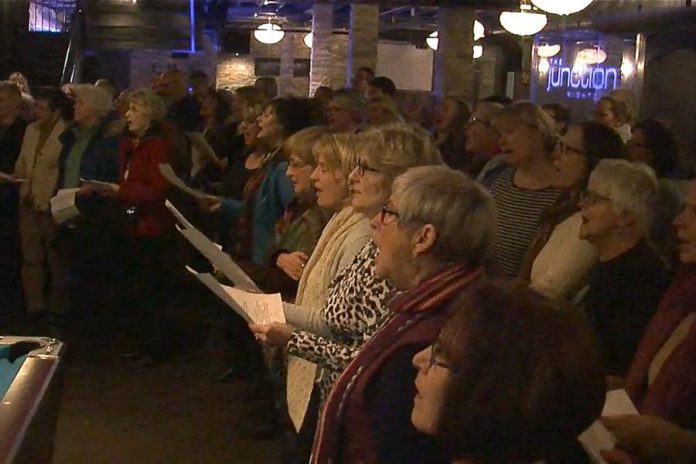 Every month, a group of people gather at The Junction in downtown Peterborough to share something they all love — singing together in harmony.
The 3 Alarm Choir has proved to be a popular event with area singers, whether university students or retirees, with between 60 and 100 people showing up for each "sing".
The drop-in choir is based on a popular model from Toronto and operates on a simple formula: participants pay a $5 fee at the door, they get a song sheet of lyrics (no music) for that month's song, and they choose to sing the high, medium, or low parts.
Choir leader Linda Clark teaches the singers how to sing their parts in three-part harmony and then they perform the song (usually recorded for a YouTube video).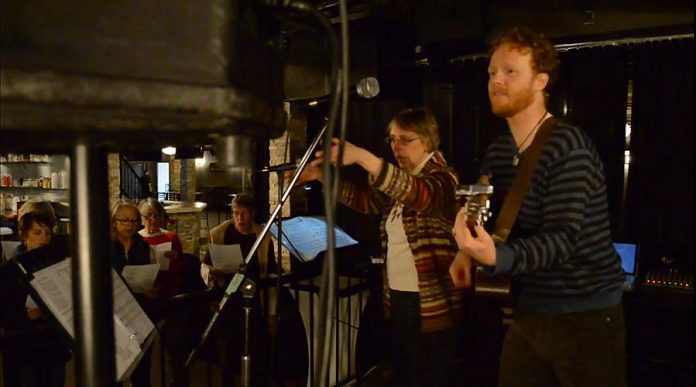 Guitarist and music therapist Luke Lee Burton helps carry the melody while Clark conducts the singers. Since last summer, the choir has sung popular selections including Leonard Cohen's "Hallelujah", The Mamas & The Papas' "California Dreamin'", Simon and Garfunkel's "Bridge Over Troubled Water", and the Beatles' "Here Comes the Sun".
The next "sing" is on Monday, May 8th, when the choir will learn and perform U2's "Pride (In The Name of Love)".
Then, as part of the Peterborough LIVE Music Festival (May 10 to 14), the choir will perform Patti Smith's "People Have the Power" on Saturday, May 13th — with one performance as a flash mob on a busy corner in downtown Peterborough.
"We'll perform the song once at Market Hall and then head outside for the flash mob sing," Clark says.
VIDEO: Simon & Garfunkel's "Bridge Over Troubled Water" performed by The 3 Alarm Choir

The 3 Alarm Choir borrows heavily from Choir Choir Choir, a Toronto-based drop-in choir that meets twice weekly in a pub. Janice Wuerch, a member of the 3 Alarm Choir, stumbled onto one of Choir Choir Choir's videos on YouTube and urged Clark to take a look.
"I was intrigued," Clark says. "A few weeks later Janice and my sister (visiting from out of town) went to Toronto and sang Tragedy with them. We were all hooked, and Janice and I started brainstorming about how to start something similar in this area."
Clark then invited local musician Luke Lee Burton to accompany the choir on guitar. Burton's background includes experience as a singer-songwriter, yoga and meditation teacher, and accredited music therapist.
"I love his energy, his skill, and his playful, compassionate spirit," Clark says.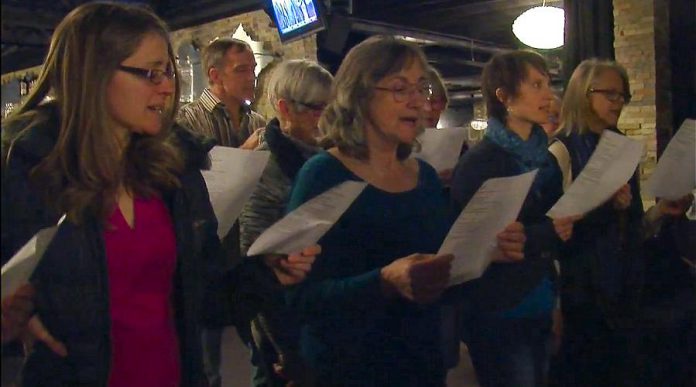 Clark and Burton have been leading the 3 Alarm Choir since its first "sing" in August 2015.
"People come in, often as strangers, and after an hour a half, we're a blended choir and we've done the video," Clark explains. She is a versatile musician who can play almost anything on piano, ranging from chamber music and ragtime to traditional Celtic tunes.
Clark started leading choirs locally in 2007 as musical director of Resonance, the choir of the Unitarian Fellowship of Peterborough, and also leads the increasingly popular Lakefield Singers. She is also a familiar face at the piano with the ensemble that accompanies the Peterborough English Country Dancers.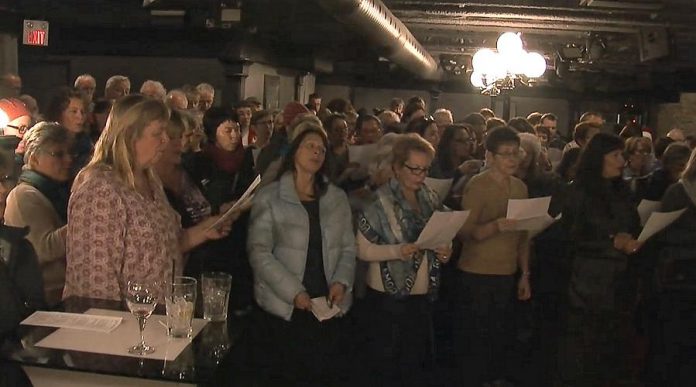 If you're interested in joining the 3 Alarm Choir for their next "sing", come to the upstairs room at The Junction (257 George St. N., Peterborough) on Monday, May 9th at around 7 p.m. (or earlier for dinner). A warm-up song takes place at 7:15 p.m., with rehearsal and performance of "Pride (In The Name of Love)" beginning at 7:30 p.m. The cost is $5 in cash (or Kawartha Loons).
If you want to participate in the flash mob performing "People Have the Power", come to the Market Hall Performing Arts Centre (140 Charlotte St., Peterborough) at noon on Saturday, May 13th. Rehearsals will take place from noon until 2 p.m., with the Market Hall performance at 2 p.m., followed by the flash mob performance at 3 p.m.
For more information on the 3 Alarm Choir, visit their Facebook page.
VIDEO: Tracy Chapman's "Talkin' bout a Revolution" performed by The 3 Alarm Choir

All photos courtesy of 3 Alarm Choir.