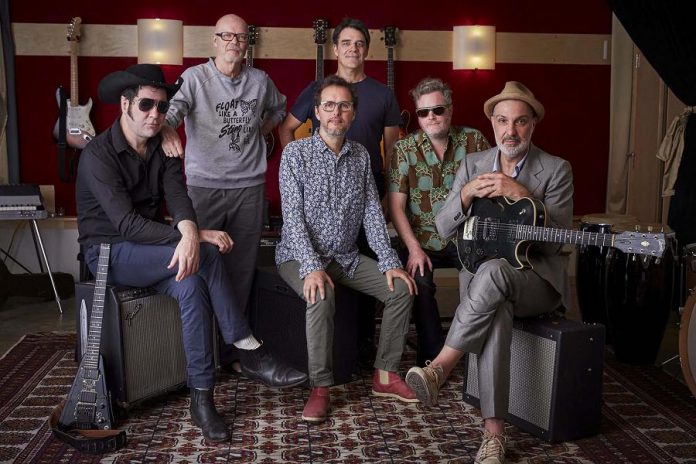 Earlier this Peterborough Musicfest season, an appreciative Del Crary Park audience was introduced to a reinvigorated Stephen Stanley who, years after a terrific run with Lowest of the Low, is thoroughly enjoying a renewed creative surge as the leading man of a new band.
But as inspiring as that is, the opposite — returning to what worked — is pretty good too.
Before disbanding in 2007, Rheostatics recorded and performed for 27 years, earning wide acclamation as one of Canada's most influential and unconventional rock bands.
But a funny thing happened in the midst of solo pursuits as Dave Bidini, Tim Vesely, Dave Clark, and Martin Tielli reunited in April 2014 for the 2nd annual Stompin' Tom Memorial Show at Toronto's Horseshoe Tavern. Over the next two years, the quartet came together again, albeit infrequently. But in late 2016, the stage debut of new music made it official — Rheostatics was back as an active group.
On Wednesday, August 23rd, Peterborough Musicfest welcomes the second coming of a band that produced 11 albums and scooped a Genie Award along the way while earning praise for an eclectic sound described as both iconic and iconoclastic.
VIDEO: "Claire" – Rheostatics

"People have painted us as being iconoclasts although, more often than not lately, I hear us described as Canadian icons," writes Bidini at www.rheostatics.ca.
"I think it's great to be iconoclastic icons. It means that people acknowledge you as being this force that represents constant change and constant challenge. Canada is recognized for being a cavalier place, culturally; always trying to push it harder, certainly in the audacity of Canadian film and literature. There's no reason music can't have that same reputation."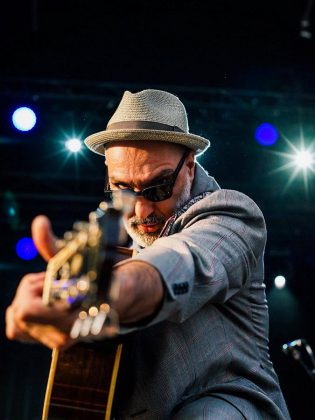 Since forming in Etobicoke, Ontario in 1978 — Bidini and Vesely were there on day one — Rheostatics have honed a reputation as a band that surprises creatively. With Clark and Tielli in the mix, the 1980s saw modest success in the form of singles released independently and, in 1987, an album titled Greatest Hits. If anything, the boys had a sense of humour.
With Tielli back in the fold in 1990 after departing the band in late 1988, Rheostatics subsequently recorded and released the albums Melville and Whale Music — both generally regarded as the band's finest studio work.
Two years later, Music From The Motion Picture Whale Music, a film inspired by Paul Quarrington's novel of the same name, brought the band a 1994 Genie Award for Best Original Song for the single "Claire", still Rheostatics' only Top 40 hit.
VIDEO: "King Of The Past" – Rheostatics

Starting with Introducing Happiness in 1994 and ending 10 years later with 2067, Rheostatics recorded more seven albums with band members coming and going, and coming again.
After Vesely announced his definitive departure from Rheostatics in September 2006, Bidini and Tielli tried to keep the ride going but, come that "farewell" concert at Massey Hall in 2007, the band was done — only now to be revived, performing again and planning a new album for 2018.
As throughout its first life, Rheostatics' success as a unit remains rooted in the sharing of songwriting and lead vocals by all four members. In concert, the talents of each is showcased in rapid succession as they routinely swap instruments or pick up new ones, taking their music in new directions.
"The modus operandi of the Rheostatics is that you can be a complete buffoon one minute and then say something profound the next," writes Tielli.
VIDEO: "Bad Time To Be Poor" – Rheostatics

In a millennial survey of Canadian music critics, the albums Melville and Whale Music place in the top 10 Canadian records of all time — a feat duplicated only by The Guess Who. Still, outside of Claire, great commercial success has eluded Rheostatics, both then and now.
For those who think that's a shortcoming, Vesely sets the record straight.
"Maybe we started off having great expectations, like playing to thousands of people, but we know now what to expect. Making a connection is what's great."
Enough said.
Rheostatics' Musicfest appearance is sponsored by kawarthaNOW.com and BE Catering.
Peterborough Musicfest is presenting 17 free-admission concerts featuring a total of 22 acts during its 31st season — each staged every Wednesday and Saturday night until August 26th.
Overseen by general manager Tracey Randall and staff, a board of directors, and numerous volunteers, Peterborough Musicfest's stated mission is to "provide diverse, affordable live music to enrich cultural and economic prosperity in our community."
For more information on this concert and/or the 2017 season, visit www.ptbomusicfest.ca or phone the Peterborough Musicfest office at 705-755-1111.