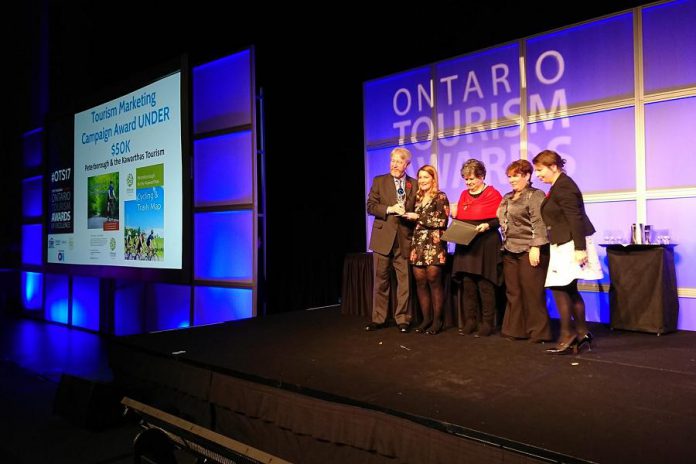 In our new weekly business column, we highlight regional business news and upcoming events of interest to business owners and entrepreneurs from across the Kawarthas.
If you have business news or events you want to share with our readers, please email business@kawarthanow.com.
This week:
---
Peterborough & the Kawarthas Tourism and Port Hope's Cultivate win tourism awards
Both Peterborough & the Kawarthas Tourism and Port Hope's Cultivate festival won awards at the Ontario Tourism Awards of Excellence Gala, held last week (November 7) at the Scotiabank Convention Centre in Niagara Falls.
Jointly presented by Attractions Ontario, the Culinary Tourism Alliance, the Ontario Tourism Marketing Partnership Corporation, and the Tourism Industry Association of Ontario, the annual awards recognize tourism industry successes by honouring organizations and individuals who have made significant contributions to tourism in the province.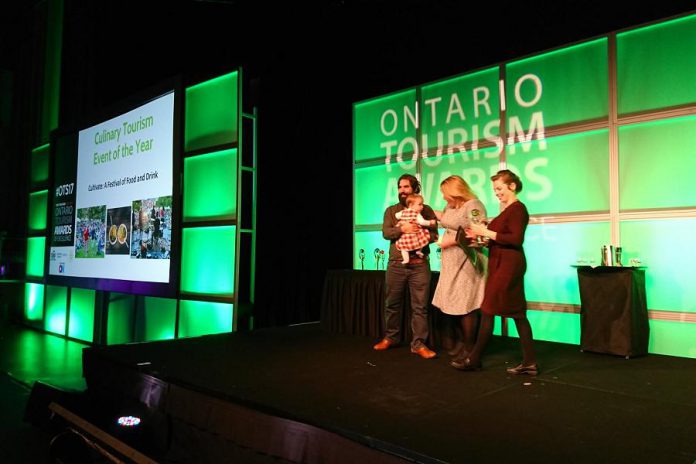 Peterborough & the Kawarthas Tourism won two awards: Tourism Marketing Campaign Award Under $50K for its 'Grab Life by the Handlebars' marketing campaign (to position the region as a premier cycling destination) and the Culinary Tourism Leadership Award for its 'Under the Lock' dining experience (where people can dine under the Peterborough Lift Lock).
Port Hope's Cultivate: A Festival of Food and Drink, the three-day family festival held in downtown Port Hope, won the Ontario Culinary Tourism Event of the Year.
Level Up Digital Marketing Series in Kawartha Lakes – next session on November 13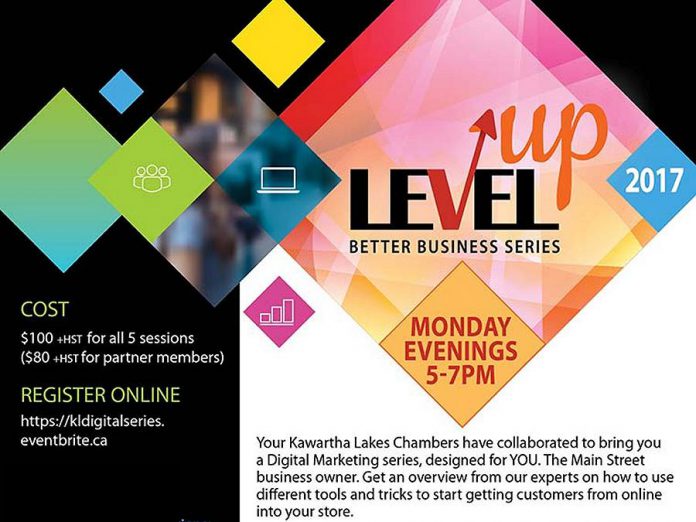 Chambers of Commerce in the City of Kawartha Lakes have come together to present "Level Up", a digital marketing series designed for the average business owner to get an overview from experts on how to use different tools and tricks to start getting customers from online into their stores.
The sessions take place on Monday evenings with the next session called "Website 101" with Peter Thomas at Omemee Fire Hall on November 13th.
Future sessions include "Social Media Success" with Tom Colliver at Olympia Restaurant on November 20th, "Getting Found" with Peter Thomas at Fenelon Falls Arena on November 27th, and "Content for Digital – Content is King" with Tom Colliver at Bobcaygeon Service Centre on December 4th.
Registration and networking takes place at 5 p.m., with training from 5:30 to 6:30 p.m., and questions and more networking from 6:30 to 7 p.m. The cost is $20+HST per session. For more information, call 705-324-9411 ext. 1396 or email bminhas@kawarthalakes.ca.. Register online at kldigitalseries.eventbrite.ca.
"Telling Your Food Story" Workshops on November 14 in Peterborough and November 15 in Northumberland

Regional Tourism Organization 8 (RTO8) is hosting two "Telling Your Food Story" workshops this week, intended for food-driven businesses. The workshop will help you learn how to tell your food story and engage visitors.
The Peterborough workshop takes place at 2 p.m. on Tuesday, November 14th at Holiday Inn Peterborough Waterfront (150 George St. N., Peterborough) and the Northumberland workshop takes place at 2 p.m. at Golden Beach Resort (7100 Northumberland County Rd. 18, Roseneath).
For more information and to register, email sarahp@rto8.com.
Advance Small Business Seminar Series in Northumberland – two seminars on November 15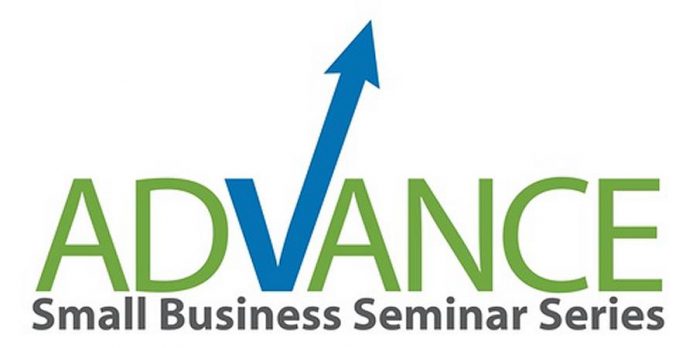 The Business & Entrepreneurship Centre Northumberland, along with Chambers of Commerce in Northumberland County, are presenting the Advance Small Business Seminar Series to make it easier for entrepreneurs to attend high-quality small business educational seminars.
There are two upcoming seminars this week, both on Wednesday, November 15th and both presented by Andrew Patricio, owner and founder of Bizlaunch and author of Up & Running a Guide to Running Your Own Business and Thriving Solo How to Grow a Successful Business.
"Financials for Non-Financial Business Owners" takes place from 1 to 4 p.m. in the main boardroom at Business & Entrepreneurship Centre Northumberland (600 William St., Cobourg) and "Low Cost No Cost Marketing Tools" takes place from 6 to 8 p.m. at the Keeler Centre (80 Division St., Colborne).
The cost is $10 for members of a local chamber and $15 for non-members, payable at the door in cash only. Due to limited space, all attendees must register in advance.
For more information and registration details, as well as other upcoming seminars, visit www.becn.ca/advance-seminars/.
Welcoming Diversity Workshop on November 16 in Lindsay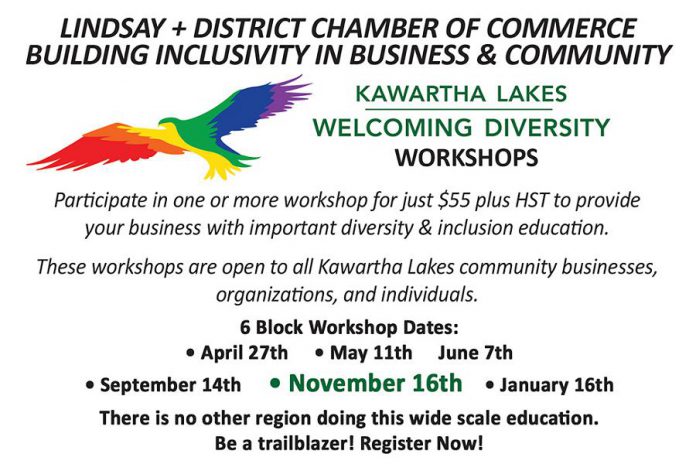 This year, the Lindsay and District Chamber of Commerce has been hosting a number of workshops intended to build inclusivity in business and community. The workshops are open to all community businesses, organizations, and individuals in the City of Kawartha Lakes.
The next workshop is on Thursday, November 16th from 9:30 to 11:30 a.m. at Days Inn and Suites (134 Angeline St. S., Lindsay). The cost is $55+HST for chamber members, seniors, or students, or $65+HST for everyone else.
For more information, call 705-324-2393 or email colleen@lindsaychamber.com.
Application deadline for Cubs' Lair entrepreneurial competition on November 17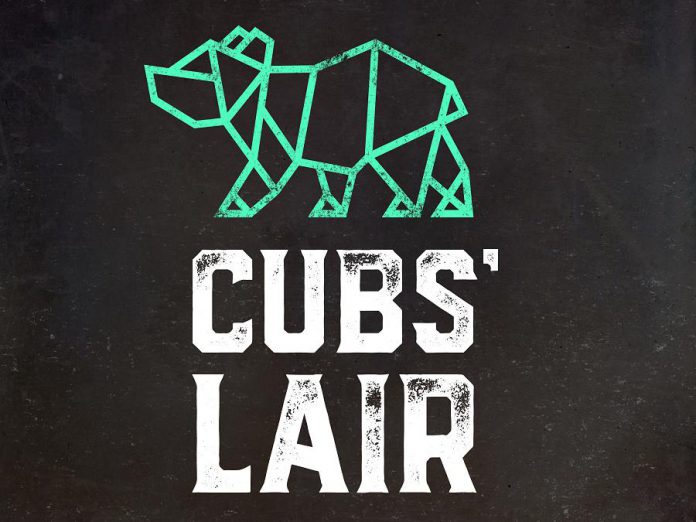 Applications for the annual Cubs' Lair, a pitch competition for young Peterborough entrepreneurs, are now being accepted. Presented by the Innovation Cluster, FastStart Peterborough, and the Trent Youth Entrepreneurship Society, the competition features more than $13,000 in prizes.
Interested entrepreneurs between the ages of 18 and 29 in Peterborough and the Kawarthas must submit a one-page description of their business by Friday, November 17th. There's also a separate Facebook contest with a deadline of November 15th (visit the link above for more details).
VIDEO: Apply Now For Cubs Lair 2017

All entrants will be required to attend three workshops on business development, cash flow, and pitching.
The top five finalists will be announced on Wednesday, November 22nd, and those entrants will pitch their ideas to a panel of five judges from 6 to 8 p.m. on Thursday, November 30th at the Gordon Best Theatre (216 Hunter St. W., Peterborough).
For more information, including eligibility requirements and how to apply, visit www.innovationcluster.ca/programs/cubslair/.
Peterborough & the Kawarthas Funding Forum on November 21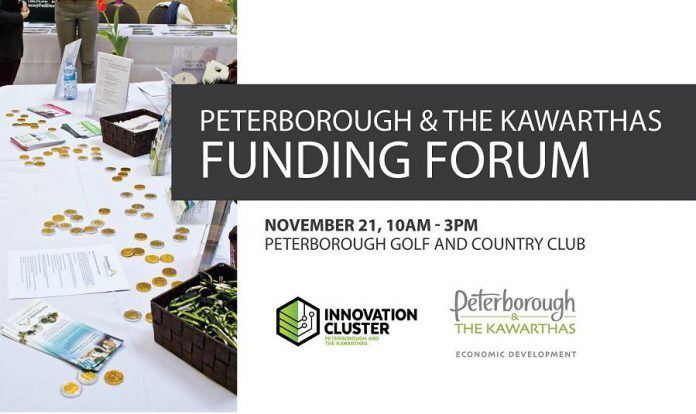 Peterborough & the Kawarthas Economic Development and the Innovation Cluster are hosting the Peterborough & the Kawarthas Funding Forum from 10 a.m. to 3 p.m. on Tuesday, November 21st at the Peterborough Golf & Country Club (1030 Armour Rd., Peterborough).
The forum is designed to connect business owners with the financial resources they need to succeed. It will bring together a variety of business funding programs under one roof for entrepreneurs in different sectors and stages of growth.
The day will also include four 45-minute breakout sessions throughout the day featuring topics on Angel Investment, Digital Business, Tips for Securing Small Business Funding, and Funding for Visitor Event and Experience Development.
While the event is free, interested business owners are encouraged to register at www.eventbrite.ca/e/peterborough-the-kawarthas-funding-forum-tickets-39528921067.
Business Summit 2017 in Peterborough on November 22

The Greater Peterborough Chamber of Commerce is hosting Business Summit 2017 from 7 a.m. to 11:30 a.m. on Wednesday, November 22nd at Ashburnham Reception Centre (840 Armour Rd., Peterborough).
The half-day conference features professional development and networking opportunities for the local business community.
Local MPP and Minister Responsible for Small Business Jeff Leal will provide opening remarks and there will be a breakfast conversation with Rhonda Keenan, President & CEO of Peterborough & the Kawarthas Economic Development.
Each attendee will be able to choose two of four workshops: "Bill 148 & Federal Tax Changes" or "Best Kept Secret in Business – Staying Visible" at 8:45 a.m., and "Marijuana & The Workplace" or "Taking the Mystery Out of Procurement" at 10:15 a.m.
The cost for the conference is $25 for Chamber members or $35 for non-members. The ticket price includes a breakfast buffet.
For more information and to purchase tickets, visit www.peterboroughchamber.ca/business-summit-2017.html