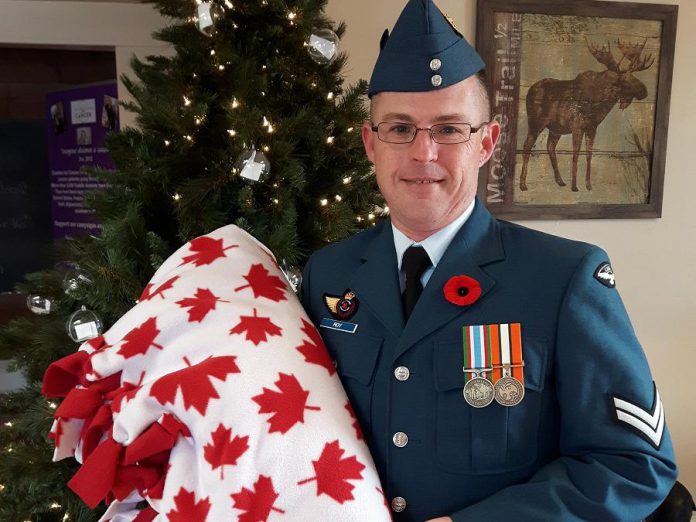 ---
President's Notes – December 2017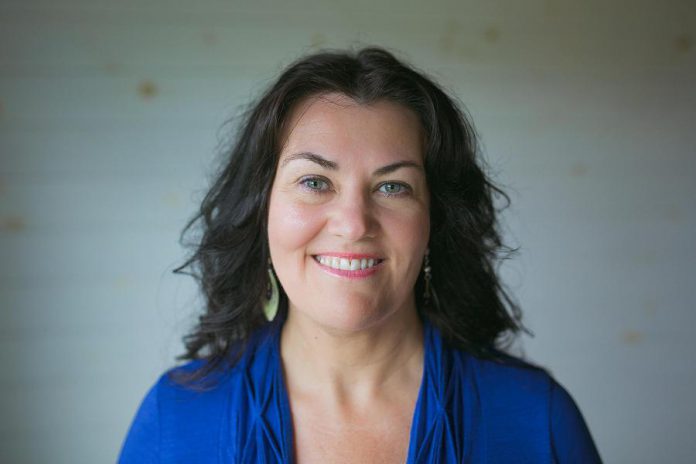 Well, as we approach another Christmas Season, I seriously don't know where time goes!
As we all get ready for this busy season, I hope you get some time to enjoy things like Santa Claus Parades (is there anything cuter than kids all bundled up waiting to see Santa?), evening shopping and all things peppermint.
Steering Through Change: Bill 148 Handbook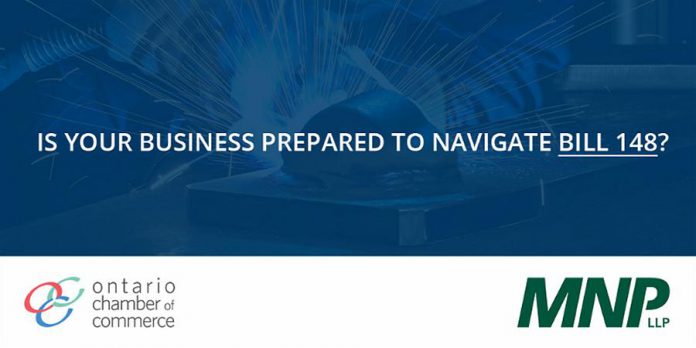 The Kawartha Chamber, alongside the Ontario Chamber of Commerce (OCC) and management-consulting firm, MNP, have released a comprehensive handbook (Steering Through Change) to help Ontario businesses navigate the new costs and regulations associated with Bill 148, the Fair Workplaces Better Jobs Act.
The handbook provides a summary of the incoming changes, outlines the potential risks to business, and identifies strategies to help mitigate the impact. Read the handbook.
Watch the Steering Through Change Webinar
In November, MNP and the OCC hosted a webinar to discuss the Steering Through Change report and answer user questions. OCC Vice President of Policy and Government Relations, Karl Baldauf, also gave an overview of the incoming changes from Bill 148 and how they will impact business. Watch the recording of the webinar below.
VIDEO: Webinar | Bill 148, Ontario's New Labour Laws | 2017

Nominations Open For Chamber Board Of Directors
Make a difference in your community, have a say on issues that effect local businesses — volunteer with your Chamber!
The Chamber's Nominating Committee is seeking nominations from Chamber members to let their name stand for election to the Board of Directors for 2018/19.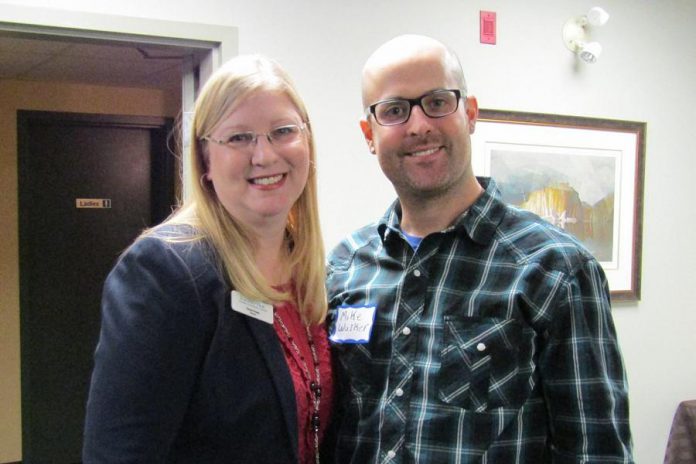 Positions are for a two-year term. All positions are confirmed annually by the membership present at the Annual General Meeting in February. Chamber members in good standing (annual dues and other purchases are paid) are eligible to submit their name, or a current employee who would represent that member.
The Nominating Committee wishes to have representation from a broad cross section of the Chamber's membership, so do not hesitate to confirm your interest. Download the application form here. The deadline for applications is Monday, January 8, 2018 at noon.
For more information, contact Garry Douglas at 705-656-3757 or Chamber Staff at 705-652-6963.
Join a Chamber committee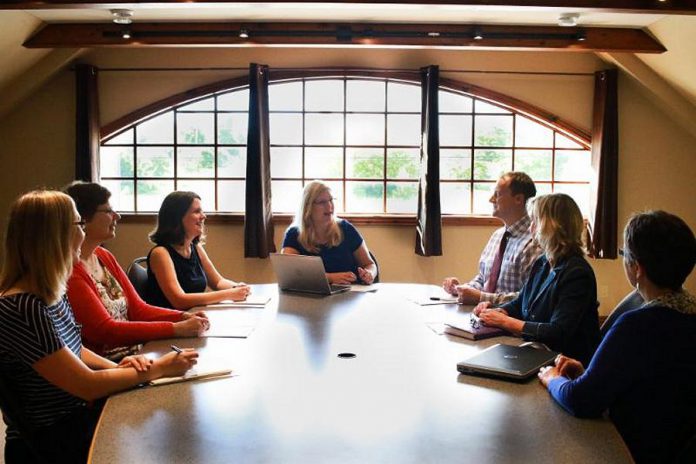 With a small staff, the Chamber relies on the expertise and dedication of volunteers that make up various committees. Join a Chamber committee to support your community and Chamber, while enhancing your professional development.
The Chamber has a variety of committees that may be of interest:
Finance
Human Resources/Governance
Marketing
Membership & Programs
Awards of Excellence Gala (late summer, fall commitment)
Nominating
Public Policy
Download the Volunteer Expression of Interest form here.
Ontario Chamber of Commerce position on Province's 2017 Long-Term Infrastructure Plan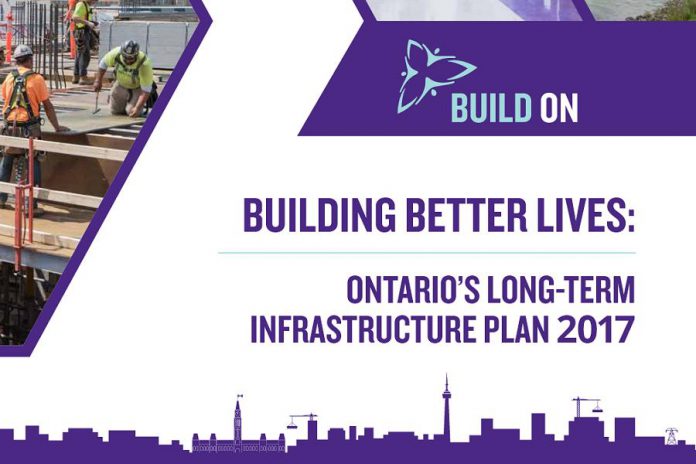 The Government of Ontario released the province's Long-Term Infrastructure Plan (LTIP) entitled Building Better Lives: Ontario's Long-Term Infrastructure Plan 2017.
The plan sets forth a vision for Ontario infrastructure planning and investment and is a key interim step in meeting the requirements of the Infrastructure for Jobs and Prosperity Act, 2015 (IJPA). It outlines how Ontario's infrastructure must be evidence-based and should be resilient to the impacts of a changing climate and disruptive technologies, seamlessly interconnected and supportive of economic growth for the whole province.
While the plan is a welcomed announcement in ensuring Ontario's infrastructure meets the needs of its rapidly changing economy, the Ontario Chamber of Commerce (OCC) encourages the government to continually update and monitor the plan to identify what is — and is not — working well.
OCC's Position
The OCC has been advocating for building infrastructure that sets Ontario's foundation for long-term, sustainable economic growth and prosperity, cumulating in our Building Better report. We are encouraged to see that the 2017 LTIP delivers broad alignment with the OCC's recommendations. Learn more.
December Business After Hours – December 13th
The December Business After Hours will be held in conjunction with Kawartha Lakes Construction's annual Christmas Drop In.
Contributions to the Lakefield Lioness toy drive, and Lakefield Food Bank are also welcomed. Register now.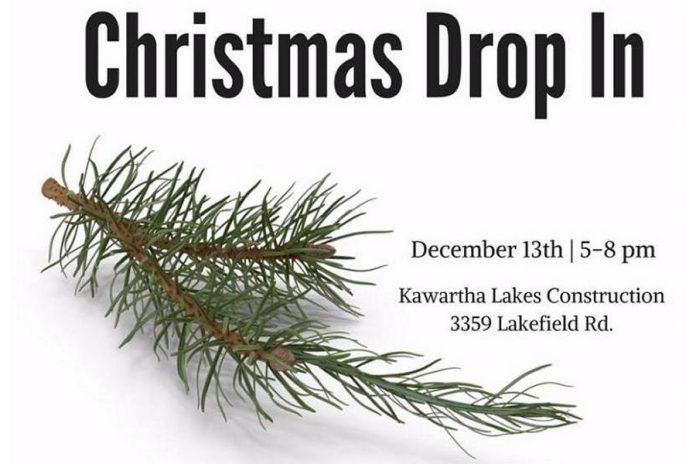 Save the Date
January 23rd, 2018 – Business After Hours, Details TBA
February 21st, 2018 – Kawartha Chamber AGM
Chamber and ServiceOntario Holiday Hours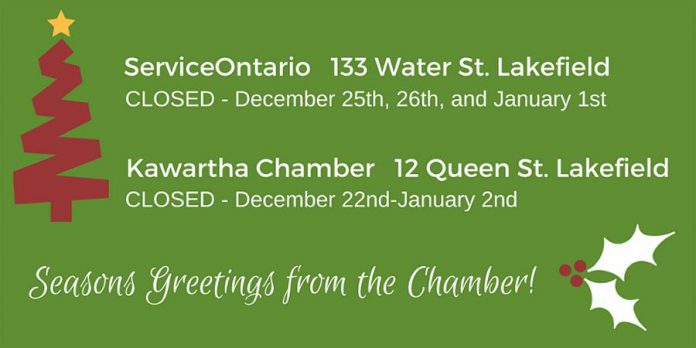 Peterborough County Sign By-Law – Extension of Public Comment Period
Peterborough County Council has extended the public consultation period for review of the Sign By-Law 2007-55 and are seeking input into the new sign by-law for the County.
At its November 15th meeting, Peterborough County Council extended the public consultation period for review of the Sign By-Law 2007-55 and are seeking input into the new sign by-law for the County.
Please direct written submissions to pwinfo@ptbocounty.ca or via regular mail to: Bush Country Sign Consultation, County of Peterborough, County Court House, 470 Water Street, Peterborough, ON, K9H 3M3. Submissions are due by Friday, January 5, 2018, at 2 p.m.
The intent is to address the proliferation of signs along County roadsides (particularly in Bush Country areas in the Municipality of Trent Lakes, Township of North Kawartha and the Township of Havelock-Belmont-Methuen) that are not visually appealing in these natural areas. Read more.
Information related to Sign By-Law 2007-55, Bush Country Signs and the consultation process completed to date is available on the County website.
The Chamber would like to hear from any businesses impacted by the proposed change to the County Sign By-Law. Please send your thoughts to generalmanager@kawarthachamber.ca.
Increase Your Chance Of Success By 30-50%
Increase your chance of success by 30 to 50%! Add the tools of Strategic Planning, Enterprise Risk Management (ERM) and Key Performance Indicators to your business arsenal.
For more information, contact Kelland Sewell at 705-917-3375 or ksewell@rpm3solutions.com.
Murray Tree Farm Open For 2017 Season
Murray Tree Farm at 8786 Highway 28 (fewer than 10 kilometres south of Apsley) is opens for the season!
The farm is open on the weekends of December 9th and 10th and December 16th and 17th from 10 a.m. to 5 p.m. Contact Murray Tree Farm at 705-656-4912.
Cuddles For Cancer Holiday Initiatives
True Meaning of Christmas
Cuddles for Cancer is hosting a "True Meaning of Christmas" event on Saturday, December 9th at the Cuddles Drop In location at 15 Queen Street in Lakefield. The event will run from noon until 3 p.m.
Cuddles for Cancer founder Faith Dickinson has chosen three causes that are near and dear to her heart to support. The day will begin with packing 17 boxes for Canadian soldiers who are serving overseas in Iraq, Romania, Kuwait, Ukraine, and Latvia. Donations are being accepted to include in the boxes.
After packing the soldier boxes, help make Cuddle blankets for the "Kids at Christmas" campaign (see below). The goal is to make 300 blankets before Christmas. Then, decorate gingerbread cookies for delivery to Lakefield Extendicare at 3 p.m.
Kids at Christmas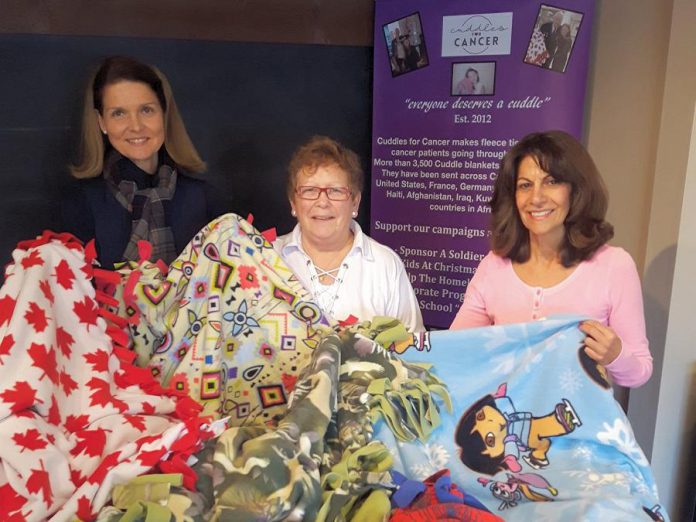 Cuddles for Cancer invites you to participate in their "Kids at Christmas" campaign.
Unfortunately, many children will be in the hospital over the holiday season. For the past four years, Cuddles has been inviting families, businesses, churches, schools and organizations to sponsor a child for $50. This covers the cost of the blanket and ensures children receive a "cuddle" of their own.
The "Kids at Christmas Campaign" has brought tears of happiness, genuine smiles and comfort to many children at the PRHC and Sick Kids Hospital. Please help us continue this holiday tradition! Learn more.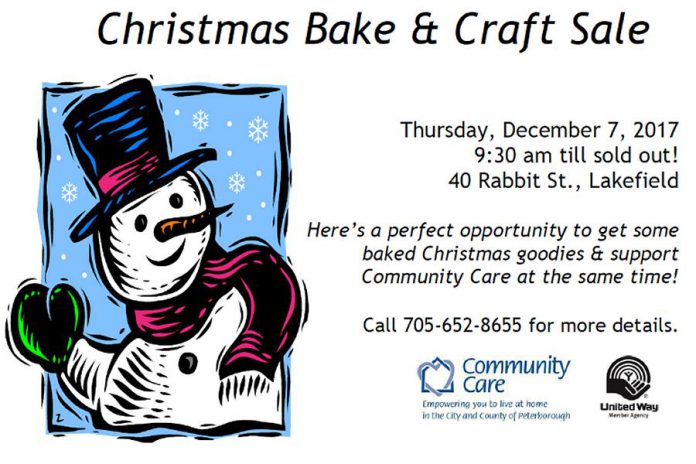 Selwyn Township Resident Survey
The Township of Selwyn is on a mission to ensure local businesses thrive to increase employment opportunities and wants to hear what you have to say about the local economy.
As a thank you, each person who completes the survey before December 15th will be entered to win a $250 gift card to be used at a Selwyn business. Click here to take the survey.
Deadline Extended To Submit Festivals and Events
Festivals & Events Ontario (FEO) will be producing the 2018/19 edition of the Festivals & Events Ontario Guide in partnership with the Ontario Tourism Marketing Partnership Corporation (OTMPC).
Get noticed by thousands of festival and event goers. Visit the OTMPC partner website at www.tourismpartners.com and submit or update your event listing(s) by Friday, December 8, 2017.
Approved listings will be featured on ontariotravel.net for free.
For more information about the businesses and events listed above, please visit the Kawartha Chamber of Commerce & Tourism website at kawarthachamber.ca.
All photos supplied by Kawartha Chamber of Commerce except where noted.