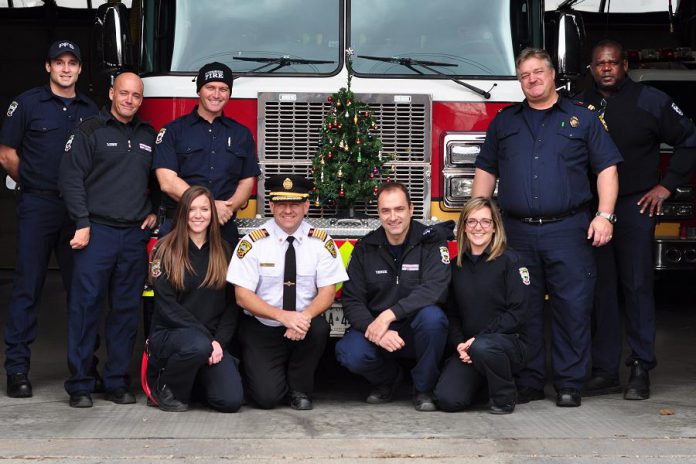 Once again this year, the Peterborough Professional Firefighters Association will be donating $2,000 to purchase toys from The Toy Shop at 176 Hunter Street West in downtown Peterborough for the annual Salvation Army Toy Drive.
The firefighters will be giving their cash donation to Toy Shop owner Jean Grant, who will be able to stretch the donation by getting deals on toys from her suppliers.
Grant is also donating an additional $300 to the toy drive — the first prize award she received after winning the Holiday Window Contest presented by the Peterborough Downtown Business Improvement Area (DBIA) last Saturday (December 2).
"The toys we choose are always good quality, creative and educational," Grant says. "It's important to inspire a child and the right toy can do just that."
On Saturday, December 9th at 10 a.m., the firefighters will park a fire truck in front of the Toy Shop and load up the toys. George, King of Downtown — the DBIA's mascot — will be on hand to assist the firefighters.
As well as donating toys, the firefighters are also donating $1,500 for the Salvation Army hamper fund.
"The members of the Peterborough Firefighters Association believe this is a time of year for joyous celebration," says Ed Venuk of Local 169. "To help make this happen, as well as assist with a growing need for support in our community, we will be donating both money and toys to the Salvation Army hamper fund and toy drive. This year we are also trying to assist the warming room and one roof community shelters with some of their needs."
The firefighters say that The Toy Shop on Hunter Street has been a great help for many years by helping them purchase quality gifts throughout the year in order to buy more for less. They also provide the firefighters the opportunity to spend locally and further support our community.
In addition to donating money, the firefighters donate their time and effort by helping to unload trucks of food for the hamper drive on December 9th, moving toys for the toy drive on December 11th, and helping to deliver the hampers to the community.
"It has always been our honor to assist the community of Peterborough whenever there is a need and we will continue to do so wherever possible," Venuk says.