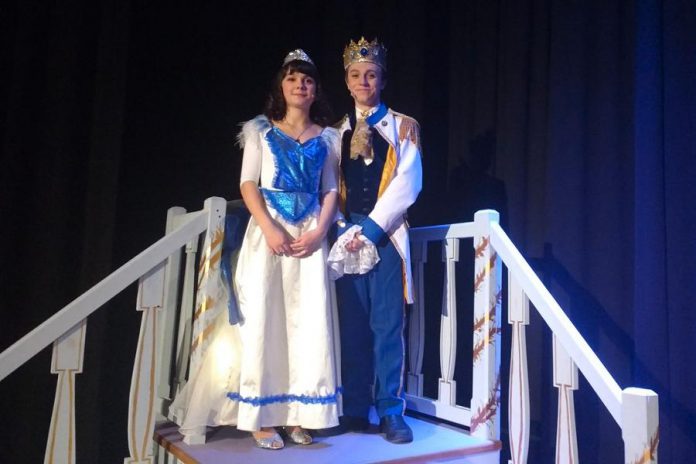 The holiday season is about to get a little more magical with the Thomas A. Stewart Musical Theatre Program presenting its production of Rogers and Hammerstein's Cinderella from December 14th to 16th.
Directed and produced by Sarah Tye, this version of Cinderella tells the basic story told to generations for centuries, but with some additional plot twists and characters for a story that goes far beyond the tale of a girl with a missing shoe.
Although countless versions of Cinderella have appeared in print, in film, and on the stage, this version has an interesting history.
In the late 1950s when television was going through its first golden age, Broadway plays were being televised with much success. After NBC struck gold in 1955 with a televised version of Peter Pan starring Mary Martin, the network wanted to do another family musical. Instead of adapting an existing Broadway show for the small screen, NBC approached musical heavy hitters Richard Rodgers and Oscar Hammerstein to create an original show for broadcast.
Having already had huge hits with Oklahoma!, Carousel, South Pacific, and The King and I, the pair decided to produce an original updated version of Cinderella. Upon discovering rival network CBS was also seeking to do an original televised musical, Rodgers and Hammerstein learned CBS had signed Julie Andrews (who was then starring on Broadway in My Fair Lady but was not yet a star) to a yet-to-be-announced project.
Wanting to work with Andrews, who they greatly admired, the pair jumped ship and brought Cinderella to CBS instead. Rogers and Hammerstein's Cinderella aired live on CBS on March 31, 1957. With 56 performers, six large set pieces, and over 100 costumes, the 90-minute production was considered one of the most ambitious and largest televised projects of the era. An estimated 107 million viewers tuned into the show, and Julie Andrews was nominated for an Emmy Award for her performance, giving her one of her first successes beyond the theatre stage.
Unfortunately, no versions of the colourized version of the special exists, but a black-and-white kinescope of the performance is available on DVD. The play has gone through several rewrites over the decades for the stage. The version that the TAS program is performing is the latest version, which premiered on Broadway in 2013, with an updated book by Douglas Carter Beane.
The thing that makes Rodgers and Hammerstein's version of Cinderella unique is the way they play with the story and the characters. They take a story everyone thinks they know but — by adding new themes, dramatic situations, and characterization to flesh out the story — they make it more complex and, even today, more contemporary.
For people who think they know the story of Cinderella, if you haven't seen this version you really don't know how good Cinderella can be. Rodgers and Hammerstein's take on the classic fairy tale is my very favourite version.
When Prince Topher (Dylan MacDonald) returns home from school, he finds himself under the thumb of the manipulative Lord Chancellor Sebastian (Dalton Lain), who is robbing the kingdom's people of their money and land and leaving them living in squalor. After revolutionary student Jean-Michael (Hayden Henderson) begins to publicly speak of the injustice in the kingdom, Sebastian decides to create a distraction by marrying the reluctant prince off in a grand masquerade ball.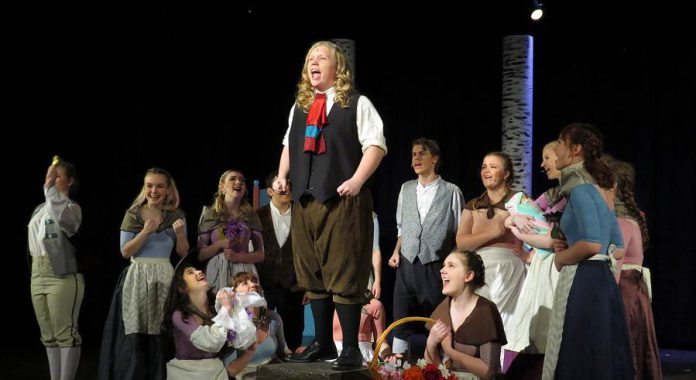 Enter the greedy and cruel Madam (Emily Reed) who lives in the village with her two daughters Gabrielle (Miranda Steiginga) and Charlotte (Sara Lytle) and her sweet but mistreated stepdaughter Ella (Grace De Mara). Romantically involved with Sebastian, Madam plots with the Chancellor to rig the masquerade so that Gabrielle will marry Price Topher. However, things don't go as planned when the beautiful and kind Cinderella arrives at the ball and wins the Prince's heart.
The audience knows the rest of the story including a fairy pumpkin, a pumpkin coach, and a missing glass slipper. But with some clever rewriting, the fleshed-out storyline in this version of the story is far more compelling than the story you've heard before.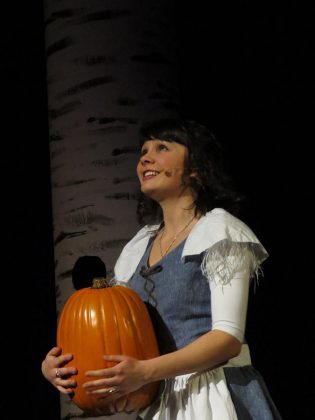 Each year Sarah Tye manages to bring a new bright talent to the centre of the TAS stage, and this year is no exception with Grace De Mara in the role of Cinderella. With her bright eyes and sweet smile, Grace has a delightful stage presence and she just shines in the role, creating a heroine who is easy to fall in love with.
Radiating kindness, positivity, and gentleness, Grace's Cinderella has more dimensions than other versions that have come before and after her. She gives a charming performance and is perfect in the role.
Meanwhile, Dylan MacDonald, as Prince Topher, creates a much different version of the story's hero than other versions as well. Heroic but a bit naive, Prince Topher is hardly a sovereign who is in the know; he's a bit clueless and a few cards short of a full deck.
In fact, more of the story is about Prince Topher getting his kingdom together and trying to discover the identity of the mysterious girl at the ball. Dylan creates a charming and lovable character by presenting a flawed version of this Prince Charming.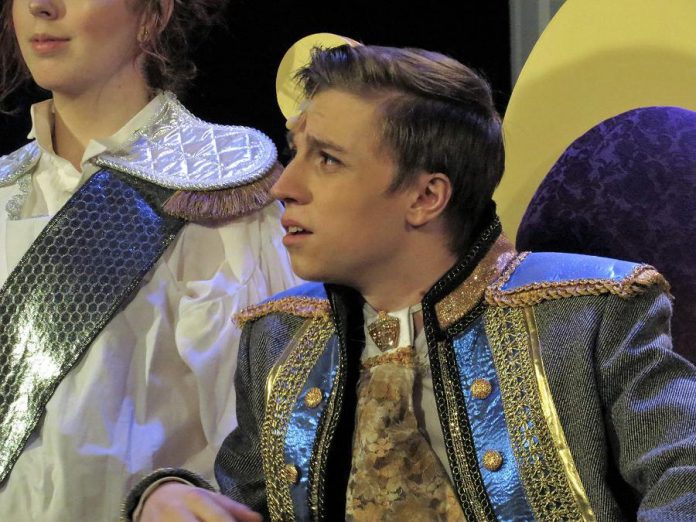 In my opinion, the more interesting romantic plot is that of Jean-Michael and Cinderella's not-so-evil stepsister Gabrielle. Hayden Henderson and Miranda Stieginga are standouts in these colourful character roles, and create a new compelling storyline to give the audience something more than just the story that they know. The relationship between Cinderella and Gabrielle is refreshing and so different than anything seen before, and adds so much more to the show.
I was also really charmed by Miranda and Grace's chemistry with one another.
I also want to give a shout out to Kaia Douglas in the role of Crazy Marie, a wonderfully comedic character. Kaia creates some extremely special moments on stage, and gives some of the stronger musical moments of the night.
Of course, the music of Rodgers and Hammerstein is always so notable and, backed by a full orchestra of volunteer musicians under the direction of Ben Jackson with assistance by Justin Hiscox, Sarah Tye's company carries through a number of well-written songs that, somehow, never really made it into the classic Broadway canon of songs.
The musical performances of the night belong to Taylor Mosher and Hayden Henderson, who lead the cast in "The Prince is Giving a Ball", and Sarah Lytle's big number "Stepsister's Lament", in which she really maximizes her moment in the spotlight with tons of spunk.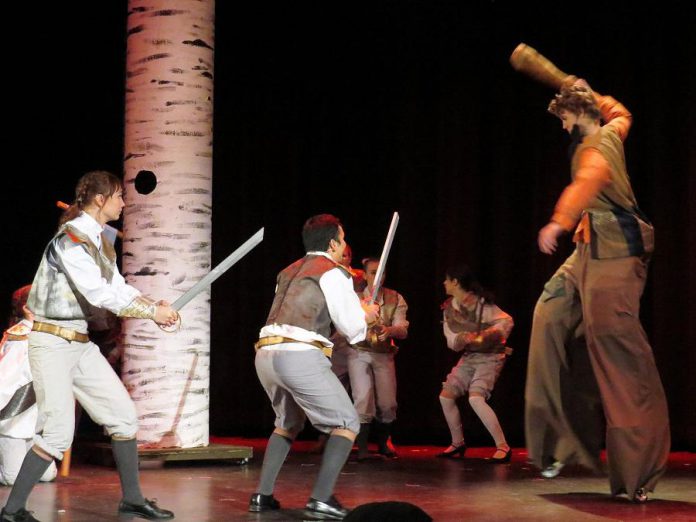 But beyond the great performances, the real magic of Cinderella is the onstage transformations and special effects created by Sarah Tye's amazing crew. Elaborate set changes happen before the audience's eyes, puppet animals turns into people and, in one of the most interesting spectacles of the night, Prince Topher and his men battle an actual giant!
Noah Miller wears a specially designed costume with running stilts that makes him tower over the rest of the cast, and Sarah revealed to me it took Noah two months of practice to master the ability to swiftly move on the contraptions. It's a really cool moment early on in the show that really stands out.
But possibly the most impressive effect in the show is when Cinderella changes from rags to a beautiful gown in a spectacular on-stage costume change with a special dress created by grade eleven students Abby Goble and Abi Begg. I was able to take a closer look at the dress to see how it works, and I have to say that the design of the dress is pure genius and a truly inspired piece of costuming.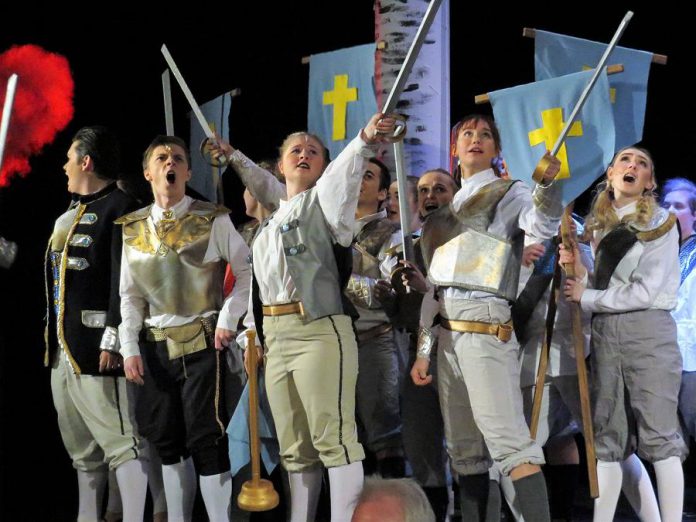 Even beyond that dress, the entire cast looks dashing and elegant, and the students involved in designing all the costumes should be applauded for making this production look so good.
As an educator and a director, Sarah Tye knows how to get the kids she brings into her productions to excel at their craft, and their professionalism and passion show in the finished result. I was charmed by Cinderella and it is a perfect show for the entire family this holiday season. There is something in this show for everyone, young and old, to enjoy.
Cinderella runs form December 14th to 16th at the Thomas A. Stewart Secondary School auditorium. Performances starts at 7 p.m., with an additional 2 p.m. matinee on Saturday, December 16th. Tickets are $15 for adults and $12 for students and children. For more information on how to purchase tickets, visit tasmusical.weebly.com/box-office.html.
VIDEO: A sneak peek from Rodgers and Hammerstein's Cinderella