This month, food writer Eva Fisher talks with an owner of the hotly anticipated new Lindsay brewery The Pie Eyed Monk, and she discovers delicious local tourtière with Primal Cuts and The Bridgenorth Deli. She proffers a winter appeal from Dave Ralph, Chair of the Board of Kawartha Food Share, and she gets the details on a new plant-based restaurant coming to Peterborough.
---
Excitement builds for The Pie Eyed Monk, a new craft brewery in Lindsay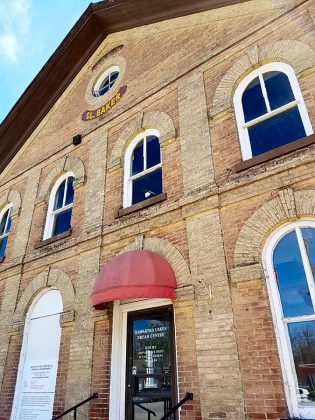 Excitement is brewing in downtown Lindsay for a new craft brewery and restaurant located in the historic C.L. Baker Building, directly across from the Lindsay Fire hall.
Partner Aaron Young anticipates The Pie Eyed Monk Brewery (8 Cambridge St. N., Lindsay, 705-878-3200) will open in May of 2018.
Two brewmasters have been hired and recipe development is underway. Sandra Chadwick and Keanan Schiedel-Webb recently became certified brewmasters after attending VLB in Berlin.
Prior to going to school, the pair collectively have 10 years of brewing experience at Haliburton Highlands Brewing (Keanan is the son of owners Michael and Jewelle Schiedel-Webb).
The first five Pie Eyed Monk beers have been taste tasted and will be named, for the most part, after partners in the business.
Aaron's wife and business partner Jennifer Boksman named hers "The Laughing Troll." The group commissioned a logo that features a purple troll with Jennifer's hairstyle: a blonde mohawk. "The Dirty Bird" is realtor Brad Bird's brew of choice, and "Brownie's Blonde" is Don Brown's pick. There is also a hop happy beer dubbed "The First Responder," a nod to the region's EMS services, and "Murph's Daily Ration," named for partner Pat Murphy.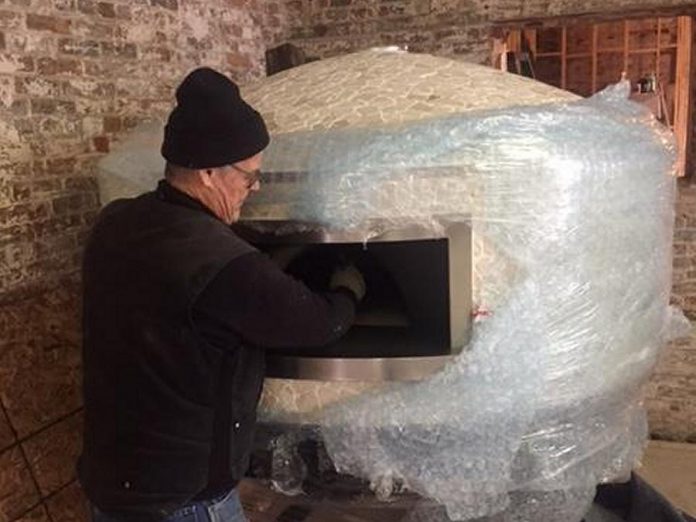 In addition to house-made beer, The Pie Eyed Monk will serve wood-fired pizza made in an imported Italian pizza oven. Aaron plans to have his chefs trained to make wood-fired pizza in Toronto once they are hired.
"You have to be humble enough to go out there and learn. The restaurant business is a tough business."
That's not to say that Aaron doesn't have significant experience in the food industry. He founded Lindsay's Ribfest with his wife Jennifer in 2009. They are bringing their love of barbecue to their current endeavour.
"Jen and I are building a sixteen-foot smoker at the moment. We got an old propane tank and we're converting it into a three bay smoker."
That means that their pulled pork pizza and poutine will be made with house-smoked pork, and their charcuterie board will have a barbecue slant.
In addition to the restaurant and brewery, the building will have a second floor event space with a Prohibition era theme and seating for up to 150 people.
The group has committed to use local companies during the renovation process wherever possible.
"Jen's been here almost her whole life, I've been here since I was 15," Aaron says. "We own businesses in the community that are very very important to us and our community's really important to us. You work in the community that you're from because you understand it, and hopefully you get supported in return."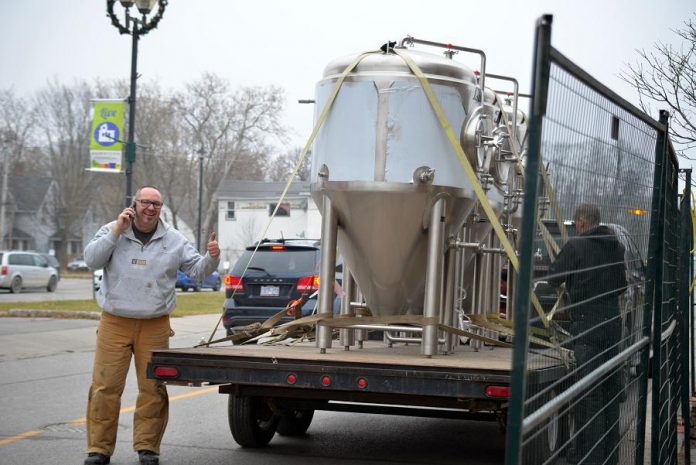 Aaron has been humbled by the support so far.
"The feedback we've been getting is outrageous. Everybody's excited."
Aaron points out that the excitement isn't just from the Lindsay community.
"I probably field five to ten calls per day of people outside the community looking to see if we're open."
To keep up to date on the opening, visit the Pie Eyed Monk website at www.pieeyedmonkbrewery.com or follow them on Facebook.
Two places to get great tourtière this holiday season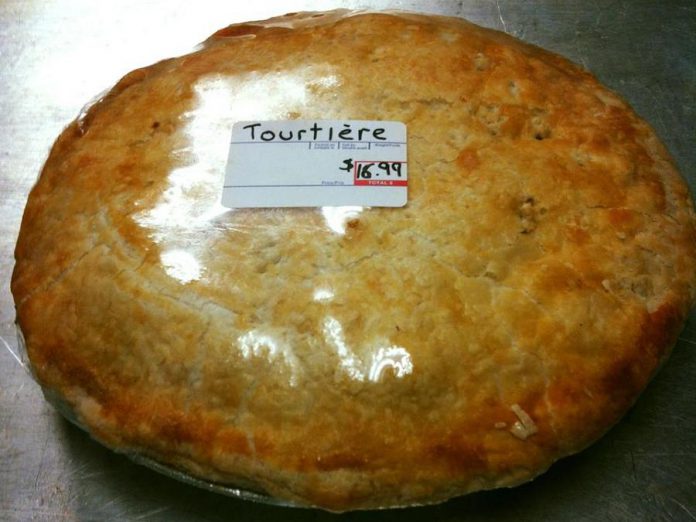 In my family, tourtière, a French Canadian meat pie made with pork, beef, and a hint of fragrant clove, was a Christmas Eve tradition. It was served at my grandmother's table from a Madame Benoit recipe with plenty of green tomato relish.
Fortunately for busy merrymakers in the Kawarthas, you needn't spend hours in the kitchen to serve a tourtière worthy — we imagine — of even Jehan Benoit's approval. Here are two places that make authentic French Canadian meat pie.
Primal Cuts
Primal Cuts (550 Lansdowne St, Peterborough, 705-775-6328) tourtière is made with their own Square Nail Pork, produced locally. Large English Black pigs are fed spent grains from the Publican House Brewery.
The Primal Cuts recipe is based on a traditional Quebecois recipe and also includes double-smoked bacon and real Canadian maple syrup.
Primal Cuts' tourtière is available in store throughout the holidays, and their chefs are happy to work with you to create a custom tourtière based on your tastes.
The Bridgenorth Deli
The Bridgenorth Deli (871 Ward St, Bridgenorth, 705-292-5444) offers tourtière made with a recipe from the Trois-Riviere region of Quebec.
They use fresh beef and pork, never frozen, and they grind the meat as they are making the pie so it's optimally fresh. Their pastry is supplied by The Kawartha Butter Tart Factory in Warsaw.
The Bridgenorth Deli's tourtière is available from the cooler in store or by pre-order.
They recommend serving it with a drizzle of maple syrup. According to co-owner Jody Katzman, "it's the only way to go."
Help Kawartha Food Share battle hunger in your community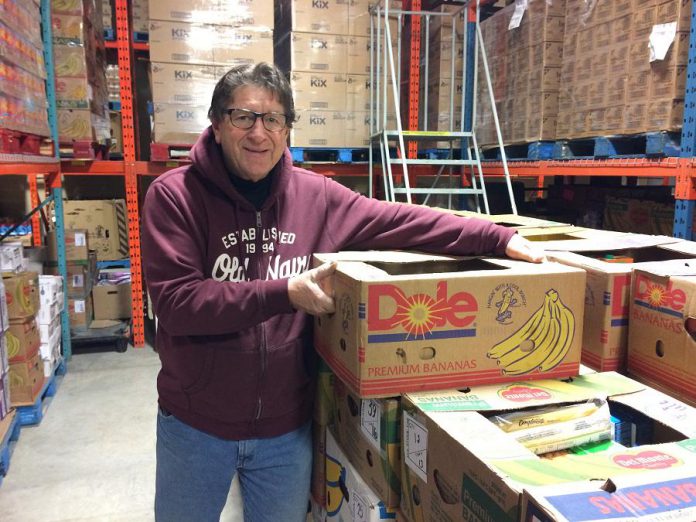 What does a food bank user look like? Chances are they're younger than you think — 43 per cent of food bank users in the Kawarthas are under 18 years old.
Kawartha Food Share (665 Neal Dr, Peterborough, 705-745-5377) supplies food to 37 local food banks, which in total feed 9,000 people per month. Every day, 51 school breakfast programs supplied by Kawartha Food Share feed 17,000 local children. They supply food programs throughout the Kawarthas, from Millbrook to Hastings.
Chair of the Board Dave Ralph took me through their 10,000-square-foot Neal Drive location, where food donations come in from a variety of sources.
People donate at grocery store collection boxes or bring the food directly to the Food Share. Grocery stores supply dented canned goods, and a few larger retailers regularly donate food.
A mountain of buns and cakes sit in the freezer, brought in at 8 a.m. from Costco. Dave points to a large stack of breakfast cereal: "That's from Walmart."
Quaker Oats makes regular donations, and Chewy Bars, popular with breakfast programs, have their own item number.
The donations are sorted into categories. Rice, pasta, dog food, canned soup, canned milk … everything is organized into boxes and labeled. That means that organizations including the Brock Mission, The Salvation Army, and YES Shelter for Youth and Families can place an order for exactly what they need.
With only two full-time and two part-time staff members, Dave says the community's support is vital to their operation.
"We rely heavily on volunteers." He says that a big commitment isn't necessary. "If they want to come in an hour and help sort, or they want to come in for a couple of times a week they're most welcome to."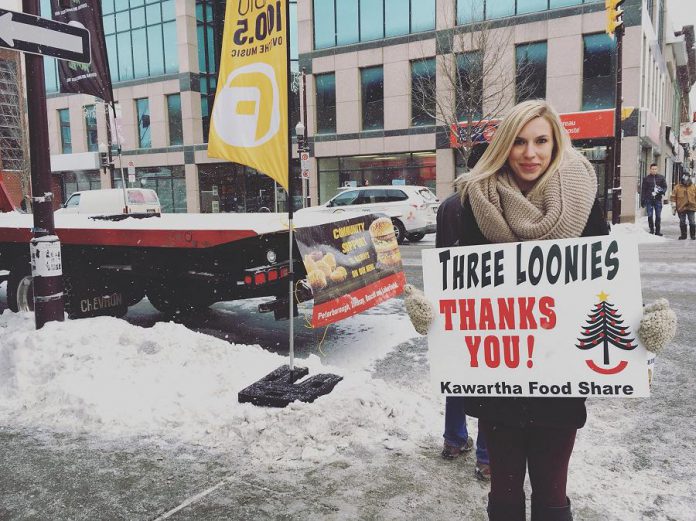 Those with less time on their hands may want to consider a cash donation. For every $1 donated, Kawartha Food Share effectively has $6 of buying power. Dave says that people come in with empty beer bottles and jars of pennies, and every donation helps hungry families.
Every donation over $10 is issued a tax receipt. Cheques should be made out to Kawartha Food Share.
Dave says that people donating goods to the food share should consider personal care items, as they're always in demand.
"I had no idea how expensive diapers were.".
He also suggests donating pasta, pasta sauce, boxed macaroni and cheese, peanut butter, crackers, juice boxes, and microwaveable food like canned soup and tinned ravioli.
For more information about Kawartha Food Share, including how to volunteer, visit www.kawarthafoodshare.com.
Soon you can veg out at a new plant-based restaurant in Peterborough
For those following a vegan diet, dining out can be a challenge. Franchisees Michael and Paul Carcone are planning to bring a new vegan option, The Copper Branch, to Peterborough in April 2018.
The new restaurant will be located at 1040 Lansdowne Street West.
The Copper Branch is a chain that originated in Montreal. They offer fast, casual, 100% plant-based meals with a mission to make vegan food more accessible.
Andrew Infantino, Marketing Director of the Copper Branch, explains.
"When we first started, we had the mission of bringing plant-based foods more to the mainstream. We have high aspirations for the brand but of course I think were really doing something positive, essentially changing the way in which people are perceiving vegan or plant-based foods."
The restaurant is known for its power bowls, but they also offer burgers, sandwiches, breakfast, smoothies, and organic coffees and teas. Andrew recommends the General Copper Bowl, which is made with shitaake mushroom, fresh avocado, sriracha coleslaw, organic brown rice, broccoli and topped with a fresh pepper and tomato sauce.