After what has been a long and often emotional journey, local filmmaker Lester Alfonso is putting the final touches on his long-awaited documentary Birthmark, which will have its debut screening on Sunday, January 28th at Showplace Performance Center as part of the ReFrame Film Festival.
As the premiere draws closer, Lester is feeling a new kind of anxiety in regards to showing the film to an audience for the first time.
"It just makes me so nervous," Lester reveals. "I feel scared because it's a big deal for me. I mean, my birthmark is on the film, and everyone is going to see it. It's the first time I've shown my birthmark to this many people. It's a big deal for me to have to go through this ritual. It's really a ritual of me owning up to my people — my family, my community."
As the film coordinator for this year's ReFrame festival, Lester has the unique experience of debuting Birthmark at the same festival he is working at.
VIDEO: Birthmark Trailer

At 72 minutes in length, Birthmark is his first feature-length film and his third completed film. His first film, Trying to Be Some Kind of Hero, made its debut in 2001 followed by his award-winning short film Twelve in 2009. As Lester points out, he seems to complete a film every eight years.
Although Lester and I first spoke about Birthmark in 2016, Lester has been developing the film since 2010. It has been an emotional and often psychological exploration for Lester, one that has taken him on a number of unexpected personal twists and turns with his own birthmark with which, for his entire life, he has had a difficult relationship.
"As a child, an incident happened in which I absorbed and solidified in my head that my birthmark made me the marked one and that I was the cause of bad things that happened," Lester explains.
While he didn't often think much about his birthmark as an adult, his mind unconsciously went back to it when trying to come to terms with a sad time in his life.
"When I got divorced, I thought at that time it was the worst thing that had ever happened to me," Lester says. "I wondered why this had happened to me. When it happened, the first thing I thought of was that it was because of my birthmark. That really connected to a self-loathing I had learned, from believing that I wasn't as lovable because I had a mark. I thought that was something worth exploring."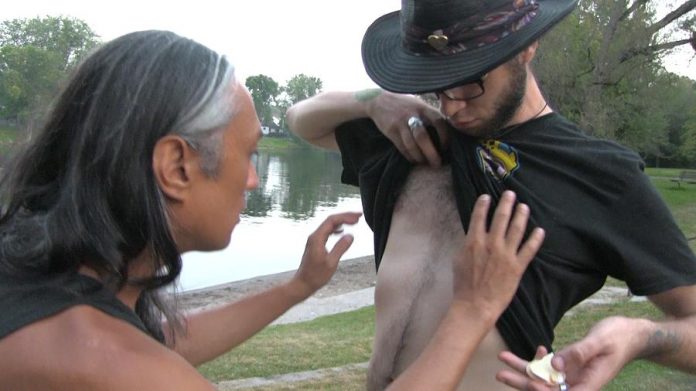 Although Lester had his own difficult relationship with his birthmark, he began the process by filming interviews with others around our community about their birthmarks.
"I started off with an idea, knowing there was this thing about my birthmark," Lester explains. "But really, I didn't have an excuse to talk about it to other people unless I had a film to make. I'd be able to say 'Hey, I'm making a movie about birthmarks' and then it'd give me an excuse to ask 'Do you have a birthmark?'
"Through the ritual of talking to people, I end up healing myself because there is so much power knowing that you are not alone. I started finding out that people had their own stories. It was just their own personal family stuff, or local lore. It became a local anthropology. But as I talked to people, I ended up having flashbacks of memories from my past."
While filming these local stories, Birthmark hit a unexpected turning point in 2015 when Lester presented a script to Mysterious Entity's Script Club that he had created in 2010 while first developing the film. As local performers acted out the script, Lester began to dig up long-buried memories to the surface, which affected the direction of the film.
"After getting the grant to make Birthmark in 2015, as part of the development process, I rescued the script out of the bottom of my drawer and brought it to Script Club in April 2015 and recorded the reading for a podcast called Soundproof. It was an inspired night, a heated conversation came afterward, and I realized then that this was potent. I realized a lot about myself just by taking the story outside of myself and getting others to read it."
Lester brought his script back to The Theatre on King later that fall and filmed a group of local performers acting out the script. That footage has been used throughout the film to help tell his own personal story.
"I knew then that I wanted to film this experience when the time came," Lester says. "So in October 2015 Em Glasspool, Dianne Latchford, Susan Newman, Rob Fortin, Ryan Kerr, Kate Story, Sarah McNeilly, Tobias Bernstein, and Simon Turner from The Theatre on King community came out to help. Rob Viscardis shot video. Wayne Eardley shot old school Super 8 film. This is what made it to the film.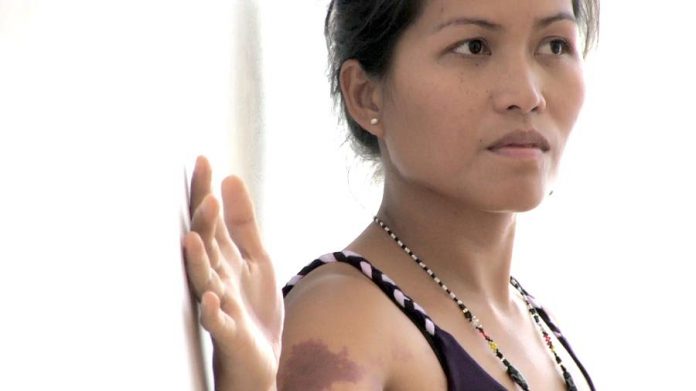 "Script Club brought to life my past and the reason I was doing that for my film was because I needed to extract a story outside of myself. Having worked with members of the Peterborough arts community, and having them support my projects, means a lot to me."
To bring Birthmark to the big screen, Lester has assembled an incredible team to help him tell the story, including local filmmakers Rob Viscardis, Angel Hamilton, and Wayne Eardley, and is working with editing consultant Mike Munn and sound editor Michael Phillips.
"I really lucked out on my collaborators," Lester says. "Mike Munn said to me the other night 'You're really blurring the lines between performance art and biography.'"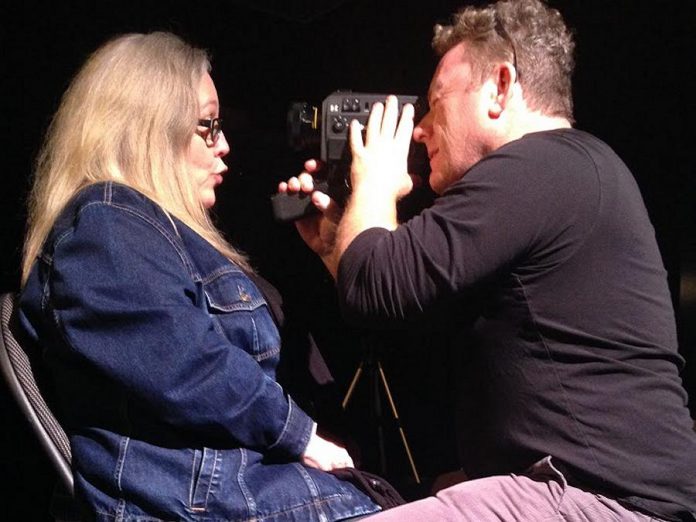 Although a few of his friends and collaborators have seen the film, Lester feels that it is important to show the film to a wider audience beyond his immediate circle.
"I need to show Birthmark to people who don't know me," he says. "Otherwise I don't know if I'll get honest feedback from people who know me. It's a huge difference for me to be at the sacrificial altar of the church of cinema. I just feel so exposed. I signed up for it, and I knew this was going to happen, but it doesn't ease my nervousness."
Lester admits that the most difficult people to show the film to will be his own family — who he has yet to show any of the footage.
Lester made the film for his daughters, Sunny and Georgia, but so far has not had the chance to arrange a screening with them. As a result, they will be seeing the film for the first time at the January 28th premiere.
In the case of his parents, Lester made the request they do not attend the premiere, so that he can show them the film in a more private setting at a later date.
"My mom wanted to come to the world premiere," Lester says. "It was hard, but I asked my parents not to come. They play such a big part in the film, and I play such a big part in the festival as the technical coordinator, that I'd have to be in work mode the whole weekend. Dealing with showing the film to them for the first time might be a little too much.
"I'm really not sure what kind of reaction it's going to get. I'd rather show them the film myself afterwards, maybe at another festival, when I'm not also working."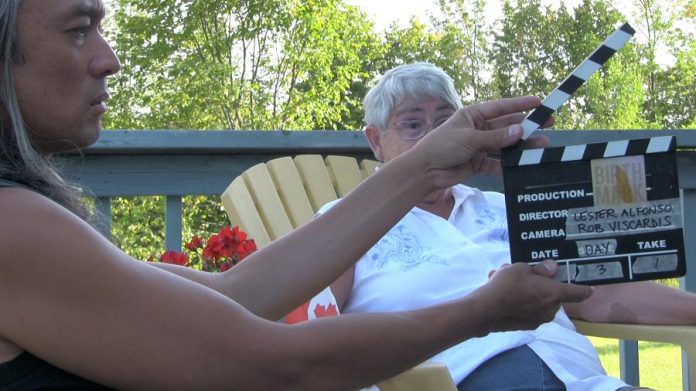 Now that his journey with Birthmark is nearing its climax, has Lester's relationship with his own birthmark changed? The answer to that is not so easy.
"It's hard to get it out of my mind," Lester reveals. "There might be some technical glitches with the film, and every time something goes wrong I go back to my birthmark. I need to say 'Lester, you can't think that', but I automatically go back to it as a default.
"This birthmark is part of what I'm the most ashamed of and that is something I need to get rid of because it's not really serving me. There is no need for me to be ashamed of this. That's the whole ritual of the film. This movie is me, literally, extracting this thing I live with that I was ashamed of and putting it on the screen for people to see.
"Birthmark is my most personal film to date, the hardest film I've had to make to date, and my longest film to date. I really want everyone to come and to participate and help me get through this."
As part of the ReFrame Festival, which runs from January 25th to 28th, Birthmark will be presented on Sunday, January 28th at Showplace Performance Centre at 2 p.m. Audiences can get into all of the films throughout the weekend with the purchase of a festival daytime pass ($29.99 or $19.99 students/underwaged), but admission to Birthmark will be pay what you can for those without a ReFrame pass.
For more information on the ReFrame Film Festival and to read about the other films being presented at this year's festival, which runs from January 25th to 28th, visit reframefilmfestival.ca.