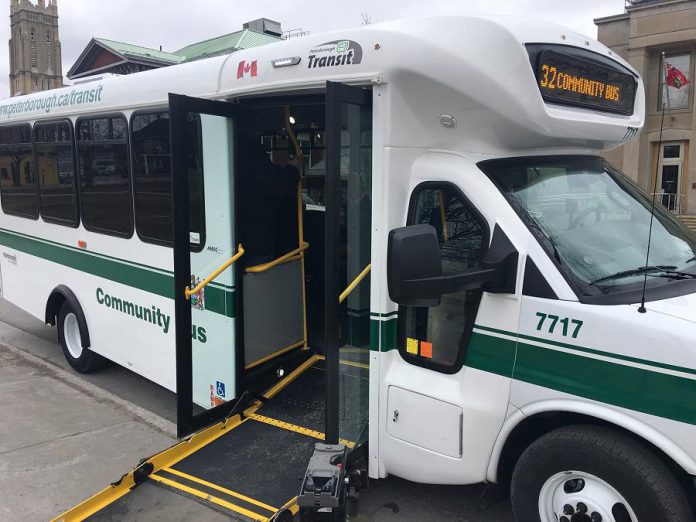 Peterborough Transit's new Community Bus service starts up on Sunday, March 4, 2018 at 10 a.m.
The bus will follow a set route serving Lansdowne Place, grocery stores, seniors' homes, medical clinics, and the Peterborough Regional Health Centre (PRHC).
In January, Peterborough Transit conducted a public consultation on route options for the bus and the selected route was significantly more popular.
The service uses a mini bus that has no stairs and has seats for up to 18 passengers, plus two spots for wheelchairs. The service will operate Monday through Saturday from 9 a.m. to 5 p.m. and on Sunday from 10 a.m. to 5 p.m. The route frequency will be hourly.
While the Community Bus is designed to provide an additional transit option for people who normally use the Handi-Van or who find using the regular bus challenging, it will be available to all residents.
The Community Bus will cost the same as the regular bus and will be equipped with the same fare boxes. You can pay cash or use your transit pass.
The bus will serve all regular transit bus stops along the route. There will also be new stops that will be served only by the Community Bus. You can transfer between the Community Bus and regular buses to get where you need to go.
For the Community Bus route and schedule, visit www.peterborough.ca. The route and schedule are also available at the Peterborough Transit Terminal (190 Simcoe St., Peterborough).