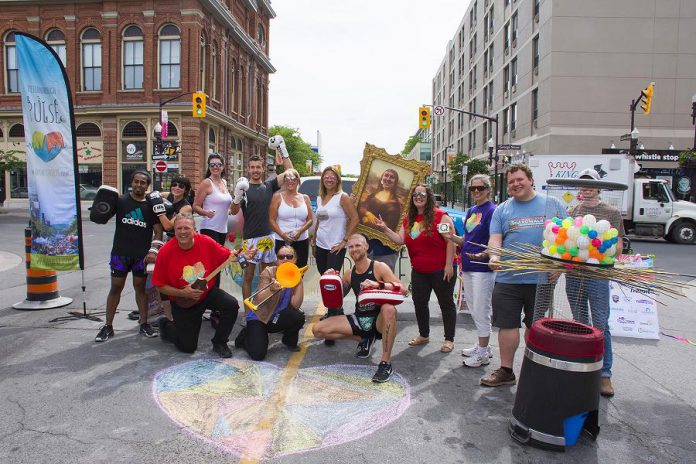 Peterborough Pulse, the open streets event in downtown Peterborough, returns in 2018 for the fourth straight year on Saturday, July 21st. A media launch was held today (June 20) beside the Peterborough Downtown Farmers' Market.
For one summer day, downtown streets are closed to vehicles and are instead filled with pedestrians, cyclists and roller-skaters, families pushing strollers, karate and fencing demonstrations, art and music, and more.
"Pulse is the ultimate way to experience our downtown," says Susan Sauvé, Transportation Demand Management Planner with the City of Peterborough. "As a city, we are becoming more walk and bike friendly, and we know that the downtown is where the most demand for walking and cycling is."
Peterborough Pulse runs from 10 a.m. to 3 p.m., with this year's route running along George Street from McDonnel St. to Sherbrooke St. and will include Charlotte Street from George St. to Aylmer St.
"Pulse is an amazing way to see what this community has to offer," says Terry Guiel, Executive Director of the Peterborough Downtown Business Improvement Area. "With more than 100 businesses and community groups involved, you're going to have the opportunity to try some unique activities as well as see some new local dining and shopping possibilities."
New this year is a snack hub on Charlotte Street, next to the George Street intersection, where healthy and nutritious food and drinks will be available for attendees (no alcoholic beverages will be served).
Also new this year is the Pulse Play Guide, which will promote recreation activities for the entire family all summer long.
Research shows that, in today's technology-driven world, many Canadian families are struggling to "power off and play" by reducing screen time in the home. From axe throwing to star gazing, the Pulse Play Guide will offer families free access to some of the best recreation opportunities offered in Peterborough.
"This Play Guide will help local families create lasting memories all summer long," says Hillary Flood, Pulse Coordinator with Peterborough GreenUP. "We are extremely grateful for the support from the Healthy Kids Community Challenge Power Off and Play program."
Printed versions of the Pulse Play Guide will be available at local art galleries and museums (including the Peterborough Museum and Archives, Hutchinson House, The Canadian Canoe Museum, the Art Gallery of Peterborough, and the OFAH Heritage Centre) and a download option will also be available on the Pulse website.
For more information about Peterborough Pulse, including updates and vendor applications for the Charlotte Street snack hub, visit www.peterborughpulse.com.