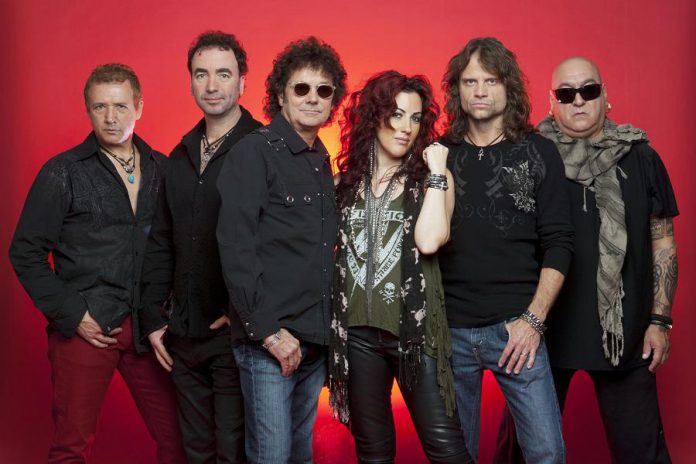 If Mickey Thomas' music career had ended in 1976, he would have exited the stage on a high note.
A backing singer with The Elvin Bishop Group at the time, Thomas was invited to sing the lead vocal on "Fooled Around And Fell In Love". Elvin Bishop selflessly handed over the reins, figuring Thomas' smooth singing voice to better suited for the track.
That was a very good call. Released as a single, the rock ballad zoomed to #3 on the Billboard Top 100 chart, but more notably it brought Thomas to the attention of Jefferson Starship — the band that evolved out of the pioneering 1960s psychedelic rock band Jefferson Airplane following the departure of bassist Jack Casady and guitarist Jorma Kaukonen. Jefferson Starship which recruited him as its lead singer in April 1979.
Now, close to 40 years later — after a couple of name changes and a mostly new cast of performers — Starship featuring Mickey Thomas comes to Del Crary Park in downtown Peterborough on Saturday, June 30th at 8 p.m. as Peterborough Musicfest opens its 32nd season of free summer concerts.
VIDEO: "Fooled Around and Fell in Love" by Elvin Bishop featuring Mickey Thomas

For sure, Thomas will perform the song that brought him out of the shadows all those years ago, but expect a full helping of the iconic hit songs that made Jefferson Starship, and later Starship, and now Starship featuring Mickey Thomas, a top-selling staple on the crowded 1980s pop-rock landscape.
"I was flattered to get the call … I at least owed them (Jefferson Starship) the courtesy of going over there and seeing what's up," recalls Thomas of the audition call, in a 2013 interview with Nick Deriso of www.somethingelsereviews.com.
"They were going for a harder edge at that point in time. Then here we come with Jane. That was quite a statement. It worked because when you think about it, a lot of what we think of as hard rock bands from back in the day, it all goes back to the blues. With Led Zeppelin, Aerosmith, all of those bands, it was about the blues, so it really kind of made sense. We got together and were really able to forge a new style that worked as Jefferson Starship."
VIDEO: "Jane" – Jefferson Starship

Buoyed by the success of 1979's "Jane" — it attained #14 on the Billboard Top 100 — Jefferson Starship recorded four albums with Thomas, front-and-centre with the legendary Grace Slick of Jefferson Airplane fame in the mix for three of those.
But 1984 brought upheaval when guitarist Paul Kantner, the last remaining founding member of Jefferson Airplane, left Jefferson Starship and took legal action against his former band mates over the Jefferson Starship name. That gave rise to Starship featuring Thomas and Slick.
Starship's 1985 debut album Knee Deep In The Hoopla produced two huge-selling singles in "We Built This City" and "Sara". The 1987 follow-up No Protection spawned the monster single "Nothing's Gonna Stop Us Now". Featured on the soundtrack of the comedy film Mannequin, it reached #1 in the United States and the United Kingdom, and earned an Oscar nomination for Best Original Song.
VIDEO: "Nothing's Gonna Stop Us Now" – Starship

At the time, it made Slick, at age 47, the oldest woman to have a number one single in the United States — a record later broken by Cher at age 52 courtesy of "Believe" in 1999.
"With Knee Deep In The Hoopla, we definitely made a conscious effort to sort of redefine ourselves and say 'Let's go in and try to do a completely different approach to music. Let's use a different method. Let's try to have a couple of hit singles. Let's just go for it.'
"My career, and Starship's career, has encompassed so much more than just that pop period. Those are the songs that have the lasting value though. They're the kind of fabric of people's lives. That's OK. The success of those songs is one of the biggest reasons why I'm still able to go out and perform 75 to 100 shows a year, and still bring the music to the people. "
VIDEO: "We Built This City" – Starship

Thomas understands the criticism, then and still now, leveled by diehard Jefferson Airplane fans that see Starship's commercial pop music success as an affront to the music that defined 1969's Summer of Love in San Francisco.
"If you wanted to survive, if you wanted to continue to be a viable band and make records, and to stay together, then you better conform to the times," he says. "At that point in time, it had reached a point that if you didn't get Top 40 airplay and you weren't on MTV, then you just weren't part of the game. You had to have that presence."
Starship, minus Slick who left the band in 1989, closed out the 1980s with a third album, Love Among The Cannibals,, which featured the top charting singles "Wild Again" and "It's Not Enough".
VIDEO: "Sara" – Starship

While Love Among The Cannibals didn't enjoy anything near the commercial success of Starship's first two albums, it remains Thomas' favourite of the bunch.
"It's just the one that, for my personal tastes, I would enjoy going back and listening to … it still sounds fresh to me," says Thomas.
"Of course, there was a lot of other stuff going on during the making of that record. Grace had left the band and then Paul was suing the band. Then Grace was suing Paul and Paul was suing Grace, and they were suing our manager. That's kind of what made me come up with the title and the song Love Among the Cannibals. I thought, 'Wow, these people kind of exemplify the whole love generation of the late 1960s, peace and love and wearing flowers in your hair and let's change the world and now all they want to do is sue each other."
VIDEO: "It's Not Enough" – Starship

In 1992, Thomas renamed the band Starship featuring Mickey Thomas and 24 years would pass until the band's next studio project, Loveless Fascination.
The band has undergone a number of personnel changes since its heyday — Stephanie Calvert (vocals), Jeff Adams (bass), John Roth (guitar), Phil Bennett (keyboards) and Darrell Verdusco (drums) are now in the mix — but Thomas' unmistakable vocals remain the anchor 43 years after Elvin Bishop stepped aside and gave the Georgia-born singer his shot.
And in case you're wondering, there'll also be a taste of some of the classic tunes from the band's namesake Jefferson Airplane.
"Stephanie Calvert and myself do a medley in the show that's a kind of historical tribute to the band," Thomas says. "Stephanie performs a couple of Grace Slick's most notable songs, 'White Rabbit' and 'Somebody to Love.'"
VIDEO: "White Rabbit / Miracles / Count on Me / Somebody to Love" Medley – Starship featuring Mickey Thomas

Peterborough Musicfest is presenting 18 free-admission concerts featuring a total of 20 acts during its 32nd season — each staged on Wednesday and Saturday nights at Del Crary Park.
Overseen by general manager Tracey Randall and staff, a board of directors, and numerous volunteers, Peterborough Musicfest's stated mission is to "provide diverse, affordable live music to enrich cultural and economic prosperity in our community."
For more information on this concert or the entire 2018 season, visit www.ptbomusicfest.ca or phone the Peterborough Musicfest office at 705-755-1111.