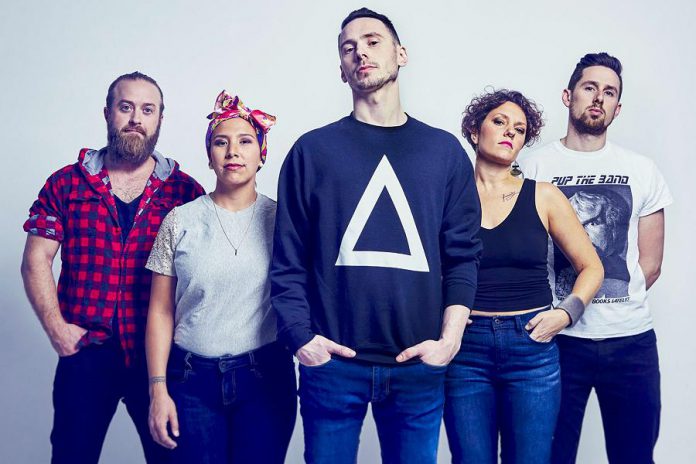 If the weather forecast holds, Canada Day will be an absolute scorcher. So it'll be a perfect Sunday evening at Del Crary Park to experience a taste of Canada's Far North when The Jerry Cans perform a free concert at Peterborough Musicfest.
The roots-rock quintet, which hails from Iqaluit in Nunavut, received two nominations at this year's Juno Awards and performed their song "Ukiuq" live at the televised ceremony. Combining traditional Inuit throat singing with folk, alt country, rock, and reggae music, the band's repertoire including songs written in Inuktitut, the language of the Inuit people.
Since forming in 2012, members Andrew Morrison (vocals/guitar), Gina Burgess (violin), Nancy Mike (accordion/throat singing), Brendan Doherty (bass), and Steve Rigby (drums) have been staunchly committed to helping preserve the Inuktitut language, as well as the uniquely Inuit musical tradition of throat singing.
Normally consisting of two women singing a duet in a close face-to-face formation with no instrumental accompaniment, The Jerry Cans have found a way to fuse Inuit throat singing into the contemporary music of settlers. The band has become known for their high-energy live performances
In a 2017 interview with Digital Drum, lead vocalist Andrew Morrison says that growing up "as a white dude in Nunavut" created an experience and perspective that differed from that of his Inuit friends.
VIDEO: "Ukiuq" (Inuktitut version) – The Jerry Cans

Still, he claims, that doesn't make him any less qualified to understand and interpret their thoughts and feelings.
"Part of the challenge for (Inuit) youth is constantly being told that the southern ways of doing things are cooler and superior," Morrison says. "Whether it's how you speak, how you dress, or how you relate to each other, it often conflicts with more traditional values up here.
"Youth up here are constantly being told that they are insufficient, not good enough, and that they need to adopt the southern white ways of doing things to be successful. We try to challenge this big time."
VIDEO: "Northern Lights" (English version of "Ukiuq") – The Jerry Cans

Another goal of The Jerry Cans is to challenge common misconceptions about Canada's North from the perspective of actually living there, says Morrison.
"We don't claim to have solutions but I know living up here, being a part of the community and talking about these things, that raising our kids to speak Inuktitut, love their land and love themselves, is an important part of a very complex puzzle.
"There are lots of little revolutions taking place all the time up here. It's important to remember that in this increasingly challenging world."
VIDEO: "Paniarjuk" (Inuktitut version) – The Jerry Cans

Morrison and Mike formed the band with Doherty and Rigby, with Burgess coming on board after visiting Iqaluit as part of a cultural exchange program. That union resulted in The Jerry Can's debut album Nunnavuttitut in 2012. After throat singer Tanya Tagaq won the 2014 Polaris Music Prize, more attention came The Jerry Cans' way.
"We used to play lots of English rock/punk rock music but decided to start writing music in Inuktitut, about things we saw in our communities," Morrison says. "it was really a game changer for us."
A second album, Aakuluk, followed in 2014, along with more tour dates.
VIDEO: "Iqaluit" (Inuktitut version) – The Jerry Cans

"The first time we sang in Inuktitut was hilarious," Morrison recalls. "I was so nervous and tentative, and the crowd was also super tentative, but by the end of the song both the crowd and the band had a moment of figuring out how to react before bursting out in laughter and applause. I don't think any of us knew how to react right away."
That early apprehension aside, subsequent music industry recognition has cemented The Jerry Cans' place on the Canadian music landscape.
Two years after Mike won a Canadian Folk Music Award for Songwriter of the Year, the band garnered two nominations at the 2015 Canadian Folk Music Awards. Then, just this past March, two Juno Award nominations came the band's way in the categories Breakthrough Group of the Year and Contemporary Roots Album of the Year for the band's 2017 album Inuusiq/Life.
VIDEO: "Ahead by A Century" – The Tragically Hip (performed in Inuktitut by The Jerry Cans)

Also in 2017, The Jerry Cans' Inuttitut language cover of The Tragically Hip's "Ahead By A Century" received plenty of attention, bringing The Jerry Cans a new wave of fans.
"We will continue to push to prove that there's a market for Inuktitut music and the stories behind the music," Morrison says. ""We want to reflect life in Nunavut, but also want to challenge some of the stereotypes associated with the North."
A Canada Day fireworks display will follow the concert. There's no public parking at Del Crary Park, and the following streets will be closed from 4 to 11 p.m. on Sunday: Lock Street, Perry Street and Lake Street (from the east side of George to the west side of Crescent), and Crescent Street (from the north side of Romaine to the south side of Perry). If driving, you may wish to park at a municipal lot in downtown Peterborough and walk to Del Crary Park, or else take public transit. A free trolley service will also run from downtown Peterborough to Del Crary Park before the concert, but space is limited and priority will be given to people with mobility issues, seniors, and expectant mothers or parents with young children.
Peterborough Musicfest is presenting 18 free-admission concerts featuring a total of 20 acts during its 32nd season — each staged on Wednesday and Saturday nights at Del Crary Park.
Overseen by general manager Tracey Randall and staff, a board of directors, and numerous volunteers, Peterborough Musicfest's stated mission is to "provide diverse, affordable live music to enrich cultural and economic prosperity in our community."
For more information on this concert or the entire 2018 season, visit www.ptbomusicfest.ca or phone the Peterborough Musicfest office at 705-755-1111.