Once again Peterborough has demonstrated it is a hotbed for young entrepreneurs. On Wednesday (July 4), nine students showcased their startups at Staples on Park Street in Peterborough.
The showcase was supported by the Peterborough & the Kawarthas Business Advisory Centre — part of the Peterborough & the Kawarthas Economic Development organization — that supports the creation of new student-owned and operated companies.
We're at @STAPLESptbo until 1PM celebrating the launch of 9 student run businesses in Peterborough & the Kawarthas. Stop by and find out what #summercompany is all about. We've got free treats from @pedalparlorco! pic.twitter.com/OzIDx1gqoO

— Peterborough Ec Dev (@PtboEcDev) July 4, 2018
Summer Company, Ontario's flagship youth entrepreneurship program, provides students aged 15 to 29 an opportunity to open and operate their own business during summer break. Peterborough & the Kawarthas Business Advisory Centre has partnered with the program since 2001.
The program is based on the notion that empowering youth benefits the whole community.
"A big focus in economic development is on the attraction, development and retention of a skilled workforce," says Rhonda Keenan, President & CEO of Peterborough & the Kawarthas Economic Development.
"This program offers an opportunity for students from high school, college or university to test the waters of entrepreneurship and get connected in the business community."
Peterborough Mayor Daryl Bennett was in attendance and addressed the crowd, commenting on the positive impact Summer Company has on its participants.
"When I bump into the young entrepreneurs after the showcase, they always describe it as positive experience," Bennett says. "This generation has many opportunities with new media to reach a wide audience, something my generation didn't have."
Bennett's comments ring true for all participants, who have used a variety of social media channels to spread awareness about their projects. Connectivity and self-marketing are invaluable tools for anyone starting a business and young people are taking advantage.
Lucas Graham – Socialize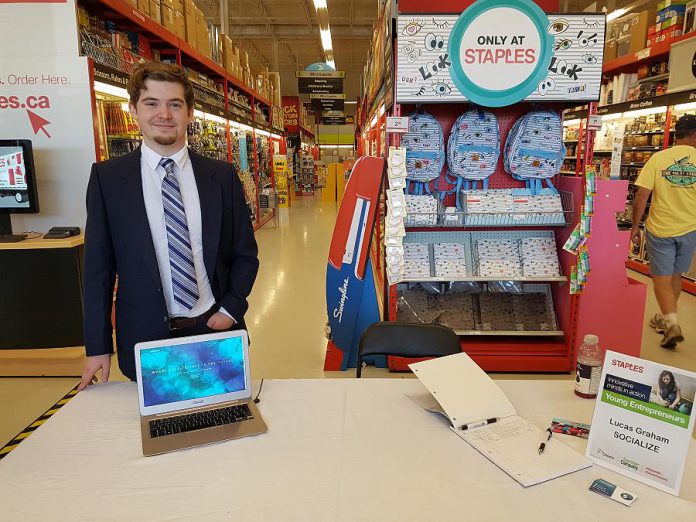 Lucas Graham is one of those young people. His product, Socialize, aims to help people network. His proximity-based app uses Bluetooth technology to display information about other app users in the vicinity.
The app may sound similar to LinkedIn but Graham is quick to note that Socialize is more about in-the-moment, face-to-face connections.
"The goal is to connect people in person, rather than simply online," he says, noting that he envisions the app being used by both professionals and students.
One feature of Socialize will be the virtual business card, where users can simply tap their smart phones and transfer their contact information and a user profile.
Graham acknowledges that among the next steps will be reaching out to businesses and organizations to raise awareness about Socialize.
Eric Hall – Spotless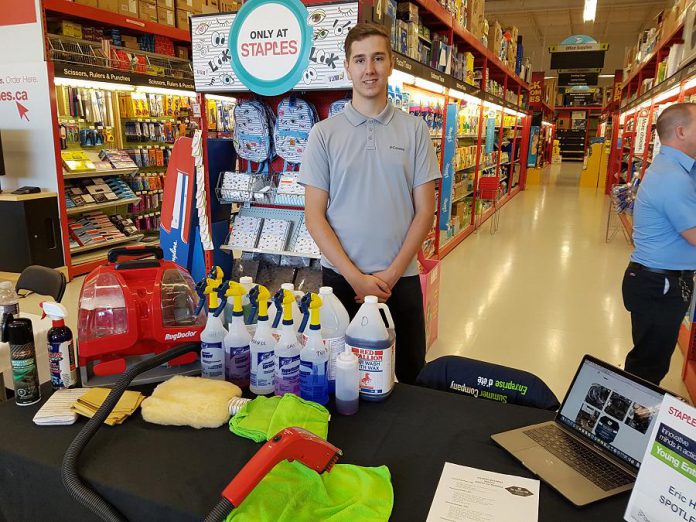 Reaching out to local businesses is something Eric Hall, whose interior car-detailing business is called Spotless, started with when he began his journey into entrepreneurship.
Hall kicked off his project by contacting local auto dealerships to determine whether there was a demand for a car detailing service. Hall says he received mixed responses.
"One dealership told me that the market was too competitive for me to be successful," Hall recalls. "Another one told me they had cars available right then that needed detailing."
Hall went ahead with his plans and now has trouble keeping up with his clients, which include one of the dealerships that initially told him there was no need for his services.
Alexander McGrath – College Lake Labour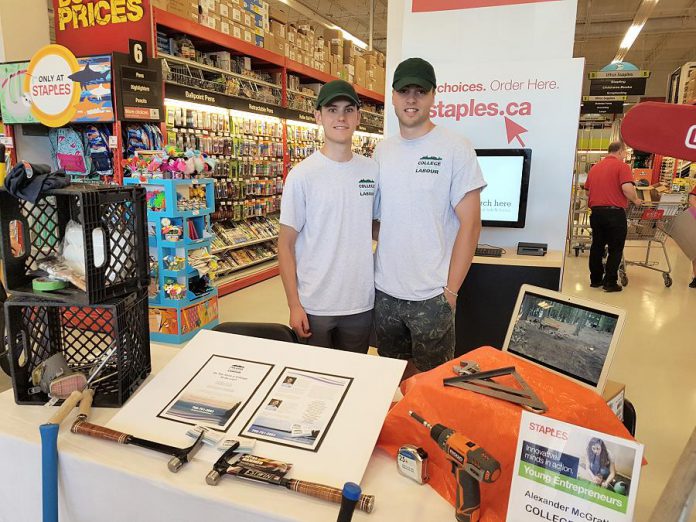 Alexander McGrath and Bryce Wasson of College Lake Labour are also experiencing a high volume of clients only a few months into their business.
Their startup is a small student-run, labour-for-hire service that assists clients with simple jobs around their cottage, marina, or home in the Catchacoma and Gold Lake regions.
"This business also allows me to put into practice the knowledge I'm learning at university," explains McGrath, who is minoring in business at St. Francis Xavier University in Antigonish, Nova Scotia.
"We do work for our clients so they can enjoy their summer."
Eric Wootton – The Highlands Dock Company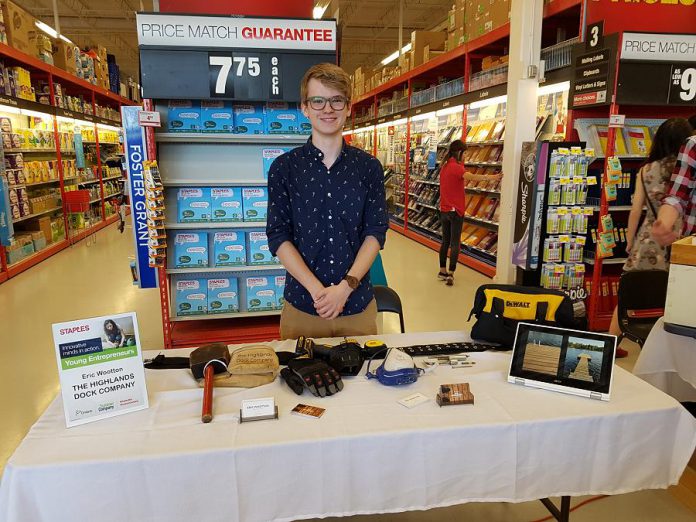 Likewise, Eric Wootton's product also aims to help cottagers enjoy their summers. Wootton's one-man startup, The Highlands Dock Company, specializes in building quality custom docks at affordable prices.
Wootton, who just graduated high school, prides himself on efficiency and quality. For example, he says he can build a 6′ by 12′ dock with a ramp in as little as three days.
"The big companies can be expensive, and sometimes the product is even lower quality. I provide an affordable service that is equal to if not better than the quality of the docks made by the big companies."
Jaleel Siddiqui – Alliance Living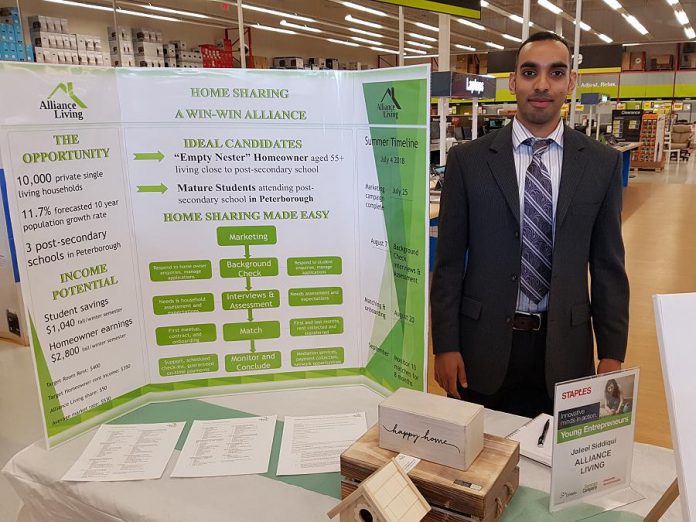 Affordability is an important factor in Jaleel Siddiqui's business, Alliance Living.
As a student at Trent University, Siddiqui was forced to commute daily from Pickering to Peterborough due to the lack of affordable housing options in the city.
Siddiqui, who has a business administration degree and is now studying physiotherapy, built his startup around two different needs he identified within the city. While those over 55 are struggling to maintain their homes, students are struggling to find affordable accommodation.
Still in the marketing phase, Alliance Living aims to allow mature students to offset the cost of rent by assisting seniors with tasks around the house. The arrangement allows seniors to earn income and maintain their independence.
For those interested, Alliance will arrange each step in the process including screening applicants, interviewing candidates, and even coordinating payments.
Nathan Clifford – Green Improvements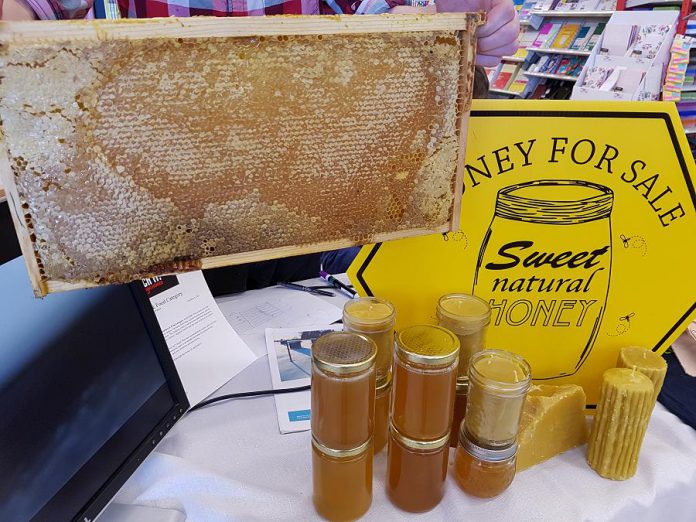 Nathan Clifford also saw a need within the community as declining bee populations pose a risk to our food supply.
Clifford's startup, Green Improvements, is working on PiHive, a computer-based system that will enable beekeepers to monitor the health of their hives.
"I feel like this is important research," says Clifford. "This tool will be able to provide scientists and beekeepers in this area with accurate data."
Clifford notes that there is a lot of conflicting information about beekeeping in circulation. By creating this monitor, he hopes to take the speculation out of beekeeping. At this time, he is unaware of any comparable products in Canada.
Mason McMullen – Backwoods Landscaping Supplies and Woodworking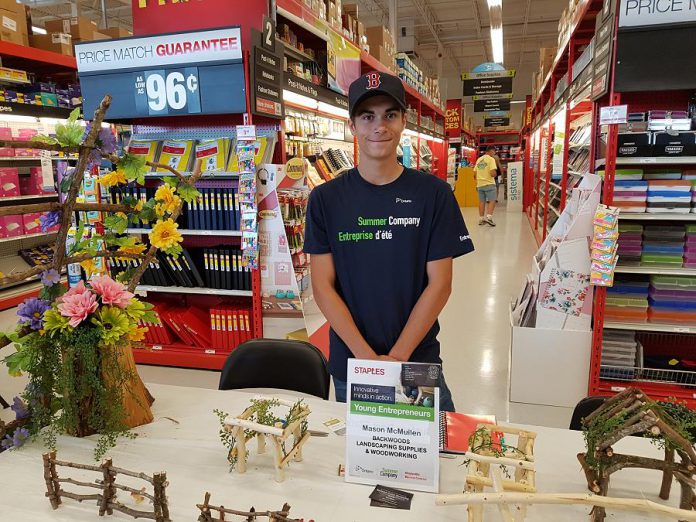 Using wood available on his family's property in Lakefield, Mason McMullen of Backwoods Landscaping Supplies and Woodworking creates a variety of products, including cedar fence post/rails, firewood, mulch, meat smoker supplies, rough-cut lumber, custom furniture, and custom planters.
Gregory Postill – Metal Arts
Gregory Postill of Metal Arts, who unfortunately was unable to attend the event, is an artisan metal jewellery maker who uses traditional goldsmithing techniques to create one-of-a-kind pieces.
Noah Abrahamse – GoldWing Jazz
Noah Abrahamse of GoldWing Jazz, a soon-to-be grade 12 student at Thomas A. Stewart Secondary School, has turned his passion for music into a music entertainment company for hire.
From solo alto saxophone to a fun and funky jazz combo, light background music or a lively show, Abrahamse can provide the entertainment. You can sample his tunes every Saturday from 12:30 to 3:30 p.m. at Hot Belly Mama's in downtown Peterborough.
All nine of the young entrepreneurs participating in this year's Summer Company program developed their ideas from the resources at hand.
For more information about the Summer Company program, administered locally through the Peterborough & the Kawarthas Business Advisory Centre, visit peterboroughed.ca/small-business/summer-company/.