While a fair-sized segment of Peterborough Musicfest audiences want to experience new music each summer in Del Crary Park, there is an equally sized audience that craves the hit songs they know and love.
Fully aware of that, the free summer concert series is serving up the best of both worlds on Wednesday, August 1st.
Highly acclaimed Toronto-based live music collective Dwayne Gretzky will be headlining the show by performing hits you don't usually see cover bands performing, and Peterborough-born folk-rock band JJ and The Pillars who will be opening the show with their original material.
Admission is free to the 8 p.m. show.
Dwayne Gretzky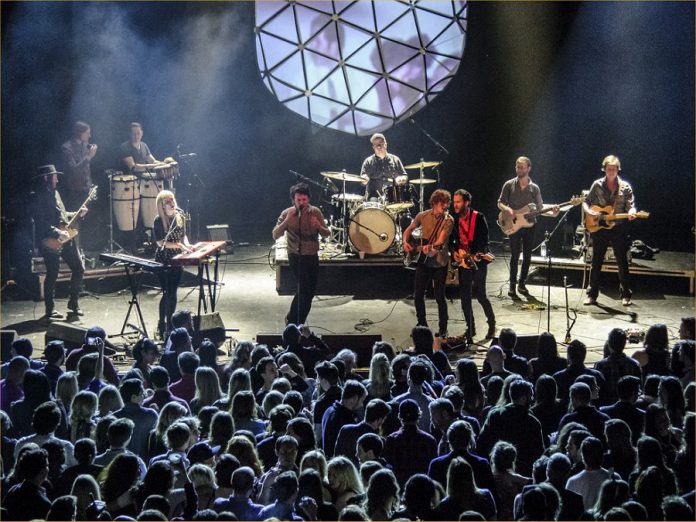 Formed some seven years ago, Dwayne Gretzky has built a reputation as one of the best live acts on the busy Toronto live music landscape, regularly selling out noted venues such as The Danforth Music Hall and the Horseshoe Tavern.
With a genre-diverse catalogue that provides for an unpredictable set list, the band covers music by a number of artists both past and current — Bowie to Beyoncé, Springsteen to Spears, and The Supremes to The Stokes just scratches the surface.
"Tyler [Kyte] and I were playing in an originals band called Sweet Thing that was kind of winding down," recalls Nick Rose in a July 2018 interview with www.thepopbreak.com.
VIDEO: "Dancing in the Dark" (Bruce Springsteen) performed by Dwayne Gretzky

"We were both living in the same apartment building along with a few other musician friends of ours. We all befriended the superintendent who gave us access to his top-secret jam space in the basement. Most evenings we'd go down there and watch hockey and muck around playing Tom Petty songs and such.
"Once we had learned enough songs for a set, we booked a couple shows just for the fun of it. The band has really expanded over the years and it's now our full-time gig but the feeling has always remained the same — friends playing they're favorite songs."
The band's name — an obvious reference to hockey's "The Great One" — came about spontaneously according to Rose.
VIDEO: "You Can Call Me Al" (Paul Simon) performed by Dwayne Gretzky

"When we began playing shows in Toronto, we didn't have a band name. It didn't really seem necessary somehow — we were just a bunch of friends playing covers for the fun of it. But then at one of our first shows somebody inevitably yelled out 'What's your band called?' and I just replied 'Dwayne Gretzky' for a laugh. Honestly, it was just the first thing that popped into my head. A few days later somebody posted a video of us on YouTube and referred to us as Dwayne Gretzky and that was that."
Dwayne Gretzky's extensive and diverse song catalogue has been, and remains, the key to the band's live show success.
"We steer away from predictable cover band material and try to challenge ourselves by learning songs you don't see a lot of bands doing," Rose explains.
"It's tough to pick favorites. You Can Call Me Al (by Paul Simons) is one that stands out for me, as is Under Pressure (by Queen) but it's always fun to tackle something as epic as Bohemian Rhapsody or Manfred Mann's version of Blinded By The Light."
VIDEO: "Sledgehammer" (Peter Gabriel) performed by Dwayne Gretzky

Just returned from a July tour of the northeast United States, Dwayne Gretzky members continue to pride themselves on the extreme high energy they bring to each and every performance.
"I think that energy is very contagious with everyone participating in this kind of joyful shared nostalgia," Rose says.
"We're very fortunate that we get to do this as a full time gig — play our favorite songs with our best buds. We've got a really great group of people in this band and I'm very grateful for that. They're all a bunch of sweethearts and there's never a shortage of dumb jokes to go around."
Along with Rose and Kyte, band members are Jill Harris, Meg Contini, Lydia Persaud, Rich Knox, Adam Hindle, Michael Brushey, Ian Docherty, Edwin Sheard, Dave Dalrymple, "Champagne" James Robertson, and Simeon Abbott.
JJ and The Pillars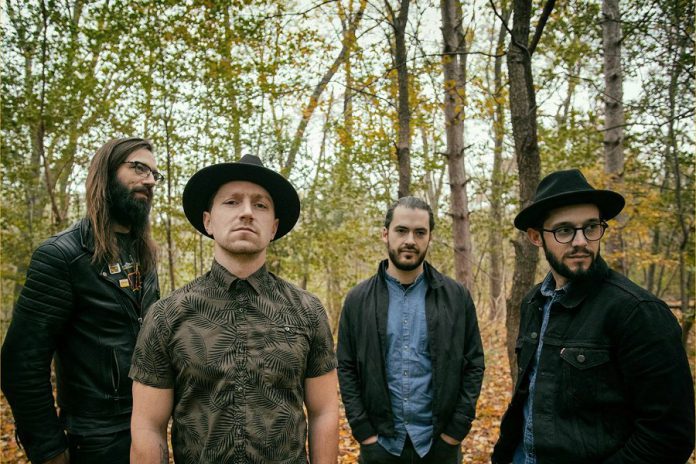 The other half of the August 1 show equation is local folk-rock quartet JJ and The Pillars, opening for Dwayne Gretzky.
Formed in Peterborough in 2013 by vocalist and guitarist JJ Thompson, bass player Brett Wright, and drummer Stefan Hegerat, JJ and The Pillars began its music career performing at Toronto's legendary Horseshoe Tavern and the Opera House.
Their big break came a year later, when the band topped 627 other acts to win the Next Big Thing contest, held by Toronto alt-rock radio station 102.1 The Edge.
VIDEO: "The Wolves" – JJ and The Pillars

"We were just lucky enough that the first radio station we were ever played on was The Edge," recalls J.J. Thompson in an early 2015 interview with Neil McDonald of www.therecord.com.
"It was crazy and, when I talk about it now, even still, it just gets my heart racing. It makes me feel like a teenager again, sitting there trying to find the perfect spot in Peterborough for my radio to listen to 102.1 The Edge because, at the time, it was a hard one to get in Peterborough."
The Next Big Thing win came at a perfect time for the band, which had just finished recording its debut EP Wolves. The album's first single, "The Wolves", was placed on The Edge's Top 30 playlist and, fuelled by listener demand, stayed solidly in the rotation.
VIDEO: "Knuckles" – JJ and The Pillars

"We went from playing (a club on) Ossington (Avenue) with a 50-person capacity to playing the CASBYs after winning the Edge Next Big Thing to more than 1,000 people shouting the words to The Wolves, so it was a really crazy feeling," says Thompson.
Having performed with such notables as Arkells, USS, and Tokyo Police Club, JJ and The Pillars — now Thompson and Hegerat with Donald Richard on bass and Robert Grieve on guitar — is riding the momentum of the release of Daisy, the band's debut full-length album, and the new single "Knuckles".
Peterborough Musicfest is presenting 18 free-admission concerts featuring a total of 20 acts during its 32nd season — each staged on Wednesday and Saturday nights at Del Crary Park.
Overseen by general manager Tracey Randall and staff, a board of directors, and numerous volunteers, Peterborough Musicfest's stated mission is to "provide diverse, affordable live music to enrich cultural and economic prosperity in our community."
For more information on this concert or the entire 2018 season, visit www.ptbomusicfest.ca or phone the Peterborough Musicfest office at 705-755-1111.