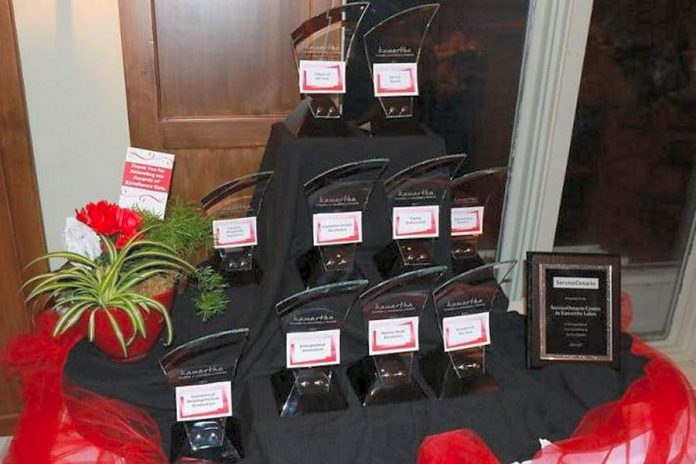 ---
Final Week To Submit Nominations for 2018 Awards of Excellence – Deadline September 10th
Nominations for the 2018 Awards of Excellence close on Monday, September 10th. Visit kawarthachamber.ca/nominations/ to recognize a deserving business, organization or individual.
Awards will be presented on Thursday, November 8th at the Kawartha Chamber's Awards of Excellence & Social Gala.
The nomination form only takes a few minutes to complete, and any business in the County or City of Peterborough can be nominated. You can submit as many nominations as you like, nominations are not limited to Chamber Members, and self-nominations are encouraged!
There are ten nomination categories to choose from, including Service Sector Excellence – new this year. Visit kawarthachamber.ca/nominations/ for a full description of each award category, and to make a nomination.
Register now for Bridgenorth Hop on September 19th
As summer winds down, the Chamber is gearing up for events this fall!
The September Business After Hours "Bridgenorth Hop" is coming up on Wednesday, September 19th, from 5 to 7 p.m.
The event beings promptly at 5 p.m. at TCB Office Furniture and Supplies, and small groups will travel to visit Chamber members in the community of Bridgenorth including Bridgenorth Deli, and Style Boutique.
Enjoy an evening of networking, touring member businesses, and meeting fellow Chamber members.
The Chamber thanks its networking event sponsor, Blue Diamond Window Cleaning.
Municipal All-Candidate Meetings
The Kawartha Chamber is proud to be a partner on the following municipal All Candidates Meetings.
Municipality of Trent Lakes All-Candidates Meeting
Thursday, September 13th at Buckhorn Community Centre (782 Lakehurst Rd., Buckhorn)
The program begins at 7 p.m. Hosted by the Buckhorn Ratepayers Association and the Kawartha Chamber.
Township of Selwyn All-Candidates Meeting
Wednesday, October 10th at Bridgenorth Community Hall (836 Charles St., Bridgenorth)
The program begins at 7 p.m. Hosted by the Bridgenorth Business Association, Lakefield Herald, and the Kawartha Chamber.
Township of Douro-Dummer All-Candidates Meeting
Thursday, October 11th at Douro-Dummer Community Centre (2893 Hwy. 28, Douro-Dummer)
The program begins at 7 p.m. Hosted by Dummer News and the Kawartha Chamber.
Submit Your Questions
If you would like to submit a question for any of the meetings listed above, please email your question to info@kawarthachamber.ca. Please include the subject line "All Candidates Question: [Insert Township Name Here]", and specify if the question is for a specific candidate, or directed at all candidates. Here is a list of municipal candidates.
Are You Registered to Vote?
Ontario's municipal and school board elections are coming up on October 22nd. To ensure your voter information is up to date before October, visit www.voterlookup.ca to confirm and update electoral information, add an elector name to your address, and/or change which school you support.
Support the Curve Lake Habitat Build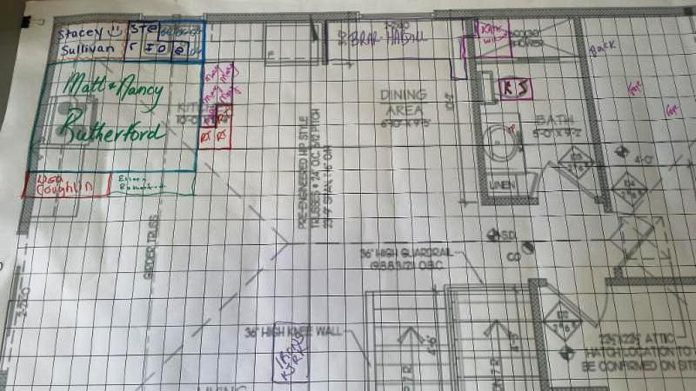 The Kawartha Chamber has formed a Women's Build Team for the Habitat for Humanity build in Curve Lake First Nation.
You can help the Chamber with the fundraising initiative by making a donation through the Chamber's fundraising page.
Each dollar donated will buy a 'square foot' on the house floor plan, where you can write your name or the name of your company. The Chamber's goal is to raise $1,000. A special thank you to Erin McLean of McLean Berry Farm for her recent donation.
Make an online donation. Donations can also be made in person at the Chamber office. If you are interested in joining the Chamber's Women's Build team, email membership@kawarthachamber.ca.
Earn A Free Chamber Membership
Did you know the Chamber is giving away free memberships?
To be entered in a draw for a free membership, pay your membership within 30 days of the invoice date, and you will be entered in a draw to win next year's membership for free. The draw will take place at the Chamber's AGM in February 2018.
Also, if you know a business or organization that is not a Chamber member, encourage them to join! Tell them to mention your name when they sign up, and when they have signed up and paid, you will earn 10 per cent off your membership next year. For each new member you refer, you will receive 10 per cent off — and there is no limit! Refer 10 new members and you have earned a free Basic Membership.
Email membership@kawarthachamber.ca to learn more.
Send Your Accommodation Availability
Even though the busy summer season is over, the Chamber still often receives requests for accommodation availability from area visitors.
Be sure to send your availability for the fall and winter to info@kawarthachamber.ca, so the Chamber is aware as inquiries come in.
The Chamber can also help spread the word through its social media outlets.
The Impact Of Bill 148 – Take The Survey
The Tourism Industry Association of Ontario is looking for feedback from Ontario businesses on Bill 148.
The 10-question survey will gauge how the amendments to Ontario's employment standards, labour relations and occupational health and safety legislation have impacted businesses since January 1st.
Take the survey. The survey closes on September 14th.
New Gallery On The Lake Exhibit Opening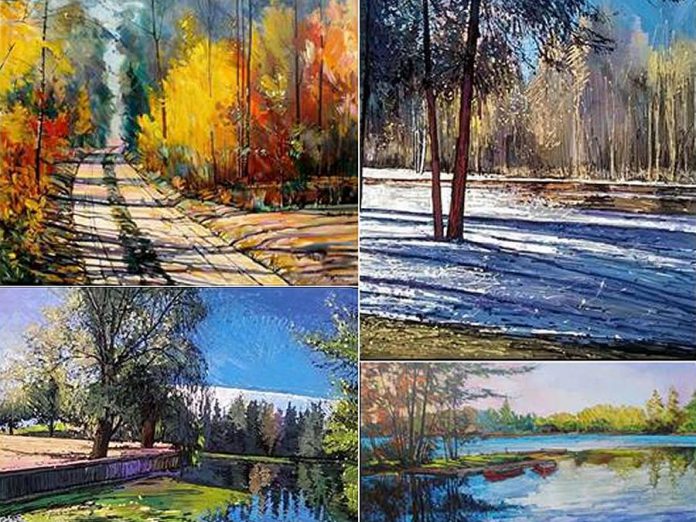 The Gallery on the Lake's new exhibit "Visions of my Reflections" opened on Saturday, September 1st.
This exhibit features Edouard Gurevich's works and visitors will get the chance to meet the artist on September 8th from 1 to 4 p.m. The exhibit ends on September 28th.
For more information, email info@galleryonthelake.com or call 705-657-1108. You can visit Gallery on the Lake at 65 Gallery on the Lake Road, 3 kilometres east of Buckhorn.
Lakefield Curling Club Registration – September 7th
Lakefield Curling Club (LCC) registration is taking place on Friday, September 7th from 7 to 9 p.m. at the Curling Club (12 Nicholls St., Lakefield).
The LCC offers an eight-week Adult Learn to Curl Program produced by the Canadian Ccurling Club, beginning mid-October, that will teach you the skills to join a league or enhance your TV viewing pleasure.
The LCC is an active renovated club with divisions offering morning, afternoon, or evening play. Divisions include Juniors, Ladies, Mens, Mixed, Seniors, Team Entry, and Doubles. All past, present, and new curlers are welcome. League play begins in early October.
For more information, contact lccmembership@nexicom.net, call 705-652-3205, or visit www.lakefieldcurlingclub.ca.
New Buckhorn Park Opens September 8th
The Municipality of Trent Lakes and its Economic Development Committee will be unveiling its new Ode'naang Park "Heart of the Community" in Buckhorn on Saturday, September 8th at 12 noon.
The park will be open at 11:30 a.m. and the celebration will continue until 1 p.m.. Refreshments will be provided.
Trent Lakes Welcomes New CAO
The Municipality of Trent Lakes welcomed its new Chief Administrative Officer, Peter Avgoustis, on September 4th.
Peter brings a broad range of experience having worked for the City of Toronto, the City of Guelph and recently as CAO in the Town of Kirkland Lake. Welcome, Peter!
Starter Company Plus September Intake
Peterborough & the Kawarthas Economic Development is hosting a series of intake sessions for the Starter Company Plus Program.
The program is designed to provide business training for entrepreneurs, aged 18 and over in the City and County of Peterborough, who are launching a business or expanding an existing business (in operation for five years or less.)
Intake sessions will be taking place in the VentureNorth Board Room, 270 George St. N in Peterborough, from 2:30 to 3:30 p.m. on September 4th, 10th, 17th, and 24th. Read more.
Curve Lake Pow Wow September 15th & 16th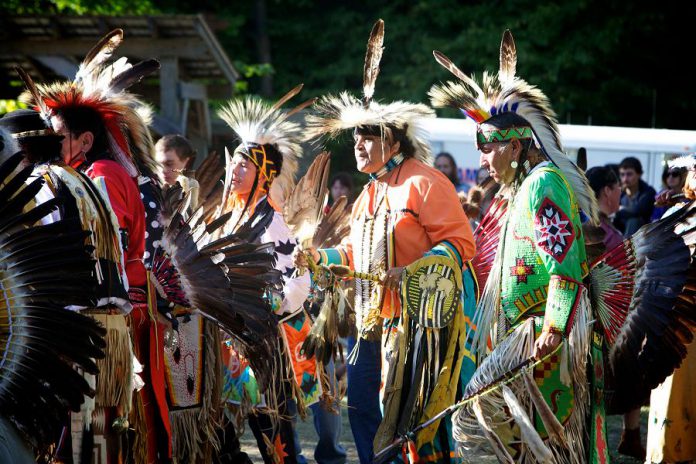 With the end of summer comes the annual Curve Lake Pow Wow! This celebration consists of two days of dancing, contests and presentations, to re-establish old friendships and meet new people, with many vendors and performers in attendance.
All neighbours from surrounding communities are welcome to join in most of the festivities.
Visit Lance Wood Park in Curve Lake on Saturday, September 15th and Sunday, September 16th to enjoy traditional foods, dances, songs and stories. Learn more.
BEL Rotary Bike For Your Hospital – September 15th
The Rotary Club of Bridgenorth-Ennismore-Lakefield's Bike for your Hospital cycling fundraiser is just over two weeks away on Saturday, September 15th.
Proceeds from the ride will support Rotary Club initiatives and the PRHC Foundation.
Entry fees include food and drink, and craft beer will be available for purchase at the start/finish line from 11 a.m. onward.
For more details, visit www.bikeforyourhospital.ca.
Selwyn Online Voting 'How-To' Workshops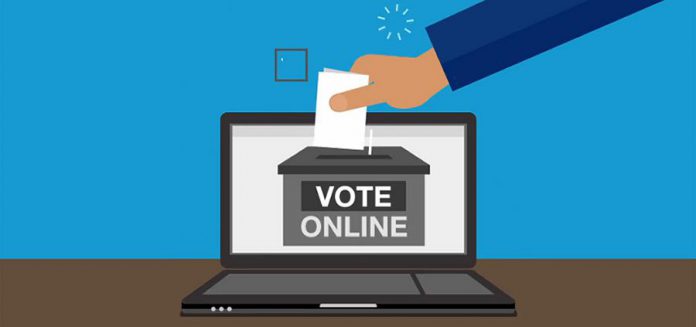 The Township of Selwyn will be using internet and telephone voting for the first time this municipal election.
To help teach voters how to use this new voting technology, the Township is hosting three 'How-To" workshops, where you will be able to check if you are registered and learn how to vote online.
Workshops will be held at the following times and locations:
Thursday, September 20th at 1 p.m. at Bridgenorth Library
Monday, September 24th at 10 a.m. at Ennismore Library
Wednesday, September 26th at 10 a.m. Lakefield Library
Chamber Members Are Hiring
If your business or organization has a job opportunity you would like to advertise, you can add it to the Chamber's website through your (or submit the description to info@kawarthachamber.ca) and the Chamber will share it in its next Newsflash.
Info Session: Understanding The Opioid Crisis – September 26th
An opioid information session is being held at the Selwyn Outreach Centre on Wednesday, September 26th beginning at 7 p.m.
Attendees will hear from a panel of experts on the growing issue of opioid abuse in the Peterborough area. Experts include Dr. Rosana Salvaterra (Peterborough Medical Officer of Health), Dan Farrow (paramedic supervisor and firefighter), and Jim Carson (retired police officer).
The Selwyn Outreach Centre is located at 2686 Lakefield Road, approximately two kilometres north of Trent University. This event is free and open to all. Learn more.
Upcoming Events
Quilting at the Lake at the Buckhorn Community Centre – September 7th – 9th
Warsaw Cruise Night – Last one this Wednesday
Lakefield Farmers' Market – Every Thursday Until October 4th
Cruise Night at Craftworks – Every Thursday Until September 13th
Farmers' Market at Craftworks at the Barn – Every Sunday until Thanksgiving
For more information about the businesses and events listed above, please visit the Kawartha Chamber of Commerce & Tourism website at kawarthachamber.ca.
All photos supplied by Kawartha Chamber of Commerce except where noted.