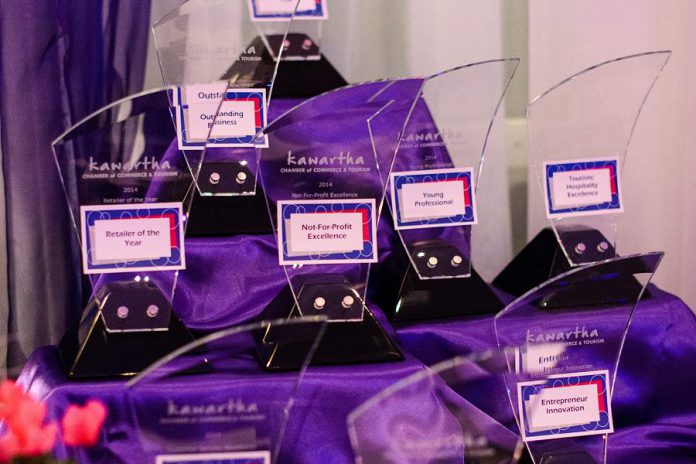 ---
Location Change For Selwyn Township All-Candidates Meeting – October 10th
Due to growing interest in the upcoming all-candidates meeting in Selwyn Township, the Chamber has decided to change the venue in order to accommodate more people.
The meeting will now be taking place at Bridgenorth United Church (832 Charles Street), located beside the original location of Bridgenorth Community Hall.
The time and date remain the same: Wednesday, October 10th from 7 to 9 p.m.
2018 Awards Of Excellence Nominee List
Congratulations to everyone who was nominated for the Chamber's Awards of Excellence. The Chamber received over 80 nominations, and thanks nominators for taking the time to recognize businesses in the area.
Here is the full list of nominees:
Accelerated Technologies
Adventure Outfitters
BALL Real Estate Inc. Brokerage
Buckhorn District Tourist Association Welcome Centre
Rotary Club of Bridgenorth, Ennismore and Lakefield*
Brain Injury Association Peterborough Region
The Bridgenorth Deli
Buckhorn Community Centre
Canoe & Paddle
Celtic Connection*
Clearview Cottage Resort Ltd.
Community Care
Coyle's Tire & Auto
Craftworks at the Barn
Cuddles for Cancer*
Greenbridge Celtic Folk Festival
Happenstance Books & Yarns*
Hard Winter Bread Company
Indian River Reptile Zoo
Jack's Lake Lodge Cottage Rentals
Kawartha Home Hardware
Kawartha Lakes Construction*
Kawartha NOW.com*
Kinetic Therapeutics*
Lakefield Agricultural Society
Lakefield Bakery on Queen
Lakefield Dentistry
Lakefield Foodland
Lakefield Herald
Lakefield Literary Festival
Lang Pioneer Village Museum
Leguano Inc.
Lock Stop Café
Logan Tree Experts
MAD-CAT Electric Co.
Marlin Travel*
Maureen Tavener, Real Estate Sales Rep RE/MAX Eastern Realty Inc. Brokerage
Molly's Acres
Nightingale Nursing Registry Ltd. and Nightgale Home Maintenance*
Niteowl Creative Inc.
Patio 27
Performing Arts Lakefield
Peterborough Disability Tax Service
Peterborough Humane Society
Salon Sorella & Day Spa*
Scott Concrete Products Ltd.
Shambhala B&B
Six Foot Bay Resort Inc.
Steve's Auto Repair
Style Boutique
Sunshrine Day Spa & Salon*
The Art Shop*
The Cozy Home*
Regency Retirement Lakefield
The Village Inn
Thirteen Moons Wellness
Timberline Custom Homes
Trinkets and Treasures
Vetterview
Village Pet Food and Supply
Whetung Ojibwa Centre
Windover Plumbing Inc.*
Workforce Development Board
Businesses marked with an asterisk received more than one nomination.
The Chamber's Awards of Excellence will be presented at the 19th Annual Awards of Excellence and Social Gala, taking place on Thursday, November 8th at Lakefield College School. Doors open at 6:30 p.m.
Due to the event's growth over the past few years, the Chamber has changed the format for this year's event. This year, the event features a hor d'oeuvres-style social event rather than a sit-down dinner. There will be both silent and live auction items, a cash bar, music from Rhythm & Grace, and time for socializing and networking before the awards.
Tickets for this year's event are only $40, so bring along your staff and join the Chamber for an evening celebrating local businesses in Peterborough and the Kawarthas. Tickets are available now.
The Chamber thanks its Social Gala Sponsor, Shorelines Casino Peterborough.
Upcoming Municipal All-Candidates Meetings: Selwyn And Douro-Dummer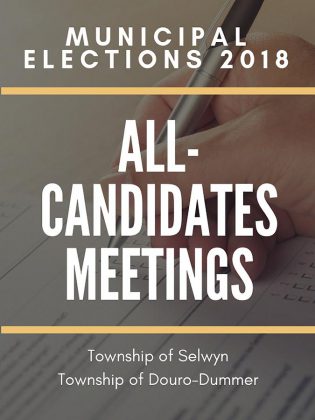 The Kawartha Chamber is proud to be a partner on the following municipal All Candidates Meetings.
Township of Selwyn All-Candidates Meeting
Wednesday, October 10th at Bridgenorth United Church (new location)
The program begins at 7 p.m. Hosted by the Bridgenorth Business Association, Lakefield Herald, and the Kawartha Chamber.
Township of Douro-Dummer All-Candidates Meeting
Thursday, October 11th at Douro-Dummer Community Centre (2893 Hwy. 28, Douro-Dummer)
The program begins at 7 p.m. Hosted by Dummer News and the Kawartha Chamber.
Submit Your Questions
If you would like to submit a question for any of the meetings listed above, please email your question to info@kawarthachamber.ca. Please include the subject line "All Candidates Question: [Insert Township Name Here]", and specify if the question is for a specific candidate, or directed at all candidates.
Here is a list of municipal candidates.
Register Now: B.O.S.S. Team Building – October 2nd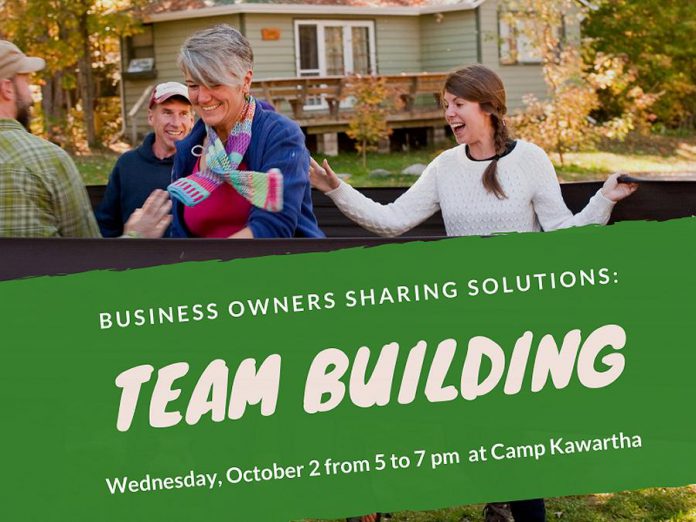 The Chamber's B.O.S.S (Business Owners Sharing Solutions) Team Building event is next week!
Join the Chamber on Tuesday, October 2nd at Camp Kawartha for a session on team building. This event is free so it is a great opportunity to bring your staff along and learn about team building. Refreshments will be provided.
Support the Chamber's Women's Build Team for the Curve Lake Habitat Build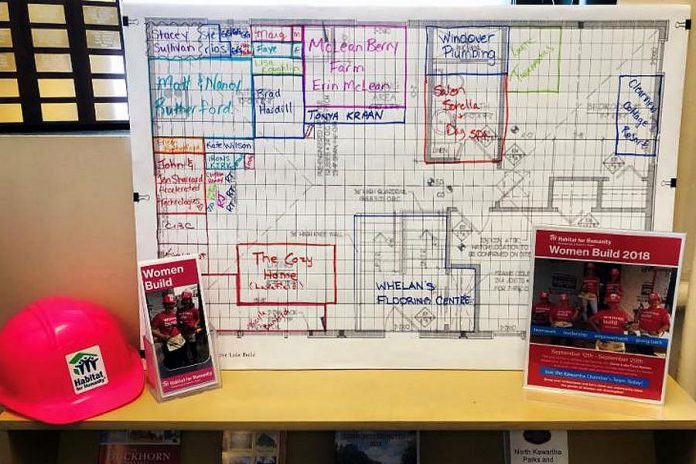 The Kawartha Chamber has formed a Women's Build Team for the Habitat for Humanity build in Curve Lake First Nation. The Women's Build Team is comprised of Chamber staff, volunteers, and members.
The Chamber would like to extend a big thank you to its recent donors, Whelan's Flooring Centre and C.I.B.C.
If you would like to make a donation online, please visit the Chamber's fundraising page. You can also make a donation in person at the Chamber office.
The Chamber is planning on doing its build day in October (the date is being finalized). If you would like to join the Chamber's Women's Build team, please email Stacey at membership@kawarthachamber.ca.
Standard Member Spotlights: Niteowl Creative Inc., Elmhirst's Resort, Abbeyfield House Society Of Lakefield
Support Global Reforestation With Niteowl Creative Inc.
Niteowl Creative Inc. is working with One Tree Planted and donating a percentage of all revenue to reforestation to help recover from forest fires across the country, logging and other destructive situations which have caused a decrease in forestation all over the world.
Celebrate This Holiday Season With Your Team At Elmhirst's Resort

Celebrate with your team at Elmhirst's Resort this holiday season. Elmhirst's Resort is offering their 'Eat, Drink and Be Merry' corporate group package, which includes:
Saturday night stay in a Deluxe Waterfront Cottage.
Cottages include a fireplace, whirlpool tub, free WiFi, and linens.
A traditional turkey dinner in the Hearthside Dining Room as well as a Sunday brunch.
Use of recreation facilities.
Free activities.
HST, service charge, and minimum rental apply. Read more.
Abbeyfield House Society Of Lakefield On The Go
Abbeyfield House Society of Lakefield is a not-for-profit affordable seniors retirement residence (currently in the concept stage).
Check out some of the recent events Abbeyfield House Society of Lakefield (AHSL) has participated in below:
Set up a booth at the Lakefield Sidewalk Sale in order to increase community education.
Christopher Tworkowski, a member of the Kawartha Chamber, AHSL and B.E.L Rotary Club, made a presentation for AHSL at a B.E.L Rotary Club meeting.
Dewi Jones, President of AHSL, made a presentation at a Probus Club meeting.
AHSL participated in Member of Parliament, Maryam Monsef's "Seniors Strategy Town Hall" meeting.
AHSL met with MP Maryam Monsef to discuss funding sources and sites.
Currently, AHSL is finalizing its business plan to incorporate and register as a Not-For-Profit Society, and is also searching for an appropriate site. If you have a suggestion for a site, please contact AHSL at 705-652-3856. They appreciate any help with this.
North Kawartha's Proposed Community Improvement Plan Public Meeting – October 2nd
The Township of North Kawartha is holding a public meeting on Tuesday, October 2nd.
The meeting will begin at 11 a.m. and take place at the North Kawartha Municipal Office in Apsley. The meeting will discuss the proposed Community Improvement Plan (CIP).
The meeting is open to all, and everyone is able to make written or verbal representation, either in support of or in opposition to the proposed CIP.
If you would like to make a submission or want to be notified of the adoption of the proposed CIP, please email planning@northkawartha.on.ca, drop by in person, or fax it to (705) 656-4446 by October 2nd at 11am!
Architect Christopher Z. Tworkowski Is Celebrating 50 Years
Lakefield architect Christopher Tworkowski is celebrating his 50th anniversary of becoming a professional architect.
Christopher graduated from De La Salle Oaklands College in Toronto and went on to obtain his Bachelor of Architecture degree from the School of Architecture at the University of Toronto in 1965.
On April 20, 1968, Christopher became a member of the Royal Architectural Institute of Canada, and in June of the same year, he obtained his licence as a member of the Ontario Association of Architects.
From 1973 until 2006, Christopher practiced in Toronto. Then, in 2006, he moved to Lakefield, where he is presently located.
Christopher is active in local volunteer activities; he is a member of the Rotary Club of Bridgenorth Ennismore Lakefield, sits on the Steering Committee of Abbeyfield House Society of Lakefield, and received a Citation from Peterborough Mayor Daryl Bennett for his past volunteer work as a six year member of the Board of Directors of Sunshine Homes in Peterborough.
The Chamber congratulates Christopher on his 50th anniversary of being an architect.
Congratulations To Brian Bulger
Congratulations to Brian Bulger of Brian D. Bulger Insurance Services Ltd. & The Life Insurance Guy.
Brian has earned national recognition for his work as a leading representative of the Chambers of Commerce Group Insurance Plan at the program's national conference in Quebec.
Brian has worked in the insurance services industry for over 40 years, and is the exclusive plan advisor in Peterborough and Northumberland Counties.
Congrats from the Kawartha Chamber team!
Chamber Members Are Hiring
Otonabee Conservation – Watershed Biologist
Otonabee Conservation is looking to hire a Watershed Biologist who is responsible for leading the development and delivery of science based monitoring programs related to water quality, water quantity and watershed health, including the development of data collection and management standards and protocols.
Submit an application by October 8th.
Selwyn Township – Landfill Attendant/Scale House Operator
Selwyn Township is looking to hire a part-time Landfill Attendant/Scale House Operator to provide general labour, maintenance services and scale house duties at the Township landfill site.
Deadline to submit an application is 12pm on Monday, October 1st to Kim Berry, Township of Selwyn, 1310 Centre Line, Box 270, Bridgenorth, ON, K0L 1H0
Lakefield Herald – Advertising Sales Consultant
The Lakefield Herald is looking to hire a sales consultant.
Previous sales experience is an asset.
License and access to vehicle required.
Email your resume to tmcquitty@lakefieldherald.com or send to The Lakefield Herald, 74 Bridge Street, PO Box 1000, Lakefield, ON, K0L 2H0
Buckhorn Community Centre – Art Festival Director
The BCC is looking for a director to lead and implement changes to the festival to increase attendance and sales, as well as strengthen the community engagement.
Part-time, year-round position.
Email resume with cover letter to buckhorncc40@gmail.com by October 19th.
Whelan's Flooring Centre – Sales Associate
Whelan's Flooring Centre is looking to hire a sales associate.
Sales background is an asset.
Design background is an asset.
Email rwhelan@whelansflooring.com for more details.
If your business or organization has a job opportunity you would like to advertise, you can add it to the Chamber's website through your Member Information Centre account (or submit the description to info@kawarthachamber.ca) and the Chamber will share it in its next Newsflash.
2018 Ontario Economic Summit: The Workforce Of Tomorrow – October 24-26
The 2018 Ontario Economic Summit is taking place October 24t to 26th at Niagara-on-the-Lake.
The Ontario Chamber of Commerce just announced that Ontario's Premier, Doug Ford, will be addressing delegates at the summit.
This year's summit will be discussing:
Workforce demand/supply, and creating solutions to support broad economic transition;
The challenges businesses must face as we confront the future of work;
The changing nature of work (disruptions from AI, advanced robotics, and automation);
How companies, non-profits, and governments from around the world are addressing the skilling and re-skilling continuum.
Understanding the Opiod Crisis – September 26
The Opioid Information Session is taking place on Wednesday, September 26th.
The free event is at the Selwyn Outreach Centre starting at 7 p.m.
Hear from a panel of experts on the growing issue of opioid abuse in the Peterborough area.
Panelists are:
Dr. Rosana Salvaterra – Peterborough Medical Officer of Health
Dan Farrow – Paramedic Supervisor & Firefighter
im Carson – Retired Police Officer
Upcoming Events
Lakefield Farmers' Market – Every Thursday until Thanksgiving.
Farmers' Market at Craftworks at the Barn – Every Sunday until Thanksgiving.
Peterborough County Plowman's Association Plowing Match – September 28-29th.
Gallery on the Lake Norman R. Brown Exhibit – Opens September 29th.
Lang Pioneer Village's Applefest – September 30th.
Ennismore Scarecrow Contest – Contest begins October 1st.
For more information about the businesses and events listed above, please visit the Kawartha Chamber of Commerce & Tourism website at kawarthachamber.ca.
All photos supplied by Kawartha Chamber of Commerce except where noted.