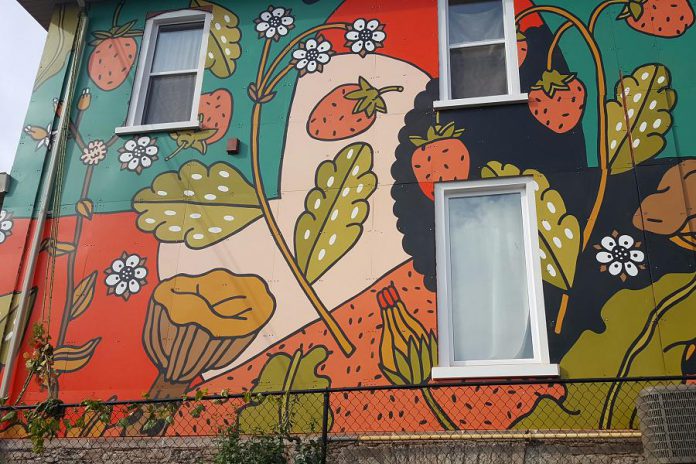 The latest mural in the City of Peterborough's Public Art Program was officially unveiled earlier today (October 19) at the YES Shelter for Youth and Families at 196 Brock Street in downtown Peterborough.
The mural, entitled "Rebirth and Resilience", was created by Toronto-based artists Caitlin Taguibao and Andrea Manica. It consists of 42 panels spanning 768 square feet, and covers the entire east-facing brick façade of the YES Shelter building.
Taguibao and Manica used images of strawberry plants and dandelions in different stages of life as metaphors for compassion, kindness, and a belief that people can grow and change.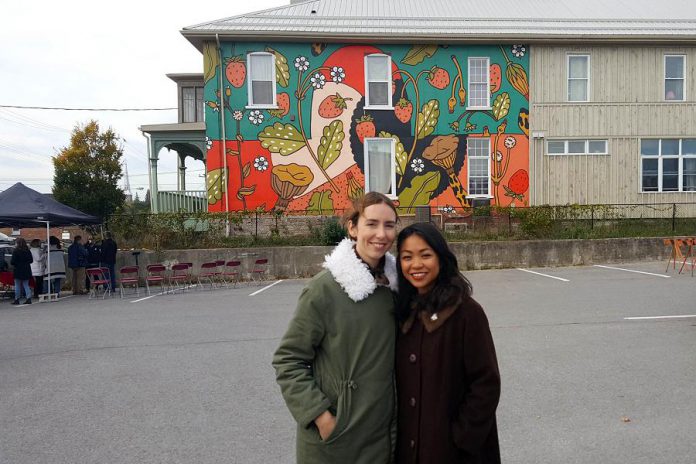 The two illustrators and graphic artists, who have collaborated in the past on public murals, were chosen to create the mural earlier this year as a result of a request for proposals submitted to the City of Peterborough Public Art Program.
"The dandelion can often be seen growing between cracks in the sidewalk, in abandoned industrial spaces, and abundantly on the sides of roads," they wrote in their proposal. "Sometimes considered a pesky plant, we would like to instead celebrate the resilience of its growth and recognize the many nurturing and medicinal properties it holds.
"Also featured is the strawberry plant, the first fruit of the Ontario season and a symbol of birth. When viewing our mural, we hope the takeaway is a sense of joy and playfulness — that refreshing feeling you get when you bite into a strawberry."
This is the third public art mural commissioned as part of the Downtown Mural Project, conceived in partnership with the Peterborough Downtown Business Improvement Association (DBIA) and funded by the DBIA and the City of Peterborough.
Artist Alex Bierk installed his "Passing Cloud" mural on the east wall of the Highway Enforcement Legal Protection (H.E.L.P.) building at 114 Simcoe Street in 2016, and artist Chrissy Poitras painted her "Floral Abstraction" mural on the south wall of the building at 378 Aylmer Street in Peterborough, which houses both Artspace and Peterborough GreenUP, in 2017.
In addition to the downtown murals, the City of Peterborough Public Art Program has funded two murals under the arches of the Hunter Street bridge.