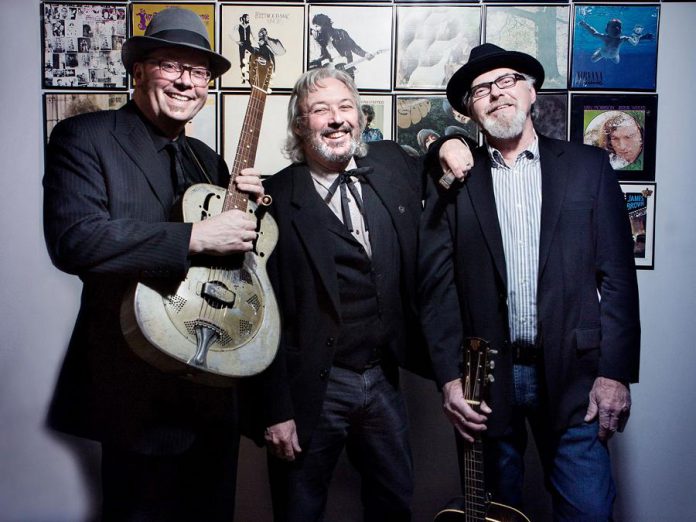 Sitting down over hot chocolate at Haaselton's in downtown Peterborough, local musician Al Black had ample reason to smile the smile of a contented man.
Trudging through the snow to keep this early afternoon appointment was anything but a chore for the self-professed aficionado of the winter season; a love of all things cold and fluffy that features snowshoeing and long walks in the wintry wilderness at its centre.
And then there was the principal subject of the conversation to come: music and, specifically, the April 20th concert at the Market Hall Performing Arts Centre featuring Jackson Delta, of which he is an original member alongside Rick Fines and Gary Peeples.
As if that wasn't enough to brighten the sparkle in Black's eye, in from George Street walks bandmate Fines. Black asked him to join us and Fines did just that.
"I don't want him telling you all the lies," joked Fines of his motivation. "I want to tell some too."
Fibs and tall tales aside, there's one undeniable truth at play here: Jackson Delta's acoustic blues sound remains as musically relevant today as it was when the trio headlined music festivals across North America and the U.K. while earning two Juno Award nominations during the mid to late 1980s and into the following decade.
VIDEO: "Sink or Swim" – Jackson Delta

Billed as "Jackson Delta – Bringing It All Back Home", the April 20th return to Market Hall (140 Charlotte St., Peterborough) marks the band's first performance since SLAB Productions brought them together for an intimate performance last November.
The Market Hall is a favourite venue of the trio, having first reunited there in October 2014 for a show called "Jackson Delta – Revisited", and then again in April 2017 for a show called "Jackson Delta: Slight Return".
Tickets to the 8 p.m. concert on Saturday, April 20th cost $35 ($45 for cabaret-style seating) and can be ordered in person at the Market Hall Box Office, by phone at 705-749-1146, or online at markethall.org.
"The three of us make one hell of a one-man band," assesses Fines, a nod to the fact that all three — Fines and Peeples on guitar and Black on drums and harmonica — alternate on lead vocals. What's old isn't new again, notes Black. It simply works and that's good enough for each.
"We all like to sing but it's also fun to play behind someone else, doing a song you might not have chosen for yourself."
Saying "We weren't crossing paths" back in the day, Black still marvels that the trio came together at all. Fines agrees fate was at play.
"I just happened to see Gary going into a house with these really cool guitars and amps," Fines recalls. "He had a handlebar moustache and I thought 'This guy is into Duane Allman'. I was into Duane Allman too and I was only 17. So I just walked over and talked to him. When Alan and I met up, it was because we were both hired by Mike Langford to be in his band."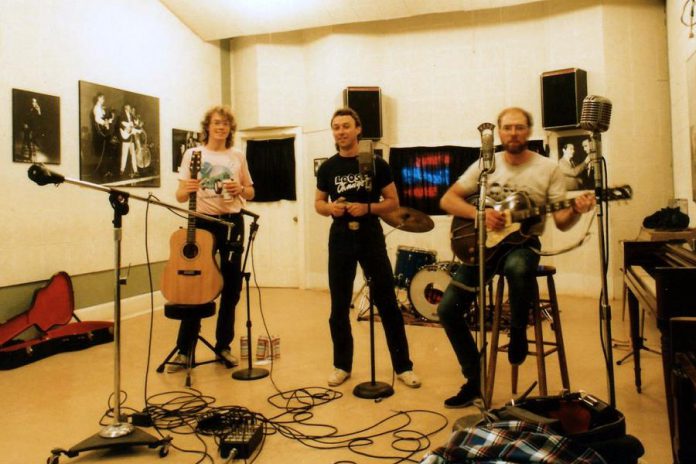 Almost immediately, Fines, Black, and Peeples discovered they had a common interest in, and love for, the blues. That led to their getting together at each other's houses to refine their craft — "a hobby" of sorts, according to Fines.
"When we started playing, there was that unplugged thing happening," says Black. "There was already a shift there and we were fortunate to be a part of that. It surprised us more than anybody. When you think of 1980s music now, you certainly don't think of Jackson Delta."
Blending acoustic roots music with traditional blues, Jackson Delta quickly made a name for itself. Coffee house gigs morphed into large venue shows. Recording wise, the band's debut recording Delta Sunrise was done in 1988 at landmark Sun Records in Memphis — a collector's item as only 250 copies were pressed.
That record was followed by 1989's Acoustic Blues (nominated for a 1990 Juno for best roots/traditional album), Lookin' Back, and I Was Just Thinking That (a live recording with pianist Gene Taylor at the Ultrasound Showbar in Toronto in 1991, which brought the band its second Juno nomination).
VIDEO: "Back Up From Zero" – Jackson Delta

But come the new millennium, with each member looking to pursue other projects, Jackson Delta faded into the sunset … but not from people's memories.
"When people come and see us now — some haven't seen us for 20 years — they've made up their mind that they want things to be right back to where they were 20 years ago … it's nostalgia," says Fines, with Black adding "Where there's music, there are memories."
What's clear from the get-go for anyone who has caught a Jackson Delta performance, whether that was 30 years ago or as recently as last fall, is the friendship between Fines, Black, and Peeples that anchors their common love of playing music.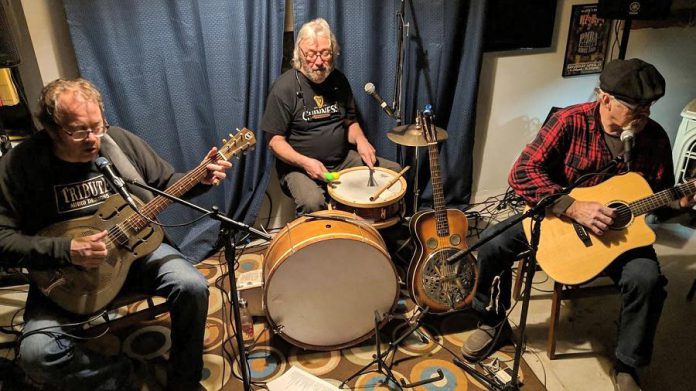 "There's a thing that happens with music that's beyond just words and beyond the standard level of intimacy that happens between men in our society," Fines says.
"When you play music together, there's something else that happens there between you that sort of raises that bar. You drop some of your boundaries and your pretenses and you share something that's emotional and personal.
"We love each other and we love our music and we love playing each other's music. We love playing music together. We love playing music for our friends."
VIDEO: Jackson Delta promo video for "Jackson Delta: Slight Return" in 2017

For Black, that Jackson Delta is able to come together so seamlessly after long periods of absence is indicative of "just how easy it is" — a reality strengthened by the respect each member has for the others.
"We talk a lot … there's lots of catching up to do," says Black of the rehearsal sessions that precede each live show reunion.
"They (Fines and Peeples) talk way too much about guitars for me but that's okay. We get caught up in terms of whom we've been listening to, pass around CDs, and bring out new things we've learned."
For the Market Hall show, Black says the plan is to "freshen things up a bit. we'll go over our repertoire and look for something we haven't done for awhile. We don't want it to be a blueprint of the last show."
AUDIO: "T.V. Mama / Bad News Blues" – Jackson Delta (live)

While performing live has been nothing new for Black and Peeples — Black remains a staple on the Peterborough live music scene fronting his Steady Band and performing with numerous other acts while Peeples, along with Black, has been a mainstay with The Rocket Revue — Fines has, by choice, limited his live performance activity. That's all the more reason he's excited for the Market Hall show.
"I spend too much of my time playing alone but that's the way I write and come up with things," says Fines, who has made several cross Canada treks leading blues workshops, most notably with the Blues In The Schools program.
While both Fines and Black have material for new album projects — Fines had just recorded demos for what he says is an upcoming acoustic album — both are leaving the door open for a new Jackson Delta album project. In addition, the three have talked about possibly playing shows outside of Peterborough.
"We've been asked but we have to feel really comfortable about it," says Black.
As for the name of the April 20th show, "Bringing It All Back Home", Black says it's just a nostalgic reference to the band's history.
"I had to come up with a name for this show. There's no hidden message here. They've all had some reference to looking back, like a memory. We've been out there and done it, but we really enjoy playing for folks here at home."