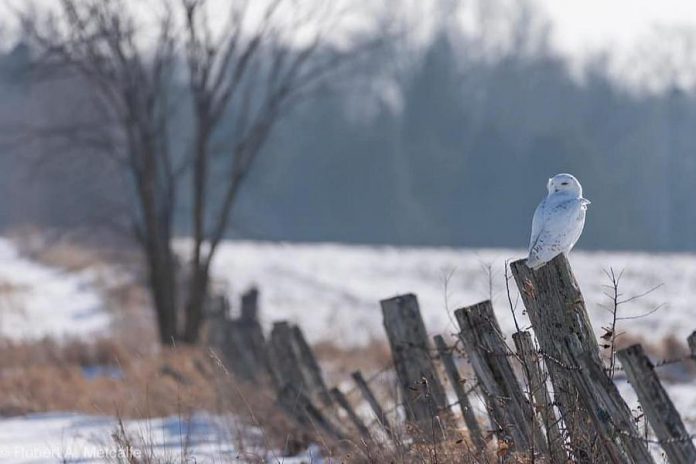 We're making it! We're now more than halfway through winter — it's almost still light out at 6 p.m. Here's to everyone who has toughed it out in all the snow and bitter cold without taking a southern sojourn.
Some of our local photographers are the toughest of all. Just last weekend, I followed an Instagram post where a photographer hiked in to Eels Creek High Falls, set up his tripod on a snow bank over running water (I think he realized that after), and stayed long enough to photograph the winter sunset. Then he had to hike out and it was past dusk. I'm happy that we were able to share his stunning result.
While we had some really, really, really cold temperatures in January, they didn't stop photographers from going outside and capturing the brilliant winter glory of the Kawarthas. Our top nine photos from January include a snowy owl, an ice skating trail, starry nights, some stunning (snowy) scenery, and the Super Wolf Blood Moon.
Do you want to get on our list? All you need is an Insta account and to tag us using our hashtag #kawarthanow when posting your photo.
We share photos from across our readership area, which is the five-county area surrounding Peterborough which includes Peterborough, Northumberland, City of Kawartha Lakes, Haliburton, and Hastings (we sneak in the occasional Algonquin Park picture as well, particularly if it's by a Kawartha photographer).
To see our daily shares of photos, follow us on Instagram @kawarthanow and check out our feed's monthly highlight reels for recaps of every month in 2019.
---
Everyone loves the sight of a snowy owl.
Posted January 5, 2019. 10,796 impressions, 835 likes
#2. Balsam Lake ice trail by Fred Thornhill @kawarthavisions
The 1.4 km torch-lit ice trail at Balsam Lake Provinical Park was a popular article and post for us this month. The ice trail was open for one weekend only during the annual Frostival celebration. Fred took this photo for @balsamlake_pp and @explore_kl.
Posted January 26, 2019. 9,776 impressions, 685 likes
#3. Saturday stillness on Little Lake by Barry Killen @theburleighridge_beareh
A view of Crescent Street in Peterborough from across Little Lake.
Posted January 5, 2019. 8,858 impressions, 720 likes
#4. Stony Lake winter hues by Jasmine Laurel @wildgreenlife
Posted January 11, 2019. 7,551 impressions, 730 likes
#5. Starry starry night on Kasshabog Lake by Mike Quigg @_evidence_
Posted January 3, 2019. 7,436 impressions, 445 likes
#6. Frigid with a side of oats by Brian @bparypa73
On a frigid morning in Peterborough, residents on both sides of the Otonabee River enjoyed the warming smell of oatmeal coming from the Quaker Oats factory.
Posted January 17, 2019. 7,276 impressions, 568 likes
These frosted hay bales in Cavan hay bales almost look good enough to eat!
Posted January 4, 2019. 7,108 impressions, 495 likes
#8. A snowy Sunday on Buckhorn Lake by Kawartha General Store @kawarthageneralstore
Posted January 20, 2019. 7,069 impressions, 646 likes
#9. Super Wolf Blood Moon by Dea Millie @bluqqz
It was a bitterly cold night on January 20th to watch the total lunar eclipse, let alone take this stunning shot of it!
Posted January 21, 2019. 7,067 impressions, 724 likes