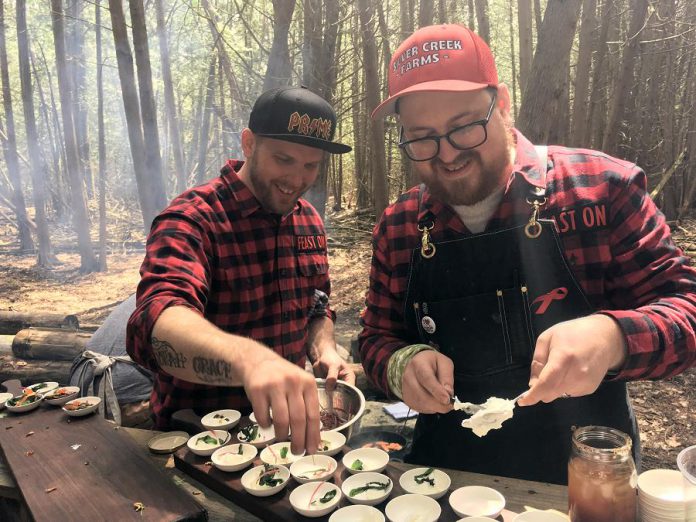 This month, food writer Eva Fisher explores the terroir of Kawarthas Northumberland at the Terroir Symposium's Rural Retreat at South Pond Farms, lunches at the newly opened Fusion Bowl in downtown Peterborough, braves the beast at Sweet Beast Butcher Shop in Peterborough's East City, discovers a local saffron producer at True Saffron in Warkworth, and tipples award-winning gin from Black's Distillery in Peterborough's East City.
---
Terroir Retreat showcases local culinary scene at South Pond Farms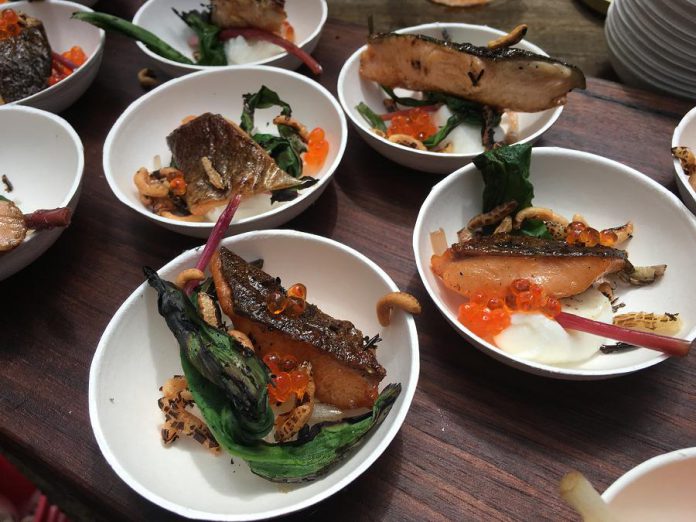 Every year hundreds of delegates from across the province, the country, and the world head to Toronto for the Terroir Symposium, an event designed to bring the hospitality and tourism sector together as a community: chefs, hoteliers, mixologists, writers, and business people.
This year, special guests of the symposium were invited to a "Rural Retreat" in the Kawarthas at South Pond Farms (1020 Gray Rd., Pontypool) on May 7th.
Rebecca Mackenzie, president and CEO of the Culinary Tourism Alliance, says that the retreat at South Pond Farms is a way to reward speakers, sponsors and media.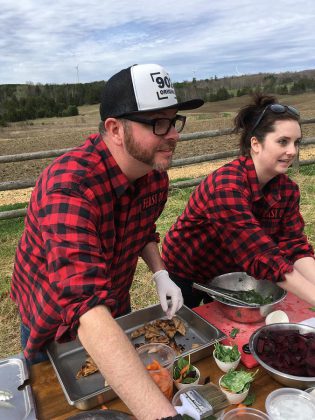 "We've brought them to the Kawarthas to showcase the terroir of Ontario. It's an opportunity to get them out into the countryside and really showcase and celebrate all of the great ingredients, the producers, and the chefs that play with them and make them into something delicious."
Rebecca says that our region was selected in part because of the strength of our food scene.
"You've got really great producers. That's the base ingredient to any food tourism destination: the growers and producers. You've got a culinary community that's evolving, and you've got a number of restaurants and chefs that celebrate that. That's a big draw for us."
That includes our thriving beverage scene: "You've got some craft breweries, some distillers, even sparkling non-alcoholic tea."
Agatha Podgorski, Director of Community Engagement at the Culinary Tourism Alliance, was also quick to sing the praises of the Kawarthas-Northumberland food scene.
"There is so much unbelievable unique stuff happening in this area right now. I mean, there's a guy growing saffron out here which no one thought was possible in Canada. Black currants, hop shoots. There's a huge chevre community and people doing beautiful goat cheeses. Really special things that a lot of people don't realize are available in Canada."
Chefs and producers from across the region were in attendance, working in pairs with chefs from other regions.
Jay Nutt of Elmhirst's Resort cooked beef tenderloin to tender perfection over an open fire with James Eddington from Eddignton's of Exeter, while Tyler Scott from Rare and Eric Boyar from SixThirtyNine topped succulent rainbow trout with wild leeks and puffed wild rice. Brad Watt of the Publican House served a beautiful spinach salad with red fife wheat flatbread, also cooked over the fire, with Julia Graham of The Quirky Carrot.
In total, eight teams of chefs created an unforgettable series of dishes, which were served by the fire they were cooked on in South Pond Farm's expansive fields and forests.
Rebecca says that events like Terroir can boost a thriving local food culture.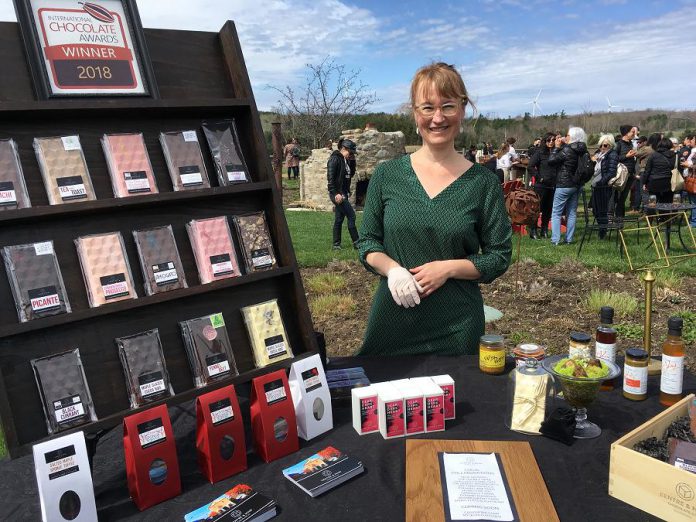 "There's an appetite — pun intended — to grow food tourism in Kawarthas Northumberland, and this type of event further elevates that."
She also notes that the Terroir Rural Retreat is one of the most important parts of the Symposium.
"This is the stuff that people really remember. They remember the presenters and the speakers of course … but it's today where you're getting to network and talk and meet people. Business happens here, relationships are built."
New Fusion Bowl restaurant from the owners of Imperial Tandoor
The Fusion Bowl (376 George St. N., Peterborough) opened on Monday May 13th, offering affordable fusion cuisine in a beautifully decorate downtown restaurant.
Co-owner Nitin Grover is no stranger to the restaurant industry. He and his business partner Manish Choudhry are also the owners of Imperial Tandoor, a popular full-service Indian restaurant on Lansdowne Street.
Their new venture allows them to better serve a wider clientele by offering a less expensive option in the downtown core.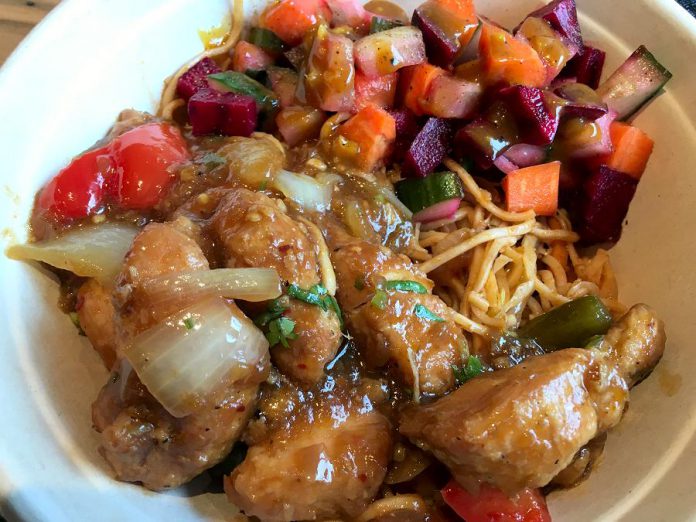 Nitin describes their new restaurant as "premium self-serve fast food." He says that self service is important to the concept.
"We can afford to bring down the price point without having to compromise on the quality."
The food is a fusion of Indian, Chinese, and Mexican.
"We've been working on this idea for over a year now, and we've been experimenting in our kitchen to come up with the right recipes."
Their menu includes unique options, like chicken tikka quesadillas and naan bread stuffed with a variety of fillings. You can also get a bowl, which includes your choice of rice or noodles with salad and a main.
When I visited there were 15 main dish options at the counter, including six vegetarian ones.
The Fusion Bowl will host a grand opening at the end of May, but in the mean time their opening hours are 11:30 a.m. to 9 p.m. seven days a week.
Sweet Beast Butcher Shop serves happy meat in the East City core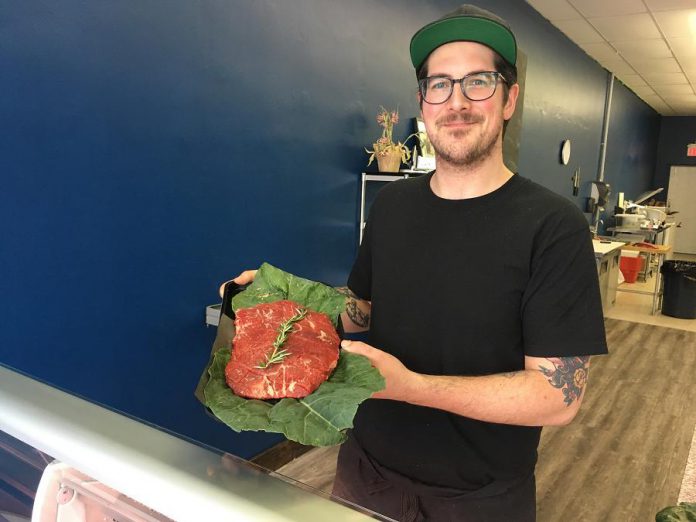 Peterborough's newest butcher shop is open for business. Sweet Beast Butcher Shop (95 Hunter St. E., Peterborough) opened on April 18th in East City.
Owner Grant Slavin earned his chops at the Community Butcher Shop, a well-loved but short-lived local butcher on George Street that closed in January of 2017 after two years.
"We bought whole animals and would butcher everything in the shop. That's where I learned how to butcher."
After the Community Butcher Shop closed, Grant worked and furthered his education at One Fine Food, then went on to apprentice at Just an Old Fashioned Butchery and Seafood in Oakville.
Grant is excited to operate in East City.
"It's a great neighbourhood. It's a really good location, basically offering everything that Community Butcher Shop offered but with a parking lot."
He says that the community has been very supportive.
"It's great to be in the neighbourhood. It seems that half of the clientele who come in live just around the corner. It feels really good to be part of this community."
The shop offers a selection of meat including house-made sausages, steaks, and chicken with or without marinades, fish, and pork.
"I'm passionate about local food and trying to source from Ontario farms and suppliers that practise traditional animal husbandry and traditional pasture raised farming practises."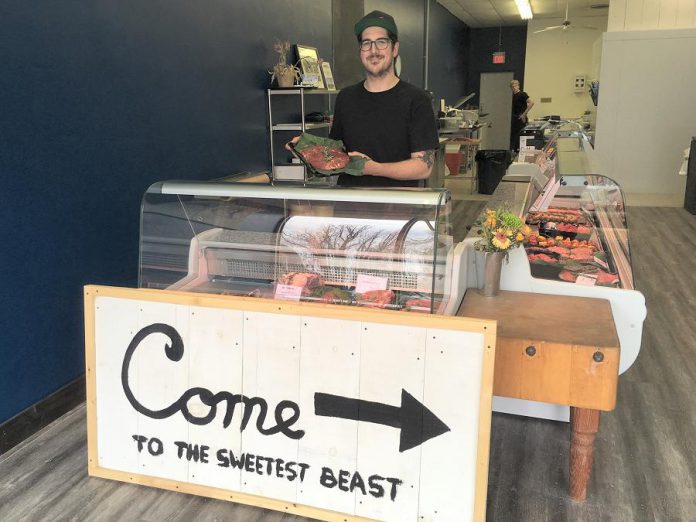 He goes item by item in his shop, listing the farms that each cut of meat is brought from. It's a thoughtful selection of meat and fish, and even the further afield options are sourced ethically: the black cod is from a supplier in Northern B.C. that partners with local indigenous communities.
Grant explains:
"I think it's important to know where your food is coming from, and that's not as accessible at the grocery store. I worked at a grocery store chain in Hamilton and it's kind of disgusting. The store would do a special on prime rib and it's all American beef from feedlot farms and we would process skids of it. I would do 50 cases of prime rib in a shift.
"At that point there's no connection with the food that people are eating. If someone comes into a butcher shop like mine, I can tell them where their beef is coming from. There's a lot more transparency. We need to stop the factory farm system."
That's food for thought.
Growing "Red Gold" in Warkworth
Growing saffron in Warkworth is not for the faint of heart … but that's just what True Saffron co-owner Martin Albert does.
He grows, dries, and sells the spice, which is derived from the flower of the saffron crocus — including threads and bulbs as well as products made with saffron, such as mustard, simple syrup, infused maple syrup, jellies, vinegars, and more.
Before he began growing saffron, Martin was already growing garlic and tomatoes on his home farm in Warkworth. When a visiting friend suggested he try saffron, he didn't think it was for him.
"I said no, we're busy enough."
Fortunately his friend was persistent, and, as Martin puts it, "within two weeks I had ordered 50,000 bulbs."
That's when he discovered that his land was unsuitable for saffron.
"Saffron needs high, dry, very well-drained sandy soil. Our land is forest, river, and the bottom of a valley."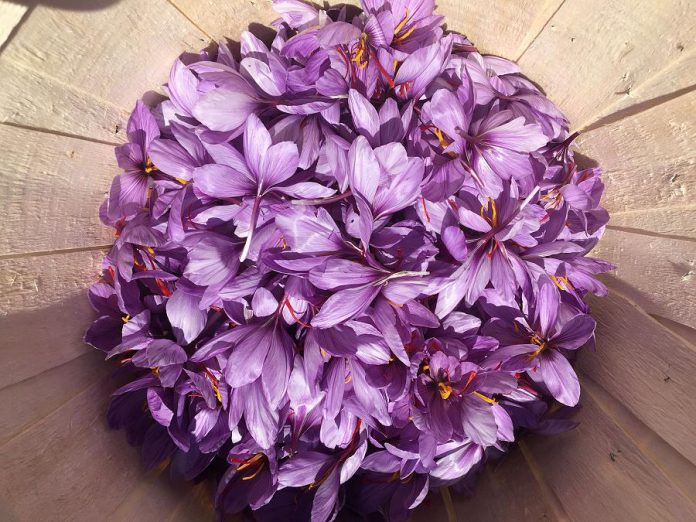 He knew that he would have to rent land specifically for the project. After he secured the land, the bulbs he had ordered were held up in shipping.
"The inspectors oversees found two grains of sand on one of the bulbs and made our producer wash all of them again."
Then, after the bulbs had arrived, there was weather to contend with.
"We planted our 50,000 bulbs during the worst drought in 95 years in Northumberland."
Clearly there are challenges when it comes to growing saffron in Northumberland, but one taste of True Saffron will convince you that it's all worth it. Martin explains that the quality of saffron depends largely on the drying technique.
"The bulbs are genetically identical, so they all make the same flower. When we had it analyzed we found out that not only are we drying it well, we're drying it extremely well."
His first three harvests were all graded well above grade one, which is the highest grading for saffron.
True Saffron supplies saffron to restaurants including 'Sper (20 Main St, Warkworth), which hosts monthly six-course saffron meals. Martin says that saffron creates an incredible mood boost in anyone who tries it.
"By course number two, there's a sense of euphoria. That's what saffron does."
Add it to chocolate and that euphoria may even be increased. Centre and Main Chocolate in Warkworth have developed a number of True Saffron inspired chocolates, including saffron crème brûlée truffles and white chocolate with undried saffron, unique in the world.
True Saffron products are available at Centre and Main Chocolate (50 Centre St., Warkworth), Chasing the Cheese (330 Charlotte St., Peterborough), Sharpe's Food Market (85 Front St. N., Campbellford), Special Effects Decorating (85 Main St., Brighton), Millstone Bread (53 Albert St., Cobourg), and online at truesaffron.ca.
East City's Black's Distillery wins at two international competitions
Black's Distillery (99 Hunter St. E., Peterborough) recently won two international awards for their gin: a gold medal at the San Francisco World Spirits Competition and a bronze at The London Spirits Competition.
CEO and Master Distiller Robert Black explains that they judge gin a bit differently in London.
"They didn't like our bottle package as much there, but that's okay." Gin drinkers know that it's what's inside that counts, he says.
Black's Gin is made from scratch from grain to glass. Robert starts with a base of Red Fife Wheat vodka.
"A lot of people don't know that to make gin you start off with a neutral spirit, which vodka is."
Red Fife Wheat is a local grain developed in Peterborough County in 1840. Robert sources his Red Fife Wheat from a local farmer. The gin is made using a blend of nine botanicals.
"It's a very savoury gin without being too juniper forward."
That gives the other botanicals a chance to shine: angelica, cardamom, coriander, sage, cubeb, and lavender.
Robert notes that the flavour is strong enough to come through even in a cocktail like a gin and tonic.
He is happy that the judges liked his gin.
"It's kind of flattering to me, and only good things are going to come from this."
Black's Gin is available at the East City distillery and at 32 LCBO locations.