A change may be as good as a rest for most but in Hawksley Workman's world rest is not an option, no matter how dramatic the change.
The prolific singer-songwriter has never been one to sit still and he's certainly not doing so now, having just finished a three-month stint composing music for the Stratford Festival's imminent staging of The Neverending Story.
That project came on the heels of the early March release of his 16th solo album Median Age Wasteland.
The change part of the equation can be found in the new Montreal address to which he and his wife recently moved from rural Muskoka.
"We had sort of extracted ourselves from Toronto, thinking that maybe we would live out this agrarian fantasy and we did for four or five years," notes Workman, a Huntsville native who called Toronto home for most of his adult years.
"We woke one morning feeling we needed to get back to an energy that has a little more intensity to it. I always wanted to live in Montreal. It's a very artful city; it's the city of Leonard Cohen. There's a sense there are ghosts on the streets. There's just a lot of interesting energy which was exactly what I needed — to go there and start making music.?>"
Make music there Workman did, taking to the studio to record Median Age Wasteland. Now the two-time Juno Award winner is taking to the road for an ambitious May-into-June tour that includes a Thursday, May 23rd show at the Market Hall Performing Arts Centre (140 Charlotte St., Peterborough, 705-749-1146).
Assigned seating tickets to the 8 p.m. concert cost $38 (including fees) and are available in person or by phone at the Market Hall box office or online at markethall.org.
"Touring has changed a lot," says Workman.
VIDEO: "Lazy" – Hawksley Workman

"It used to be an excuse to party. Now it's a different thing. We're all older: my bass player (Derrick Brady) and my piano player (Todd Lumley) I've played with more than 20 years, and my drummer (Brad Kilpatrick) for 10 years. We all go out on the road for way different reasons now.
"When I was younger I didn't do intense weeks of training with my opera coach before going on tour. I'd just go out on the road and make it happen. Now I and the band are more interested in being great instead of getting through the songs and then drinking a million glasses of wine when we're done."
"Being great" is nothing new for Workman. As both a performer and a producer, he has built a musical resumé matched by few in this country.
A multi-instrumentalist equally comfortable playing guitar, drums, bass, and keyboards, since the 1999 release of debut album For Him And The Girls, Workman has carved out a gratifying niche with his blending of anthemic folk and cabaret pop, incorporating virtually all music genres along the way.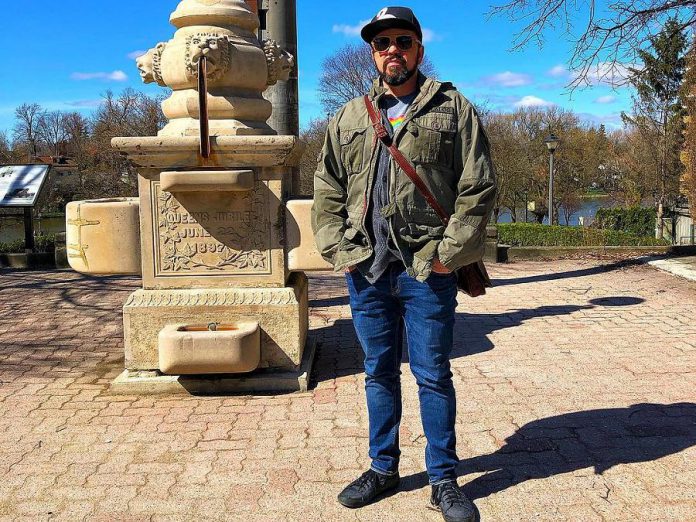 Workman followed that initial release in 2001 with (Last Night We Were) The Delicious Wolves and critical acclaim quickly followed, along with music industry recognition in the form of two Juno Awards, including the statue for Best New Solo Artist.
Workman has written, recorded, and released a new album virtually every year since as well as produced albums for a host of other musicians — Great Big Sea and Serena Ryder top an impressive list — as well as toured extensively on both sides of the Atlantic. In addition, he's been bit by the acting bug, leading to supporting roles in the films Score: A Hockey Musical and Still Mine.
Now Workman is enjoying new success with Median Age Wasteland which has produced two singles to date: "Battlefords", which charted at #8 on the CBC Music Top 20 chart, and "Lazy".
"I think it's one of the best records I've written and made," assesses Workman.
"I've gotten bogged down in the past trying to make things more interesting than they needed to be. We would be working on a song for a couple of days and I'd think 'I'm bored with it. Let's start messing with it.' But when you start messing with things you take away some of the purity. This record is all about the songs. I handed the production over to Murray Lightburn (of The Dears). He really kept me in control."
VIDEO: "Battlefords" – Hawksley Workman

Terming the recording studio environment "a comfortable, familiar, easy place" for him, Workman says his work as a producer remains as gratifying as performing, if not more so.
"I'm fascinated by artists. I want to be around people that are interesting," he says.
"There are some, even really brilliant artists, who go into the studio and feel intimidated by the environment and by the experience. I like to act as a go-between and try to nullify this weird feeling that people get when they get in the studio — 'Now I'm under a microscope, now it really counts, now everything is more important than it was'. I just want it to stay fun. When you get too thinky in the studio, it gets bad really fast.
"I think you get better at producing because your instincts get sharper. I go in and out from feeling like I'm a good producer. Then there are days when I think producing is for the birds. This idea of being a producer is such a nebulous thing. Some days you're required to be someone who comes up with a big idea. Some days you're pushing a songwriter to write better. Some days you're a glorified psychotherapist. Some days you're someone who's the last one available to shake a tambourine.
"It's different for every album. In a lot of cases you're a trusted resource for a songwriter who needs an ally who is going to tell them the truth."
VIDEO: "Snowmobile" – Hawksley Workman

Now Workman is anxious to get on the road, noting live music still has a place in a world gone technology mad.
"The fact remains, as humans, we still respond to live music, to live theatre, to dance. It's something that is elemental. You can't deny the power of live music. It still works.
"I'm a chatty guy onstage. In fact somebody tweeted I talk too much the last time I played Market Hall. I haven't toured with the band in quite awhile. I feel I've made a very musical record; I think the songs are some of the strongest I've written. I'm pretty excited and proud to bring those songs onstage."
Ahead for Workman after this tour are performances at Switzerland's Montreux Jazz Festival in late June through to mid July, followed by a full European tour commencing in September. And, he says, yet another album is close to completion.
VIDEO: "We Will Still Need A Song" – Hawksley Workman

Now 44 years old, Workman says maturation has gifted him with a new appreciation for his craft and his place in it.
"I was in Long and McQuade here in Stratford. One of their employees was sitting down at an electric piano and playing. When I was in my 20s, I'd be like 'Who cares?' Now I was like 'Isn't this incredible? I wasn't expecting to hear somebody playing piano today. Wasn't that a lucky break?'
"After taking on the Stratford thing, I told a musician friend in Montreal that maybe I made a mistake. He said 'Men our age need to be more uncomfortable way more often than we are.' Yes, my day job is making records, and going on the road is something I've done for twenty-plus years, but being a composer for a theatre piece, that's something new. I'm restlessly looking to keep my discomfort alive."
VIDEO: "We Dance To Yesterday" – Hawksley Workman

For more information on Workman and his music, hawksleyworkman.com.