Steelworks Design, a design-build custom machinery company in Peterborough, is now AVIT Manufacturing.
Founders Don and Rhonda Barnet announced the new brand during a media conference and open house on Thursday (June 6) at the company's facility at 1961 Fisher Drive in Peterborough, where it provides integrated technology for the automotive, wood processing, and energy industries.
The rebranding includes a new corporate name and logo, and the company's website will be redesigned to reflect the new brand.
"It's important that Steelworks Design retains its established values but at the same time develops a new and modern identity," saud president and chief technical officer Don Barnet.
"Our new brand is part of our plan, targeted to emphasize the strength of our capabilities, our growth, our position in the marketplace, and our commitment to always produce stellar products for our customers."
Advertisement - story continues below
The company worked with marketing agency Mega Experience over the past year to develop the new branding.
"Taking on the AVIT Manufacturing name is just the start as we continue to focus on our own product and service innovation," said president and chief operating officer Rhonda Barnet. "AVIT will continue to incorporate modern technology in all aspects of our business to carry out our high-quality operations."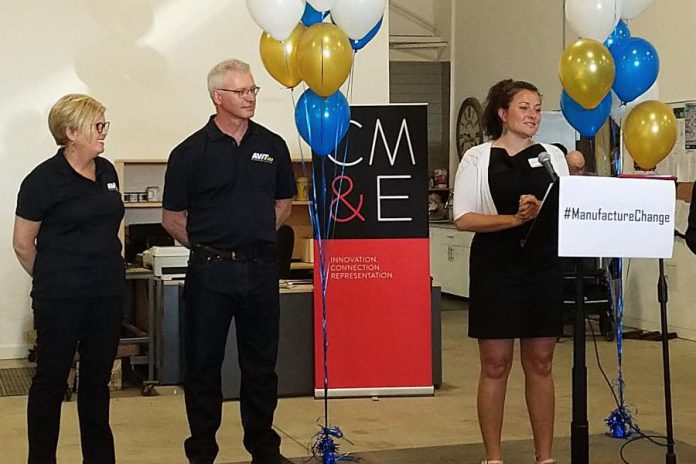 One of the reasons for the rebranding was that the former name of the company, Don Barnet explained, "pigeonholed us as a steel structures company, which is only a small part of our product and service offering."
The new brand also better positions the company to expand further into the global automation marketplace.
Advertisement - story continues below
The rebranding follows the company's move last year to its larger state-of-the-art manufacturing facility at 1961 Fisher Drive in Peterborough's Major Bennett Industrial Park. The move consolidated the company's five lines of business — automated fastening systems, automated assembly systems, lifting systems, engineering services, and product service and maintenance — in one location, improving its production capabilities and allowing for further innovation.
AVIT Manufacturing was founded in 2002 by Don and Rhonda Barnet as Steelworks Design. The company currently employs 23 skilled trades and engineers — with a focus on advancing women in manufacturing and skilled trades — and plans to double its operations in the next three years. Some of its clients include General Electric, BWXT, Siemens, Honda, NEFAB, MasterBrand, Peterborough Utilities, Andritz Hydro, and Coca-Cola.