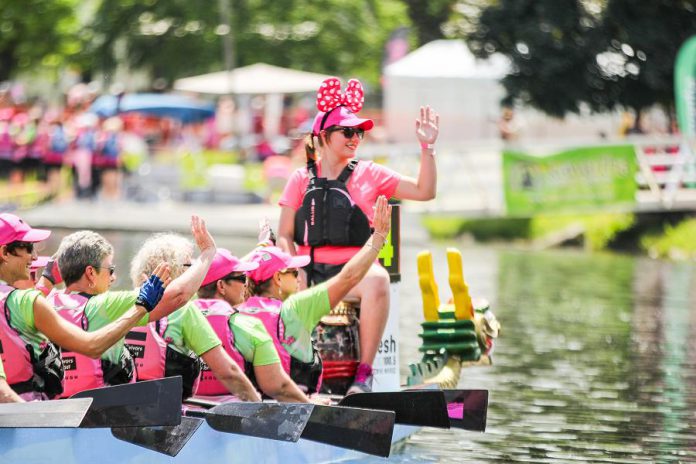 The weather is going to be wonderful for Peterborough's Dragon Boat Festival on Saturday (June 8) at Del Crary Park in downtown Peterborough.
Sunny skies and a high of 24° C will make for perfect conditions for both paddlers and spectators.
Here's the schedule for the day (all times are approximate):
07:45 a.m. – Team Captains' meeting
08:15 a.m. – "Awakening the Dragon" (opening ceremony)
09:00 a.m. – Morning races begin
10:00 a.m. – Vendors Village Market opens
10:00 a.m. – Family Funzone opens
11:15 a.m. – Flower Ceremony (featuring the Peterborough Pop Ensemble and Breast Cancer survivor teams)
12:15 p.m. – Afternoon races begin
01:00 p.m. – The Thirsty Dragon beer garden opens featuring Cameron's Brewing Company craft selections, and a non-alcoholic craft beer option by Partake Brewery
02:15 p.m. – Semi-finals and division finals begin
03:15 p.m. – Live entertainment featuring JUNO Award nominee Jeremy Fisher, with opening acts from local artists Evangeline Gentle and Hillary Dumoulin
03:35 p.m. – Final race of the day (community mixed final presented by platinum sponsor Kawartha Credit Union)
The detailed race schedule is available as a PDF download. All races this year are 250 metres, replacing the 400-metre races of past years. Read more about this year's festival.
If you're driving to the festival, be aware that parking is limited at Del Crary Park and that Crescent Street will be temporarily closed.
However, you can also park at the municipal lots at 190 Simcoe Street, 202 King Street, 210 Wolfe Street, and the Evinrude Centre at 911 Monaghan Road, with Coach Canada providing free shuttle buses every 30 minutes that stop at these locations (the Simcoe Street shuttle stop is at the bus terminal) on their way to Del Crary Park.
If you are pedalling to the festival, supervised bike parking will be available at Del Crary Park courtesy of Peterborough Moves and B!KE: The Peterborough Community Cycling Hub.
With one day to go until the festival, paddler teams and individuals have raised 65 per cent of this year's fundraising goal of $191,000. This year, the festival is fundraising for a laboratory technology at Peterborough Regional Health Centre known as CellaVision, which performs automated digital cell mapping of blood work, allowing doctors to determine and confirm cancer diagnoses and make treatment decisions with minimal delays.
There's still time to help the festival reach its fundraising goal by donating to teams or individual paddlers at ptbodragonboat.ca.