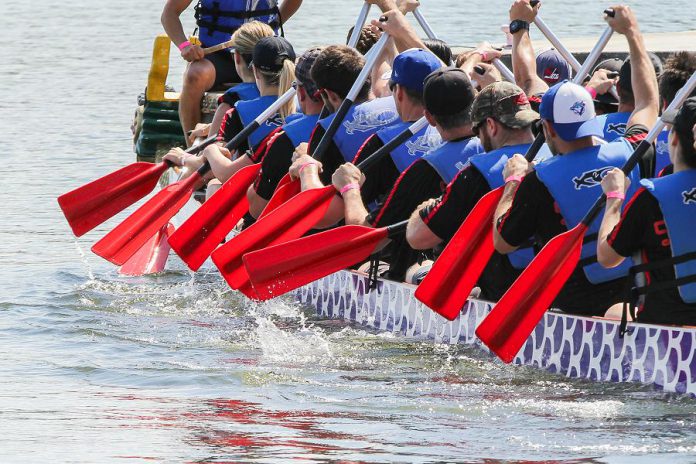 Last call for paddlers!
Peterborough's Dragon Boat Festival is less than a month away, and organizers are encouraging participants to register at ptbodragonboat.ca by Friday, May 17th.
In order to have your name on the festival-branded souvenir shirt available for purchase at the One Stop Dragon Boat Shop, teams must register by Friday.
The 19th annual fundraiser takes place on Saturday, June 8th at Del Crary Park in downtown Peterborough, where community, junior, competitive, and breast cancer survivor teams join together for a fun and exciting day of dragon boat racing on Little Lake.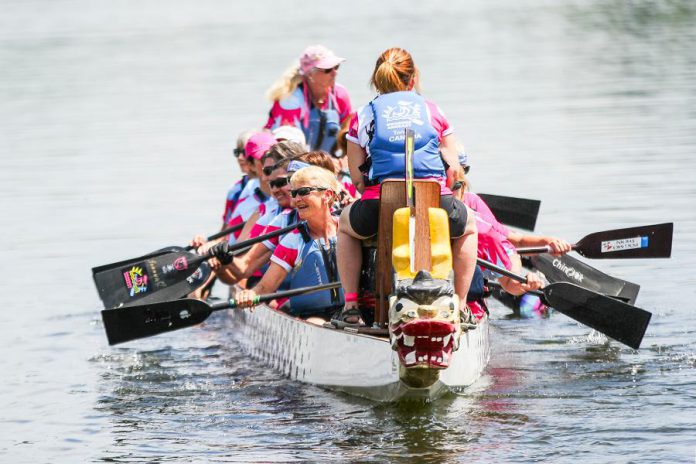 Hosted by Survivors Abreast (a competitive Peterborough-based dragon boat team made up of breast cancer survivors) and presented by platinum sponsor Kawartha Credit Union for the 18th time, the festival raises funds for breast cancer screening, diagnosis, and treatment at Peterborough Regional Health Centre (PRHC).
Cancer affects almost everyone, with one out of eight women diagnosed with breast cancer in her lifetime, and nearly one of every two Canadians diagnosed with some type of cancer in their lifetime. If you don't ever receive a cancer diagnosis, chances are one of your family or friends will.
To date, the festival has raised more than $3.3 million for PRHC, allowing the hospital to acquire state-of-the-art equipment and technology that the government does not fund. This year, the festival is fundraising for a laboratory technology known as CellaVision, which performs automated digital cell mapping of blood work, allowing doctors to determine and confirm cancer diagnoses and make treatment decisions with minimal delays.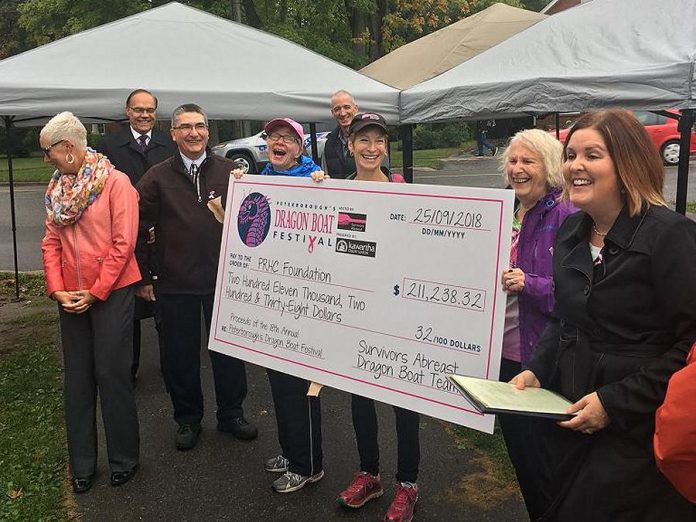 But the CellaVision system isn't just for breast cancer: it will also be used to help treat other cancers. PRHC's lab processes more than 20,000 cancer-related cases annually, so funds raised by Peterborough's Dragon Boat Festival will benefit everyone who needs cancer treatment.
This year's fundraising goal is $191,000. That number symbolizes that it takes 19 dedicated paddlers and one passionate team captain to paddle a team to success, both on the water and in their fundraising efforts. To recognize their extra efforts, a team captain will be randomly selected to represent all captains and will be invited to participate in the opening ceremonies to help "awaken the dragon".
The top fundraising teams will enjoy some special perks on festival day. The luxury "Dragon's Lair" returns as the prize for the top fundraising team (complete with butler, gourmet lunch, in-tent massage, and much more) and will once again be joined by the "Dragon's Loft" and "Dragon's Nest" — homes of the second- and third-place fundraising teams that feature a canopy tent in a prime festival location, a special lunch and beverages, exclusive access to the "Pink Potty", and more.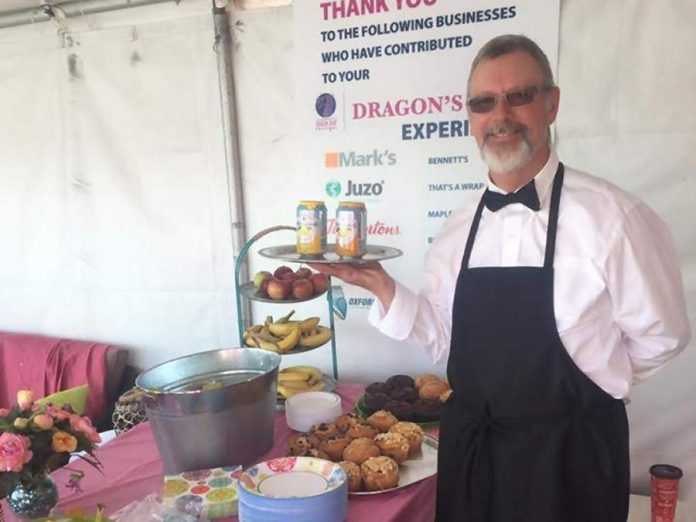 To register as a team or a paddler, visit ptbodragonboat.ca. A team consists of 20 paddlers and a drummer, and anyone over 13 years of age, men and women, can participate on a team. The registration price includes one on-water practice prior to event day with an experienced coach and steersperson, all required paddling and safety equipment, a team photo that can be downloaded after the event, and a day full of fun.
New this year are shorter 250-metre races, replacing the 400-metre races of past years. It's a speedier and less gruelling way to get to the finish line.
Returning this year is the Junior Dragons division, which includes participants between the ages of 13 and 18, is back again this year — it's perfect for school, social, and athletic clubs. Also returning this year are the exciting knockout finals for the festival's more competitive open divisions.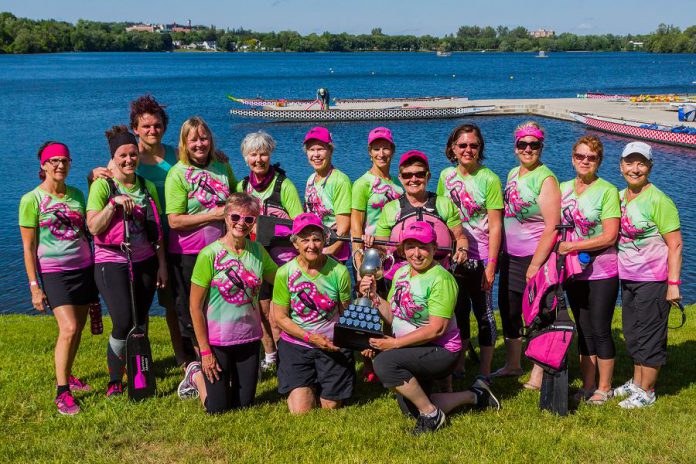 If you want to paddle but don't have a team, you can still participate by joining the "Paddlers Pool". Once you register as an individual paddler, festival organizers will contact you to discuss the details of your participation and to connect you with a team that needs paddlers.
If you don't want to paddle but you still want to contribute to the cause, you can donate to an individual paddler, a team, or the event itself. Every dollar of your pledge remains in the community, supporting PRHC.
While the dragon races are the highlight of Peterborough's Dragon Boat Festival, the festival is not just for paddlers. Festival organizers have partnered with local business and organizations so that everyone in the community can enjoy the day.
Modern Makers Market, organizers of local artisan events such as the Holiday Market, will be back at the festival this year to host the festival's Vendors Village Market with more than 45 makers of quality, hand-crafted products, delicious food options, and outstanding customer experiences. All of the vendors' participation fees will go towards the Peterborough's Dragon Boat Festival.
In exciting news, for the first year ever Peterborough's Dragon Boat Festival is hosting a beer garden. The Thirsty Dragon beer garden will feature brews from Cameron's Brewing Co. of Oakville, as well as non-alcoholic craft beer from Partake Brewing.
Festival hours will be extended beyond the final races to encourage participants and supporters to stick around and celebrate their paddling and fundraising success with teams, family, and friends.
Also new this year will be live musical entertainment coordinated by the Peterborough Folk Festival. The musical line-up will be announced closer to the festival date.
There's also the Family Fun Zone, expanded this year with even more free activities for the whole family:
Photo booth and bubble station
Dragon boat crafts courtesy of the Art Gallery of Peterborough
Face painting brought to you by Morgann's Cosmetic Arts and Cosmetic Transformations
Axe throwing with Peterborough Axe Club
Canoe crafts, canoe race, and paddle carving station provided by The Canadian Canoe Museum
Kids' obstacle course courtesy of Kawartha Gymnastics Club
Mini boat races provided by Peterborough Canoe and Kayak Club
Hula hooping and kids' dance with Peterborough Sport and Wellness Centre
Craft and colouring games, toys, sensory tables, and a place for parents to relax provided by Play Cafe
Watch and try tae kwando with White Tiger Tae Kwando
Try fencing with Peterborough Multi-Sport Centre
Jiu Jitsu brought to you by Jitsu Peterborough.
You can also cycle to the festival and make use of the supervised bike parking courtesy of Peterborough Moves and B!KE: The Peterborough Community Cycling Hub.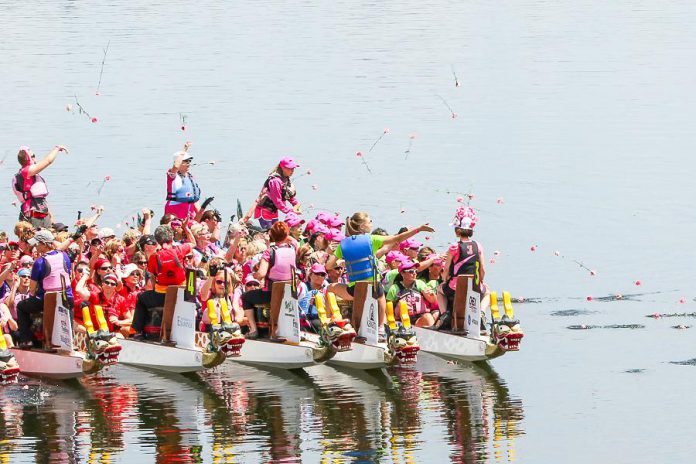 For more information and to register, donate, or volunteer, visit ptbodragonboat.ca. For updates, make sure to follow Peterborough's Dragon Boat Festival on Facebook, Twitter, and Instagram.