"I don't see statistics … I see the faces of people all too young that we've lost."
Of all that was said, suggested and pledged during the Opioid Summit held at Market Hall in downtown Peterborough on Thursday night (July 11), Alex Bierk most squarely hit the nail on the head for the some 300 people in attendance.
The Peterborough artist and former addict was one of eight summit panel members, each of whom contributed to the extensive discussion of opioid addiction and its effects — the most disturbing being the 19 opioid overdose deaths seen in Peterborough to date this year.
Jointly organized and hosted by Peterborough Mayor Diane Therrien and Selwyn Deputy-Mayor Sherry Senis and moderated by PARN executive director Kim Dolan, the event drew a standing-room-only crowd at the Market Hall.
Along with Bierk, the members of the panel were: Central East LIHN Opioid Strategy Implementation Group chair Paul McGary; Peterborough Medical Officer of Health Dr. Rosana Salvaterra; Whitepath Consulting and Counselling Services owner Peggy Shaughnessy; Peterborough Deputy Police Chief Tim Farquharson; Peterborough county-city paramedic Dan Farrow; Sally Carson, who lost a nephew to an overdose; and former addict TJ Russell.
Local politicians from all levels of government were in the audience. Along with several members of Peterborough city council, they included Peterborough-Kawartha MP Maryam Monsef, Ontario NDP leader Andrea Horwath, Ontario Associate Minister of Health and Addictions Michael Tibollo, Peterborough-Kawartha MPP Dave Smith — all of whom spoke from the podium — and Oshawa Mayor Dan Carter.
Advertisement - story continues below
While each speaker added something both unique and significant to the wide-ranging discussion, it was the firsthand drug addiction experience related by former addicts Bierk and Russell that resonated most strongly, pressing home the way-past-urgent need for immediate action in stemming the rising number of overdoses as well as the establishment of a consumption and treatment site in Peterborough.
"I do not doubt that there are beautiful, good, well-meaning people behind a lot of these organizations that are working on this, but it's not enough," said Bierk. "There's a dislocation between the services that are offered."
For his part, Russell said overcoming his addiction is "an every day struggle but it's one day at a time" — which drew the comment "TJ, you're just awesome!" from an audience member and an extended round of applause.
While Bierk said the opioid addiction and overdose crisis isn't about statistics, plenty of numbers were offered up and their revelation had a sobering effect.
According to Peterborough county-city paramedic Dan Farrow who, along with other first responders, is on the front line responding to overdoses, 71 per cent of Peterborough city and county opioid users are male, their average age is 39 (but ranges from the mid teens to 87), and — most telling of all — 50 per cent of overdoses happen in a residence.
"It is a huge stereotype, and a pet peeve of mine, that opioid users are all homeless junkies … we go to a lot of overdoses involving professionals making six figures," Farrow pointed out.
"Only 14 per cent of our calls in the first six months (of 2019) were on the street or in alley or park. From January 1st to June 30th of this year, paramedics responded to 139 overdoses … up slightly from last year. However, more of the overdoses have died this year. Naloxone isn't working all the time now, the drugs are so potent."
Prior to hearing those grim numbers, attendees heard some straight talk from Whitepath Consulting and Counselling Services owner Peggy Shaughness who, via her Redpath program that addresses the underlying issues around drug addiction, has worked across North America addressing the root causes of addiction and helping countless addicts turn their life around.
Advertisement - story continues below
Motioning to a photographs of overdose victims displayed at the foot of the podium, Shaughnessy recognized "those that have left to go to the spirit world much too early … you can see the faces of those that were poisoned and shouldn't have been because of a system that let them down."
"We've been in a crisis here for a long, long time," she added.
"Let's not get warm and fuzzy here tonight. We've been lobbying all levels of government over the past 15 years, discussing our work in First Nation communities. Now we have our own city people dying and all three levels of government will still not listen to us, so shame on them."
That said, Shaughnessy praised Peterborough-Kawartha MPP Dave Smith for his efforts leading a committee with the sole objective of bringing a consumption and treatment site to Peterborough. Later, MPP Smith made a passionate plea for as many signatures as possible on a petition being circulated widely that urges the Legislative Assembly of Ontario to grant Peterborough a site.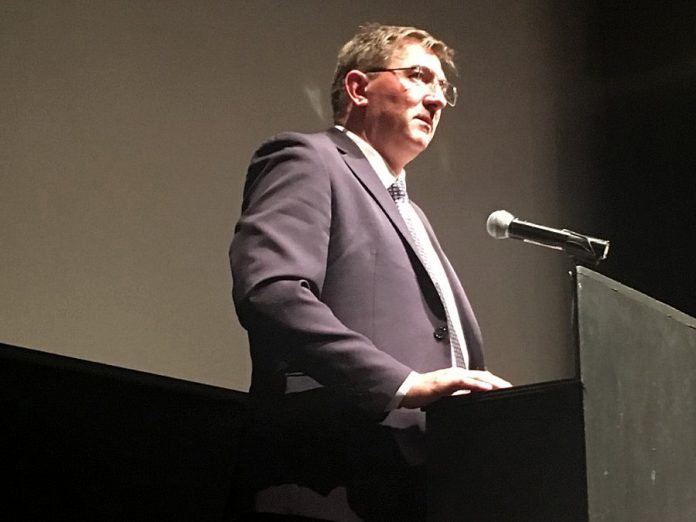 "I'm going to take a lot of political heat being a Conservative and saying I'm standing behind Peterborough's application for a CTS (consumption and treatment site)," MPP Smith noted. ""No matter what political stripe you are, this is something you cannot deny — every single person that overdosed and died was someone's child."
"We need to stop that. It's more than 19 (deaths). Those are only the ones we know about. It does not end here tonight. We've put together a team to have a successful application for a consumption and treatment site. We can't have more people's children die."
MPP Smith's call for all political parties to work together to address the opioid overdose crisis, not just in Peterborough but province wide, didn't fall on deaf ears.
Ontario Associate Minister of Health and Addictions Michael Tibollo, MPP for Vaughan-Woodbridge, pledged that the ruling Conservatives "in collaboration with you and people with lived experience, (will) make all the pieces function and, when an individual has a problem, he's going to get the help he needs that's age appropriate."
"Everybody deserves a second chance in life. We're going to work really hard, in collaboration hopefully with the opposition and all levels of government, to make sure we get this right."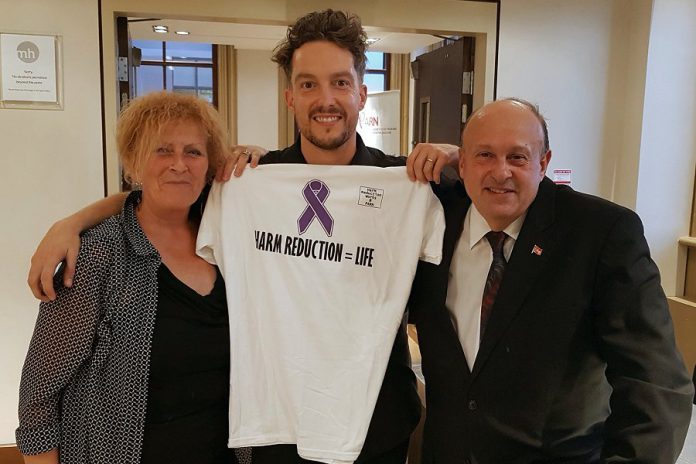 Afterwards, Ontario NDP leader Andrea Horwath expressed a willingness to work with anyone who can help move solutions forward, but stressed that "tomorrow is too late" to do so.
"We can't arbitrarily cap the number of treatment sites that are available to the people of Ontario," she said.
"We have to acknowledge that when communities are asking for support and they're asking for a service, it shouldn't take a petition of 10,000 names to implement something that everyone on that stage said needs to happen, and needed to happen before those 19 people died. I'm going to push for that arbitrary cap of 21 sites to come off and I'm going to push with MPP Smith to have a site designated in Peterborough."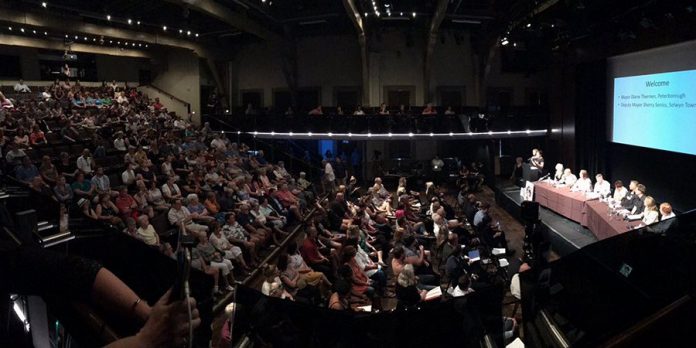 Horwath also praised Mayor Therrien and Deputy Mayor Senis "for their leadership on this issue," adding "What really is reaffirming for me is the number of every day citizens that came out tonight to say this is something we all need to solve together. It really is heartening … very inspirational."
For her part, Mayor Therrien termed the summit "a starting point … in terms of getting across the message."
Advertisement - story continues below
"This is step one. We have a lot of work to do. The group around the CTS (consumption and treatment site) is meeting again next week."
Mayor Therrien added the fact that the event was so well-attended, with several left outside as the hall was at capacity, shows the opioid overdose issue "impacts everybody one way or the other and that it transcends any social class. There is a huge desire to move on this issue."
VIDEO: Facebook live stream of Opioid Summit by City of Peterborough