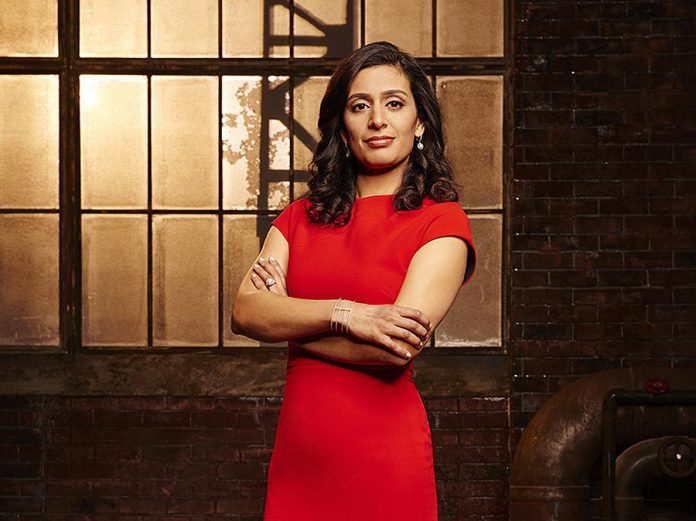 Manjit Minhas, the Canadian entrepreneur, venture capitalist, and self-described beer baroness who is one of the celebrity investors on CBC Television's popular Dragons' Den series, will be speaking at Showplace Performance Centre (290 George St. N., Peterborough) on Tuesday, March 10th.
Manjit is headlining the Innovation Cluster's Electric City Talks series with a talk entitled "Empowering Women: Achieving Business Success in Male-Dominated Industries". The event takes place during the week celebrating International Women's Day.
As a female entrepreneur, Manjit has been able to do what few ever thought possible: break into the notoriously competitive and male-dominated beer and spirits industry.
Advertisement - story continues below
Born and raised in Calgary, Manjit was only 19 years old when she and her brother Ravinder launched a liquor and beer business, with Manjit selling her car to fund the start-up costs. In 2006, they purchased the second oldest brewery in the United States and renamed it "Minhas Craft Brewery." At the time, this acquisition made the two Minhas siblings the youngest brewery owners in the world.
Today, Manjit is the sole owner, president, and CEO of the Minhas Breweries, Distilleries and Winery, which has become the 10th largest brewery in the world under her leadership. The company produces more than 120 beers, spirits, liqueurs, and wines that ship all across Canada, the U.S., and overseas.
"Only 16 per cent of Canadian small and medium-sized enterprises are majority-owned by women, and this percentage is even lower among women who own high-growth or exporting firms," Manjit said in a 2019 Global News interview for International Women's Day.
"Creating supports and services that break down barriers and provide women with greater access to capital, networks and information will help increase these numbers, and that's what we need to start doing more," she added. "We also need to engage men in the conversation."
Although Manjit trained as a petroleum engineer, she has become a specialist in brand development, marketing, sales management, and retail negotiations. She strives to minimize the environmental impact of her company, producing beer using the least amount of cleaning and water treatment chemicals, gas, electricity, and water.
Manjit has been named PROFIT magazine's "Top Growth Entrepreneur", Top 100 Women Entrepreneurs in Canada, Canada's Top 40 under 40, Chatelaine Magazine's Top Entrepreneur Woman of The Year 2011, Ernst and Young's Entrepreneur of The Year Prairie Region, and The Sikh Centennial Foundation Award 2015.
Advertisement - story continues below
Manjit's appearance reflects the Innovation Cluster's goal for its Electric City Talks series, to bring the best in technology and innovation to Peterborough and the Kawarthas.
"As the region grows as an entrepreneurial hub, we have seen a clear need to bring in global disruptors," says Innovation Cluster president and CEO John Gillis.
The talk is sponsored by Fleming College, and admission will be free for Fleming College students.
VIDEO: DNA of a Dragon – Manjit Minhas (2017)

"Fleming College is proud to partner with the Innovation Cluster and welcome Manjit Minhas to Peterborough in celebration of International Women's Day," says Fleming College President Maureen Adamson.
"Fleming has a pivotal role to play in moving the dial and improving resources available to young women. Our continued partnership with the Innovation Cluster blaze new trails for women in our community, providing the education needed to thrive, and the resources needed to get there."
The event is also open to the public at a cost of $10. Tickets are available online at eventbrite.com/e/electric-city-talks-an-evening-with-manjit-minhas-tickets-89053095205.
Doors open at 6 p.m. and a cash bar will be available. Following Manjit's keynote, there will be an opportunity for a question-and-answer session as well as a photo opportunity for all attendees.