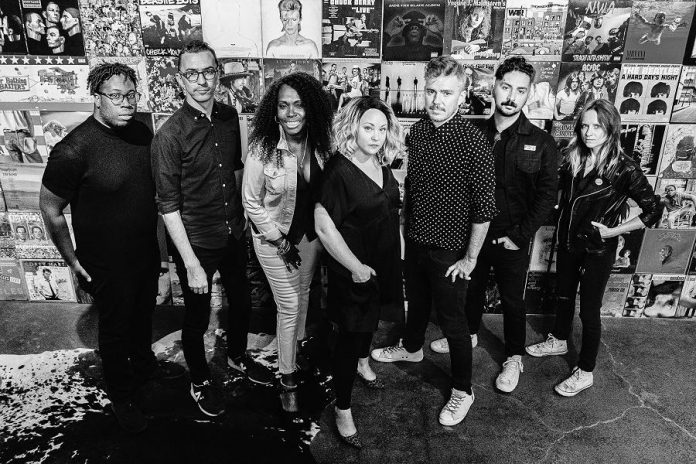 While her upcoming tour of western Canada with Delta Sugar is front of mind, don't be fooled — singer Samantha Martin is in it for the long haul.
"I'm constantly thinking about what I need to do to keep the momentum going," says Martin, describing herself as "a 14-year overnight success."
"For sure there have been pinch-me moments, but I'm like a freight train — I just keep going. The goal is to have longevity. I want to be able to support myself playing music."
Full evidence of her ability to do just that will be presented Saturday, February 1st when Samantha Martin and Delta Sugar headline at the Market Hall Performing Arts Centre (140 Charlotte Street, Peterborough, 705-749-1146).
Tickets to the 8 p.m. performance cost $33 and are available in person at the Market Hall box office, by phone at 705-749-1146, and online at markethall.org.
Advertisement - story continues below
As one would expect from anyone with a university business degree, Martin has a plan. For sure, the creative side of what she does as a singer and a songwriter is a priority, but measured steps continue to be taken to ensure her chosen career path is as long as it is fruitful.
"Running a band isn't easy, especially when you're coming up and you're trying to do big things on small budgets," notes Martin.
"Everybody has bills to pay. If what I'm paying can't pay the bills for those playing with me, then they have to go somewhere else."
VIDEO: "All Night Long" – Samantha Martin & Delta Sugar

But while Martin's business acumen has been refined out of necessity, her love of music developed much as it does for many who eventually choose live music performance as a career path.
"I was seven (years old) when my dad bought me my first guitar," recalls Martin. "I went to kitchen table parties with my family. My dad brought his guitar and seemed like he was having a good time. I thought 'Wow, I want to do that.' I enjoyed the positive attention because I was a bit of a brat … I believe the word is precocious."
"My mom's musical tastes influenced me. My dad was a big country guy, but the blues, funk, soul and R&B stuff was what I really loved. My mom would blast everything from Aretha Franklin to Sinead O'Connor. It wasn't until I was 21 or 22 that I really started thinking 'Hmmm, I can maybe do this more professionally.' I was singing karaoke and that sort of thing. People were really blown away by my voice. I was like 'Oh, thank you.'"
Advertisement - story continues below
One early open mic experience stands out for Martin.
"The band said they knew A Piece Of My Heart by Janis Joplin and they did not. Because there's an element of perfectionism that I have, I kept going back until they learned the song. I was like 'Guys, you told me you knew this song. I'm coming back next week. Learn it.' That was how I caught the live music bug."
In 2008, Martin released her first CD Back Home — "It was very country," she says —- and then went on to form to front The Haggard, which released a self-titled CD in 2012 that featured nine songs written by her. Exclaim! magazine hailed Martin's voice as "a force of nature … that grabs you by the throat while causing the hairs on the back of your neck to tingle."
VIDEO: "Chasing Dreams" – Samantha Martin & Delta Sugar

There things sat until 2014 when the band was asked to do perform at a Toronto showcase for Folk Alliance International.
"We couldn't do the full band — no drums and no bass was the stipulation — so I thought, rather than just myself and the guitar player, why don't we do me, guitar, and two back-up singers? We did the showcase and people lost their minds. They thought it was so good. I knew it was special, but I didn't know how special. We did a good job but I didn't think it would become the band."
Initially, Delta Sugar featured back-up singers Sherie Marshall and Stacie Tabb. After Tabb received a call to tour with Amanda Marshall, Mwansa Mwansa filled the void. Currently, Tafari Anthony and Sherie Marshall comprise Delta Sugar.
Advertisement - story continues below
In 2015, Delta Sugar's debut CD Send The Nightingale was released. At the time, the band was still small, featuring Martin and two back-up singers alongside guitarist Mikey McCallum.
"Artistically I felt we had room to grow," recalls Martin.
"I didn't really want to keep doing all the gospel music, but I had just lost my mom to cancer. I was dealing with a lot at the time. I was writing in the gospel realm because I was looking for answers as to why this was happening to my mom … looking for comfort and a way forward. I felt like I had to go down that path for this record and so I did."
According to Martin, what followed was a seismic shift for the band.
"A year into touring Send The Nightingale, we added a drummer. Then we added a keyboard player. We were playing bigger stages. When I started writing for the next record I wrote more in a soul vein. That's what I was listening to at the time and I really felt the band was ready to expand. The producer said the new songs need horns. I was like 'Oh no! Okay, horns it is.' Honestly, if I could play every show with the full 10-piece band I absolutely would. The songs lift so much differently."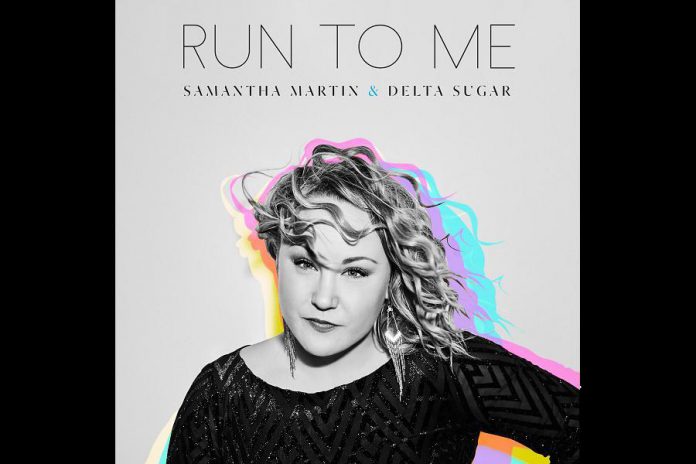 The band's sophomore album, Run To Me, was another game changer in every respect for the band. Besides receiving extensive radio airplay in both North America and the United Kingdom, it earned a 2019 Juno Award nomination in the Blues Album of the Year category, as well as four Maple Blues Award nominations — including a nod for Martin as Female Vocalist of the Year.
And the Canadian Independent Music Association (CIMA) also took notice, honouring Samantha Martin and Delta Sugar with the certification Road Gold for having sold more than 25,000 show tickets over a 12-month period.
"I had a really solid team for Run To Me, whereas I put out Send The Nightingale pretty much on my own," says Martin.
"I'm constantly thinking about what I need to do to keep it going. If you don't have a record out every two years, you start to lose steam. You don't get as many bookings. You don't tour as often. You don't get the reviews. People aren't streaming you because you're not the flavour of the month. You release a record and then you have one year where everything goes crazy. What do I need to do to meet or exceed expectations?"
VIDEO: "Addicted" – Samantha Martin & Delta Sugar

In answer to that, Martin went into full writing mode this past September and took to the recording studio with Delta Sugar in late October. The result will be a new album, The Reckless One, scheduled for release this May.
"There's talk of strings on this record … Lord help me if I need to tour with a 15-piece band," laughs Martin, her business mind crunching the numbers.
"The new album has elements of 'If it ain't broke, don't fix it.' It's still in the soul and vintage R&B vein but it will definitely have a little bit more of a rock 'n' roll edge to it."
Advertisement - story continues below
Having played Peterborough clubs back in the day with The Haggard as well as having headlined with Delta Sugar on the Holiday Inn patio, Martin is no stranger to the city, but this is her first turn on the Market Hall stage. She says new songs will be featured as well as "a lot of Run To Me stuff and some covers."
"We're coming as a seven-piece band. It's a high-energy show. I tell jokes. Sometimes they work, sometimes they don't. It'll be a lot of fun."
"I'm in a good place. I feel like I have more control over what I do than I used to, and I feel like I'm singing better. I've always kind of done what I do because I don't know how to do it any other way. I'm not a trained singer. My natural voice … I have more control over it. I really feel I've found my unique voice."
VIDEO: "Feel Good" – Samantha Martin & Delta Sugar

For more information on Samantha Martin and Delta Sugar, visit samanthamartinmusic.com.