Peterborough police are encouraging local residents to see if they can help in solving some outstanding crimes by visiting the police service's "persons of interest" web page.
The web page displays bulletins including surveillance photographs and will be updated regularly.
Police say the bulletins will also be shared on their Facebook and Twitter accounts.
Advertisement - story continues below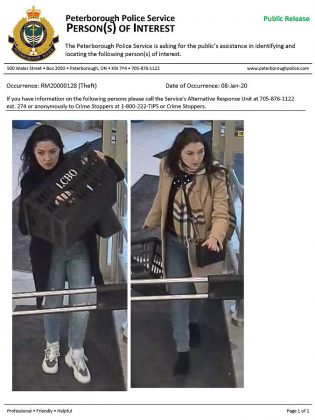 According to the Ontario Ministry of Community Safety and Correctional Service, a person of interest is "a person whose background, relationship to the victim or the opportunity to commit the offence(s) warrants further investigation, but no evidence currently exists to suggest culpability in the commission of the offence."
The Peterborough Police Service's persons of interest web page is located at www.peterboroughpolice.com/media/persons-of-interest/.
If you have information on any of the persons shown, call the Alternative Response Unit at 705-876-1122 ext. 274 or report it anonymously to Crime Stoppers at 1-800-222-TIPS or online at stopcrimehere.ca. When calling, quote the incident or occurrence number provided on each bulletin.