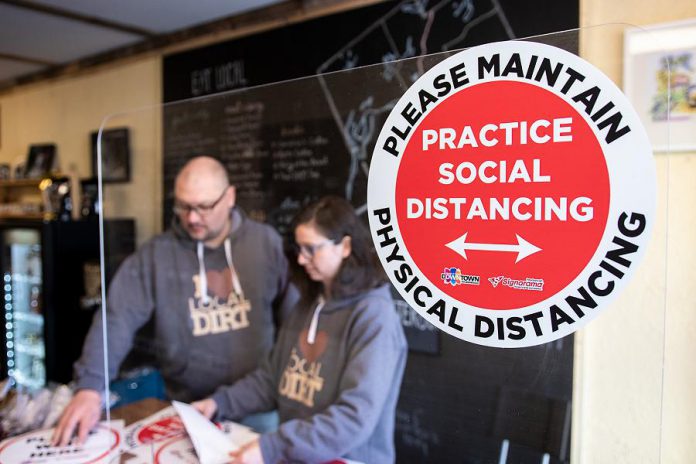 As the Ontario government slowly removes restrictions on retail businesses, public safety remains paramount during the COVID-19 pandemic.
That's why downtown Peterborough businesses will now have access to COVID-19 retail kits, thanks to a partnership between the Peterborough Downtown Business Improvement Area (DBIA) and Signarama Peterborough.
The DBIA will be giving away a limited supply of 50 kits to DBIA members and associate members to help businesses as they reopen, allowing them to keep their customers and staff safe.
Advertisement - story continues below
"We're excited to see some of our businesses re-open, but it needs to be done safely and responsibly," says DBIA executive director Terry Guiel.
"These kits are a great starting place to help our businesses keep their staff safe and help customers maintain social distancing. It's encouraging to see so many of our long-established local businesses reaching out and helping others through this crisis."
The kits include a clear germ barrier on a stand that can be placed on a retail counter, as well as locally sourced hand sanitizer, masks, and vinyl graphics to provide instruction and direction for customers.
"Signarama and Fully Promoted Peterborough remain committed with this contribution, to help Peterborough businesses to rebuild and reopen safely," says Signarama president and CEO Morgan Smith.
"Please keep yourself and your families safe in the months to come. We're hoping that this package of separation brings us closer together."
Downtown businesses interested in receiving a COVID retail kit can email Terry Guiel at terry@downtownptbo.ca.
For other businesses, germ barrier and vinyl graphic kits are also available at a cost of $239 plus HST by contacting Signarama Peterborough 705-742-9994 or emailing morgan@signaramapeterborough.com. Custom guards and graphics are available.