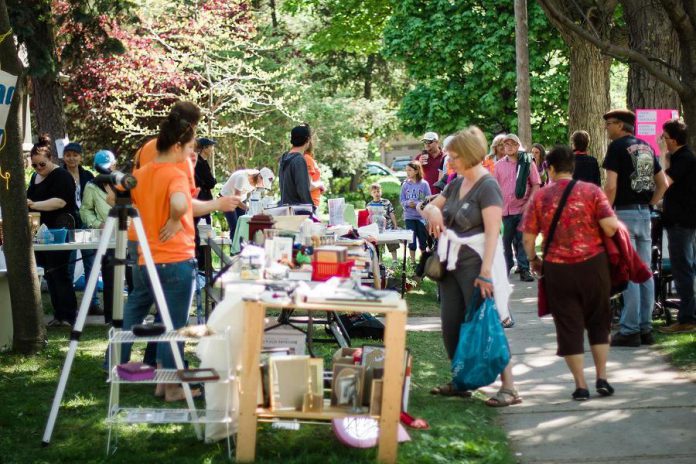 With the warmer weather arriving and people doing their spring cleaning, it's garage and yard sale season once again. But this year, that 50-cent deal just might make you sick.
Because of the COVID-19 pandemic, both the Haliburton, Kawartha, Pine Ridge (HKRP) District Health Unit and Peterborough Public Health are strongly discouraging residents from organizing or holding garage and yard sales until further notice.
The health units say that having these types of sales can increase people's exposure to COVID-19 and lead to the spread of the virus.
Advertisement - story continues below
"The nicer weather means many people may be spring cleaning and looking to sell and get rid of unwanted items," says Lynne Franke, manager of organizational initiatives with the HKRP District Health Unit.
"This year, because of the coronavirus pandemic, the health unit urges you to postpone holding a garage sale. Doing so will protect you, your loved ones, and your community from getting sick with COVID-19."
While there's no emergency order in Ontario prohibiting garage and yard sales, there is still a ban on public gatherings and events of more than five people. In addition, some Ontario municipalities have approved bylaws to ban garage and yard sales entirely during the pandemic.
"Hosting a garage or yard sale can put you and those who attend it in harm's way," Franke says. "Unlike stores that are required to put in safety measures to protect employees and customers, garage and yard sales do not have those precautions. There's also the fact that the COVID-19 virus can survive on different surfaces for different lengths of time, meaning potential buyers who touch or pick up items at a sale could be exposing themselves to illness."
It's also difficult to keep a safe two-metre (six-foot) physical distance at a garage sale, she adds, given that cash transactions are usually required and the number of people who stop by at a sale can grow unexpectedly.
Many times, garage sale enthusiasts may also visit multiple sale locations, even further increasing the risk of the spread of COVID-19.
Advertisement - story continues below
For its part, Peterborough Public Health recommends that, if residents want to sell private property and second-hand items online, they should use contactless pick-up and drop-offs and use contactless payments like e-transfers rather than cash or cheques.
If contactless pick-up and drop-off of items is not possible, then residents should:
Limit the number of people involved (only send one person to pick up the item if possible).
Wear a face covering.
Wash your hands before and after the transaction.
Maintain a two-metre distance between yourself and others.
Do not meet if anyone in either household is feeling unwell.
Do not have visitors in your home.
This story has been updated to include recommendations from Peterborough Public Health.