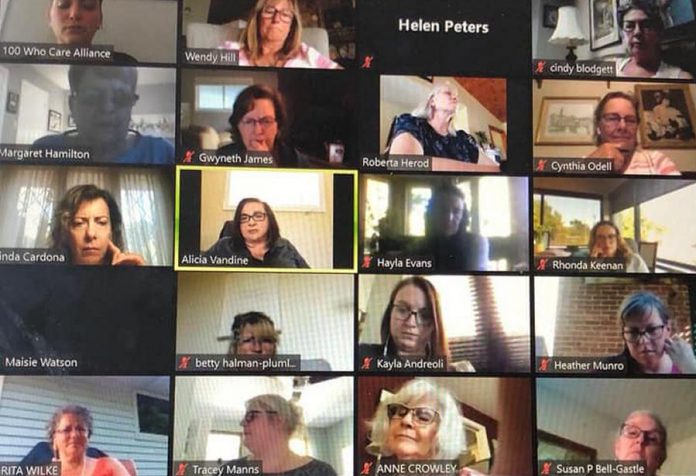 Like many in-person groups, 100 Women Peterborough has gone virtual during the COVID-19 pandemic — but still managed to raise more than $5,000 for Community Care Peterborough.
The collective philanthropy group met virtually for the first time on Tuesday (June 16) to raise funds for an organization in need.
The group usually meets in person four times a year, to hear presentations from three organizations randomly drawn from a larger list of organizations nominated by members of 100 Women Peterborough. Each member of the group commits to donate $100 at each of the four events hosted throughout the year.
Advertisement - story continues below
However, 100 Women Peterborough's first in-person meeting of 2020, scheduled for late March, was postponed because of the COVID-19 pandemic. After deciding to hold a virtual meeting instead, the group held a special call for nominations for charities and not-for-profit organizations that have suffered because of the pandemic.
"The 100 Women Peterborough organizers decided to call out for new nominations from members to specifically support organizations that were in need during this difficult time," says Rose Terry, one of the founding members of the group. "We knew that a special meeting was needed to support not-for-profits that had been severely impacted by the pandemic."
While each member of 100 Women Peterborough usually commits to donate $100 at each meeting, resulting in a collective donation of at least $10,000, this meeting was optional for members since COVID-19 has impacted everyone in different ways.
Even so, more than 40 members joined Tuesday's Zoom meeting to hear from the three selected organizations: Community Care Peterborough, Alternatives Community Support Services, and Kawartha Food Share.
After hearing the presentations, members voted to donate the funds to Community Care Peterborough, an organization that provides a variety of essential services to seniors and adults with physical challenges empowering them to live at home.
"Community Care was deemed an essential service and remained open throughout the pandemic as we serve seniors and adults with disabilities in the city and county of Peterborough," says Alicia Vandine, donor relations and communications lead for Community Care Peterborough. "We saw a surge in the need for our supports during the COVID crisis, particularly in our Meals on Wheels program. We also grew this program to include grocery and pharmacy delivery for our clients so that we could keep them home and out of harm's way."
"One of the largest misconceptions about Community Care is that we are 100 per cent funded by the Ontario government," Vandine points out. "This is simply not the case. With many of our fundraising events cancelled in the spring and summer, we are grateful to 100 Women Peterborough for choosing us for their June 2020 funds."
Community Care Peterborough will use the donated funds to support its Meals on Wheels program throughout the Peterborough area.
"I look forward to reconnecting with the 100 Women in September to give them an update on how we used their donation and to give them more information about the Meals on Wheels program," Vandine adds. "On behalf of our clients, thank you for your support."
Advertisement - story continues below
100 Women Peterborough was founded in February 2018 by Terry, Catia Skinner, Wendy Hill, and Alyssa Stewart, who were inspired by similar groups in other communities.
The concept of collective philanthropy concept was first launched in November 2006 when Karen Dunigan of Michigan formed the "100 Women who Care" group. After their first meeting, the women raised over $10,000 for the purchase of 300 new baby cribs for a local organization.
The movement has grown over the past 13 years to include almost 100 chapters in North America, including at least 15 in Canada.
By the end of 2019, 100 Women Peterborough had collectively donated around $100,000 to eight local organizations: Hospice Peterborough, Peterborough Youth Unlimited, One Roof Warming Room, New Canadians Centre, Cameron House, Five Counties Children's Centre, Casa De Angelae, and Lakefield Animal Welfare Society.
Women who interested in joining 100 Women Peterborough should visit www.100womenptbo.ca for more information.