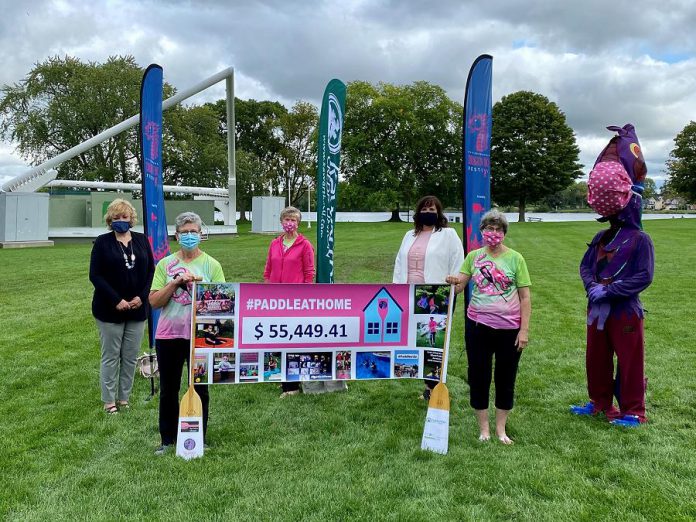 Despite being cancelled this year for the first time in its 20-year history due to the COVID-19 pandemic, the annual Peterborough's Dragon Boat Festival has still managed to raise $55,449.41 for Peterborough Regional Health Centre (PRHC).
Volunteers from Survivors Abreast and the festival organizing committee celebrated the achievement on Thursday afternoon (September 10) in Del Crary Park — where the festival is usually held every June — with festival chair Gina Lee presenting the cheque to the PRHC Foundation.
Although the 20th annual festival was cancelled, paddlers were encouraged to #PaddleAtHome and submit photos and videos of their creative ways to #GetintheBoat, and a "Dragon Drive-Through" car parade event was held on what would have been festival day (June 13). Festival sponsors, teams, and donors all pulled together to raise the donation to PRHC Foundation.
Advertisement - story continues below
The proceeds will help fund the next step forward in PRHC's chemotherapy program: the state-of-the-art Robotic Intravenous Automation System (RIVA), which is designed to reliably and accurately prepare IV syringes and bags in hospital pharmacies.
By automating the preparation process, the system addresses issues of safety for both patients and staff as well as improved efficiency and precision.
Over the past 20 years, the festival has raised more than $3.6 million for breast cancer care at PRHC. Peterborough's Dragon Boat Festival intends to officially celebrate its 20th anniversary in 2021 when the festival returns to Del Crary Park.