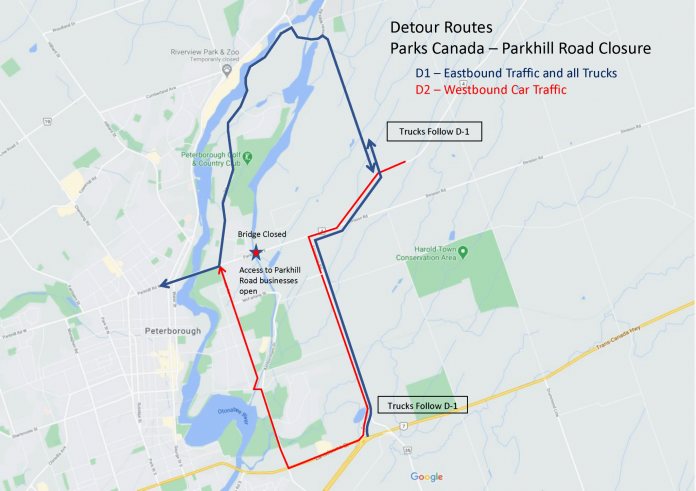 The City of Peterborough has announced detour information during the closure of the Warsaw Swing Bridge over the Trent-Severn Waterway on Parkhill Road East.
The bridge will be closed from Monday (October 5) until spring 2021. Access for local residents and businesses on Parkhill Road will remain open.
There are two signed detour routes. For eastbound traffic (including all trucks), the main detour route (D-1) follows University Road, Nassua Mills Road, and Armour Road.
A secondary detour route for westbound traffic (D-2) follows Television Road, Lansdowne Street, and Ashburnham Drive.
Advertisement - story continues below
Signs will be posted for the detour routes and residents and visitors are encouraged to follow signed detour routes.
If you were hoping to take sideroads to get from Television Road to Ashburnham Drive and vice versa, you won't be able to — MacFarlane Avenue, Old Norwood Road, and Maniece Avenue will be closed to through traffic.
Local traffic and emergency vehicles can continue to access properties along these roads, but not through traffic.
The city states it will continue to monitor operations on the area road network and on Lansdowne Street during the detour to facilitate traffic flows.