While walking her dog near the Sherbrooke Street water tower in Peterborough this past Sunday morning (November 29), Lisa Ann Mikaric stumbled upon a ripped-open cardboard box surrounded by torn gift wrapping paper.
Curious, she took a closer look. Learning from the Canada Post label still affixed that the package had been delivered the week prior to a Peterborough address from a Dana Mason in Ottawa, she turned to Google to track Mason down.
It was upon receiving Mikaric's call that Mason learned the ultimate fate of the package stolen from her son's porch shortly after it was delivered to his city home the prior Thursday.
Advertisement - story continues below
With the ongoing pandemic preventing an in-person visit with her son and his partner this Christmas, Mason had shipped a large box of Christmas gift items for them both — including some additional gift items for his birthday.
Among the 14 items in the box were two John Le Carre hardcover books that belonged to her late father, both purchased some 50 years ago by him and of sentimental value.
"I was angry but now I'm just really disheartened," says Mason. "It's not like someone has broken into your home and stolen something but it's because of the contents. It wasn't something I ordered from The Bay or Amazon. I know there are some desperate people out there but if you don't want the stuff, keep it in the box so someone can find it."
Mason's experience is one being shared by a seemingly rising number of victims of 'porch pirates' — thieves targeting parcels left by couriers and delivery drivers at residence doorsteps. In addition, thefts from vehicles by 'car hoppers' — a more seasonal crime affliction with Christmas presents targeted — are also being reported with more regularity.
Two private Facebook groups — Catch A Car Hopper Peterborough and East City Ptbo — feature numerous comments from those who have been victims of theft, as well as those who have witnessed a crime in progress, with some sharing photos or videos of the perpetrators.
According to Detective Constable Keith Calderwood of the Peterborough Police Service, the ongoing pandemic is no doubt playing a role in the rise in the number of package thefts from porches. Statistics Canada reports online sales are on track for a record-breaking year, expected to surpass 2019's record $305 billion in e-commerce sales. It's simple math: more packages being delivered mean more packages being stolen.
Mason's package was stolen at some point between just before 10 a.m. when it was delivered and noon, when a neighbour of her son's checking on his behalf discovered it was missing.
"In hindsight, I remember hearing that because of COVID, Canada Post wasn't requiring a signature (at the time of delivery) but I didn't think of that at all as I was typing up the address label," says Mason.
"I thought, because of the size of the box, it wouldn't be left at the door. Canada Post did send me an email notifying me that it had been delivered, so I notified my son. I've contacted Canada Post to find out exactly where it was left at my son's house and I'm waiting to hear back."
Advertisement - story continues below
As disappointed and frustrated as Mason is, Mikaric reaching out to her has provided a silver lining.
"I posted some signs in the neighbourhood and scoured the water tower to try and at least find the books," Mikaric says. As well, Mikaric has offered to search Peterborough bookstores for a copy of Le Carre's Call For The Dead to replace the copy that was stolen.
"It just broke my heart when I came up the hill and saw that," recalls Mikaric, who says she has been chatting with Mason ever since. "Someone had taken their time, energy, and money to send a gift to their loved ones just to have it ripped apart."
Also included in Mason's gift package was a custom-made men's toiletry bag of leather and Black Stewart tartan fabric.
"If that turns up anywhere, on Kijjiji or Facebook Marketplace, it was the only one she made … it's one of a kind," notes Mason.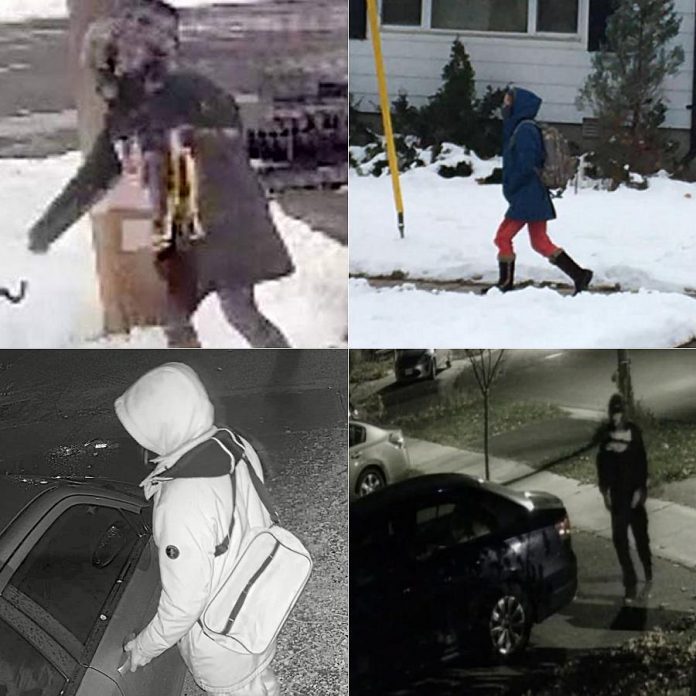 Back in December 2019, Catch A Car Hopper Peterborough debuted on Facebook, giving group members an outlet to share information regarding thefts from vehicles. To date, the group has more than 930 members.
Park Street North resident Kody West, who co-founded the group and administers it along with three others, says his vehicle was being broken into "once or twice a week," including a frightening incident on July 29, 2019. The incident resulted in his left hand being slashed with a box cutter, resulting in several stitches, when he confronted the thief.
Aided by video surveillance footage, police arrested two people, one of whom was convicted of assault with a weapon causing bodily harm and robbery with a weapon.
West says from what he's read on the Facebook group, there's a lot of anger over the rising number of thefts from vehicles.
"People are turning into vigilantes — they're looking for them now," he says, adding that wasn't the intention when the group was created. "It was to be more like an alert system to make people aware. Now they're just getting fed up. Every day cars are being broken into and law enforcement can't stop it. They can't be everywhere."
"My vehicle has been hit twice," says Robert Hamm, a Golfview Road resident who is also an administrator of the Facebook group.
"The first time I had all my tools in my vehicle, but all they took was a carton of cigarettes and some change. There was about $3,500 worth of tools in the back, so I was very lucky."
However, luck wasn't on Hamm's side the second time some three months ago when credit cards were stolen and subsequently used. While the loss was covered by his bank, Hamm says what isn't replaceable is the loss of any sense of security.
"I've been invaded, " he says. "Someone has come into my personal vehicle."
Like West, Hamm says the Facebook group is intended to bring more awareness to the issue of thefts from vehicles so people can consistently practice good habits to lessen the chance of their becoming a victim.
"We don't want people to get hurt by taking things into their own hands … that was never the intent," says Hamm, noting West was seriously injured doing just that.
"It would be nice to see these people getting caught. We could post that on our page and let our followers know."
Advertisement - story continues below
On Tuesday (December 1), the Peterborough Police Service issued the following tips to help prevent thefts from vehicles:
Ensure your vehicle doors are always locked and the key is in your possession.
Always park your vehicle in a well-lit location.
Always roll up your vehicle windows.
Never leave money in clear sight.
Put shopping bags and parcels in the trunk.
Ensure GPS and other electronic devices are out of sight.
Keep your vehicle ownership and proof of insurance in your possession.
Never leave your cellphone in your vehicle.
Never leave your vehicle running when unattended.
If you frequently park in the same parking lot, park in a different spot each time.
Detective Constable Calderwood, who is coordinator of Peterborough Northumberland Crime Stoppers, says protecting yourself from being a victim of theft from your porch or vehicle comes down to "a lot of common sense stuff."
"In 99.9 per cent of cases (of vehicle theft), the vehicle has been left unlocked," he explains. "The only time they'll do a smash-and-grab is when they can see something of value in a vehicle that's worth doing a smash-and-grab for."
As for thefts of packages from doorsteps, Calderwood says "that's very unsettling for people … the insecurity you feel as a result of someone approaching your house is not a very good feeling."
He recommends doorbell cameras, motion lights, and other surveillance technology as a worthy investment, noting they not only help with any subsequent investigation but also act as a deterrent for would-be thieves.
As well, he points out many delivery firms offer notification by app which lets you know when you're package has been delivered. If you aren't home at that time, you can call a neighbour and ask them to retrieve it for you.
Calderwood admits it's very difficult, if not impossible, for police to be proactive when it comes to thefts from porches and vehicles.
"We're not CSI — we can't take fingerprints from vehicle door handles where there are fingerprints upon fingerprints," he says. "It really comes down to common sense. Eliminating the temptation is your best defence."
Anyone with information on a theft, or to report one, can contact the Peterborough Police Service at 705-876-1122 or Crime Stoppers at 1-800-222-TIPS (8477) or at stopcrimehere.ca.