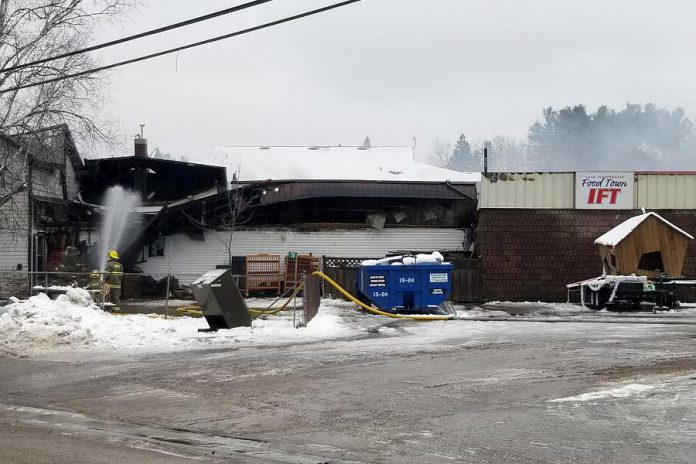 The generosity of the Apsley community is going to help them get through the loss of their only grocery store, Sayers Foods, which burned down early on Saturday morning (December 5).
Exactly one week ago, area residents came together at Sayers Food to collect more than $21,000 worth of non-perishable food for North Kawartha Food Bank, a member of Kawartha Food Share, located right across the street from the grocery store. The event was part of Kawartha Food Share's "Winter is Coming" food drive, held in communities across Peterborough County.
Now some Apsley residents may be relying on that donated food in the short term, according to North Kawartha mayor Carolyn Amyotte, who spoke to kawarthaNOW Saturday morning after she returned from "giving my town of Apsley a big hug."
Advertisement - content continues below
"Getting the fire out first is a priority today," said Amyotte. "Our next steps will be to mobilize for food organization."
"One of the great things about Apsley is that it's self-sufficient," she said. "Many people who live here have no need to drive, as we have all services needed here in town."
Except now, with the loss of Sayers Foods, locals will need to shop at the nearest grocery store, which is located 45 kilometres north in Bancroft. This means residents without a vehicle have no access to food.
Amyotte says the mayor of Bancroft and the local community transit system have already reached out offering transportation and assistance for those wishing to shop in Bancroft. However, the pandemic is going to make the logistics of that more complicated.
"It's not like we can load a bus with people and transport them to shop," she said. "We need to get this figured out."
As for the fire itself, Amyotte noted the fire chief told her the cause is not yet known.
Advertisement - content continues below
Members of the North Kawartha Fire Department worked through the night to control the blaze, and prevented the fire from spreading to nearby buildings. Amyotte says the fire department had to pull water from the creek, and that public works needed to sand the roads due to the water used to fight the fire freezing.
Fortunately, no injuries were reported.
A portion of Burleigh Street in Apsley, where Sayers Food is located, remains closed while the building is being demolished. The roof of the back portion of the building caved in and, although the front portion of the building — which is 150 years old — is still standing, it is also severely damaged.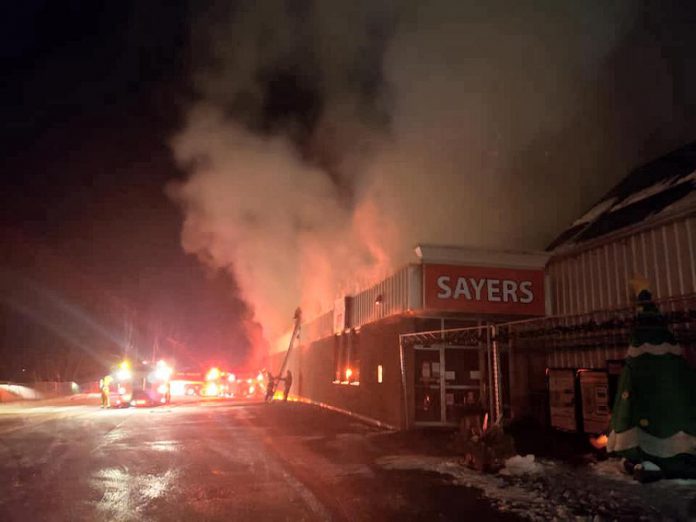 Sayers Food is independently owned and operated by the Sayers family, who live in the village. The fire is a triple tragedy for the family, as family members also work at the store and Christmas gifts were being stored there.
"Sayers is the heart of our town and our heart is a little burnt right now," Amyotte said, pointing out that Sayers has gone "above and beyond during the pandemic" to ensure local residents were kept well-stocked.
As for owner Jeff Sayers, Amyotte said he was surprisingly upbeat when she spoke to him. He told her Sayers plans to rebuild and that he "is already talking about a bigger build."
Advertisement - content continues below
As news of the fire spread, there has been an outpouring of support from the community, including from other local businesses and several cottage associations.
The fire at Sayers Food comes almost 10 years to the day when Kemp's gas station, previously located at Burleigh and Wellington streets in Apsley, was destroyed by fire.
Awful news out of Apsley this morning. Sayers Food is a staple of the community and this is just devastating. If 2020 has taught us anything, it's that we're stronger together. I know we will all come together to support everyone affected. https://t.co/UO9ZeSGYZR

— Maryam Monsef (@MaryamMonsef) December 5, 2020
This story has been updated with selected reactions to the fire posted on social media.