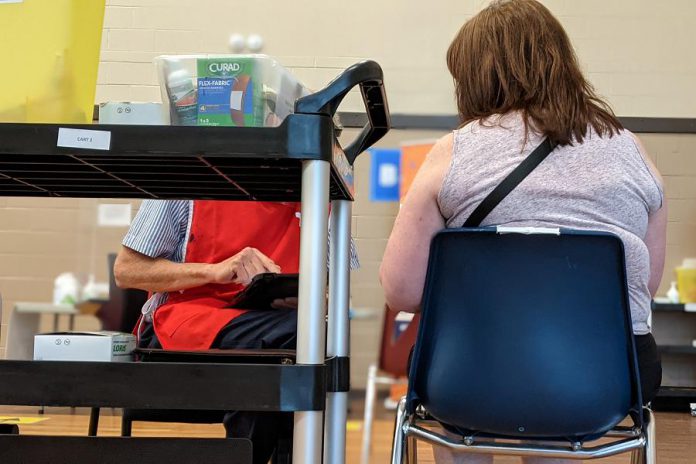 With Ontario set to move into step two of the province's reopening plan on Wednesday, June 30 at 12:01 a.m., Peterborough's medical officer of health is encouraging residents to get their second doses of vaccine as soon as they can.
During a Peterborough Public Health media briefing held Thursday (June 24), Dr. Rosana Salvaterra said she's reviewing the list of what's allowed in step two and — if there's something she sees as needed to address "any potential gaps" in protection — she will direct local residents accordingly.
As for the move to step two when the vaccination-related benchmarks needed for step three have already been achieved, she said she's in full agreement with a cautious approach.
Advertisement - story continues below
"The three weeks (before moving to step three from step two) allows time not only for the incubation period of 14 days but it also builds in additional time for the delay in reporting," she explained. "Typically people who get sick need to get tested and there's a 48-hour delay until they get their results."
Noting both the highly transmissible alpha (B.1.1.7) and even more transmissible delta (B.1.617) variants are present in the Peterborough region, Dr. Salvaterra stressed the best protection remains being fully vaccinated with two vaccine doses.
"Second doses will stop the fourth wave," she said.
The updated vaccination numbers indicate that Peterborough-area residents are hearing that message loud and clear.
As of yesterday afternoon, 96,708 area residents have received at least a first dose — an increase of some 3,500 since June 14. However, the big increase is in the number of residents who are now fully vaccinated, with more than 14,000 having received their second dose in the same period, to bring the total of fully vaccinated residents to 30,649.
Close to 77 per cent of all residents aged 18 and up have received a first dose, while just under 60 per cent of youths aged 12 to 17 now have the same level of protection.
Advertisement - story continues below
Those looking for a reason to feel optimistic over what's ahead need look no further than the local case count statistics.
As of yesterday, the number of active cases in Peterborough city and county, Curve Lake, and Hiawatha are at 17 — a decrease of 18 since June 14.
However, Dr. Salvaterra noted the number of close contacts of positive cases being monitored "isn't decreasing at the same rate", with that number having doubled to 76 over the last 10 days.
Five new cases have been confirmed so far this week, which is the lowest weekly case count number since early February.
To date in June, with the month almost over, 77 new cases have been reported, down considerably from May's count of 273 new cases. Meanwhile, there are no current outbreaks in the region — a trend that has held steady since May 28.
Also commenting during Thursday's briefing were Peterborough-Kawartha MP Maryam Monsef, Peterborough Mayor Diane Therrien, Peterborough County Warden J. Murray Jones, and Peterborough board of health chair and Selwyn mayor Andy Mitchell.