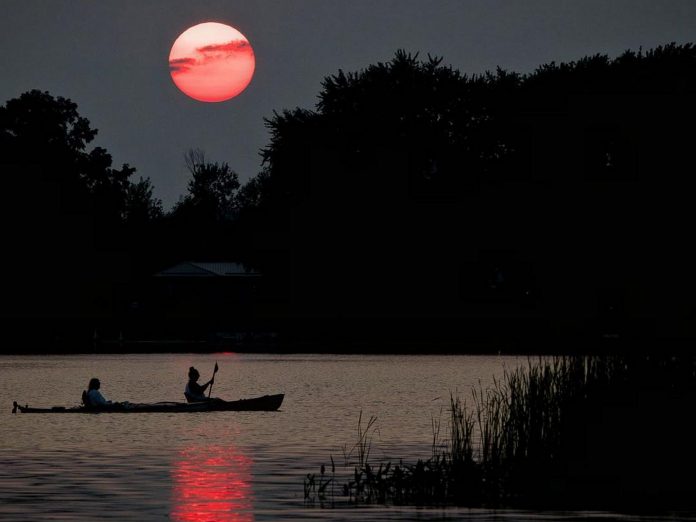 When viewing our top photos for July, you'd never know we were waterlogged with many inches of rainfall — but we needed it after the spring drought.
Even with the rain, photographers still served up some of my favourite summer things: paddling, rainbows, live local music, herons, white-tailed deer, and reflections on waterways. We are indeed the "land of reflections" — the meaning of the word Kawartha in the Anishinaabe language.
Thanks once again to all of our local photographers who allow us to share their work!
Do you want to get on our top photographers list? All you need is an Insta account and to tag us using our hashtag #kawarthanow when posting your photo.
We share photos from across our readership area, which is the five-county area surrounding Peterborough which includes Peterborough, Northumberland, City of Kawartha Lakes, Haliburton, and Hastings (we sneak in the occasional Algonquin Park picture as well, particularly if it's by a Kawarthas photographer).
To see our daily shares of photos, follow us on Instagram @kawarthanow and check out our feed's highlight reels for recaps of every month in 2021.
Advertisement - story continues below
#1. Sunset paddlers on View Lake by Rachelle Richard Photography @rachelle_richard_photography
Posted July 28, 2021. 16.5K impressions, 1,164 likes
#2. "Waiting for the right porch" by Rosemary and Tiph @ptbonaccord
Posted July 27, 2021. 15.4K impressions, 750 likes
This summer, housemates Rosemary MacAdam and Tiphaine Lenaik are hosting a series of porch concerts at their Bonaccord Street home in Peterborough — an idea that resonated with many of our Instagram followers.
Advertisement - story continues below
#3. Great Blue Heron on Lower Buckhorn Lake by Memtyme @memtyme
Posted July 16, 2021. 14.6K impressions, 1,070 likes
#4. Island on Lower Buckhorn Lake by Memtyme @memtyme
Posted July 21, 2021. 13.6K impressions, 1,043 likes
#5. Sunset over Moon Island on Kasshabog Lake by Mike Quigg @_evidence_
Posted July 24, 2021. 13.4K impressions, 799 likes
#6. The end of the rainbow near Hiawatha and Keene by Lori Mckee @l_mckee
Posted July 5, 2021. 12.3K impressions, 945 likes
Advertisement - story continues below
#7. Sunrise on Wolf Lake at Kawartha Highlands Provincial Park by Tim Haan @tim.haan.photography
Posted July 9, 2021. 11.3K impressions, 800 likes
#8. Morning paddle boarder on Pigeon Lake by Fred Thornhill @kawarthavisions
Posted July 31, 2021. 10.9K impressions, 820 likes
#9. White-tailed deer doe and fawn at Catchacoma Lake by Patti Wiggs @plwpics
Posted July 22, 2021. 10.7K impressions, 859 likes