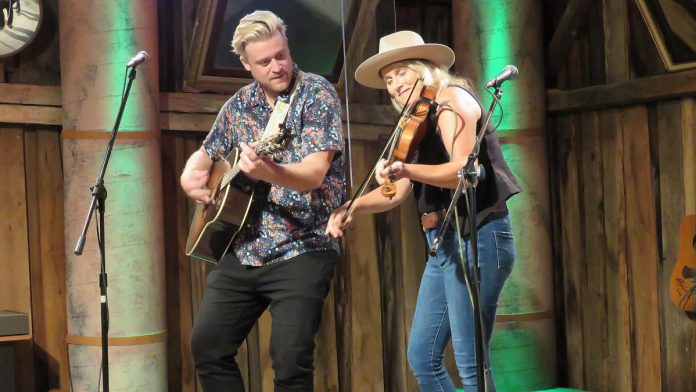 For all the dispiriting roadblocks that the COVID-19 pandemic placed in front of live performance singers and musicians, there are 18 acts that are very grateful Andy Tough had their back.
'Live! At The Barn' — a series of live off-the-floor video performances produced, recorded, and edited by Tough at the Norwood area barn he owns with his wife Linda — debuted last August 28th. Now, a year later, season three of the series is set to debut, presenting the talents of seven more acts before a sizeable and still-growing YouTube audience.
"The numbers keep growing," Tough says. "Since we started this escapade, we've had some 15,000 views on my YouTube channel between the shows and the single releases and the promos."
Advertisement - content continues below
"We've had everything, from heavy metal to country to jazz to pop to blues," adds Tough, who was kept busy pre-COVID via his company RMS Events, a multimedia enterprise specializing in audio/video production and presentation for corporate clients' events. "That really goes to show the breadth of musicianship that's here in our hometown. It's just unbelievable."
This Friday (September 3) at 8 p.m., season three of Live! At The Barn premieres with a performance by singer-songwriter SJ Riley. A new video performance from a different musical act will debut on each successive Friday evening, with Nicholas Campbell and the Two-Metre Cheaters on September 10, Raggedy Andys on September 17, Elyse Saunders on September 24, Groove Authority on October 1, Express & Company (Melissa Payne and Dylan Ireland) on October 8, and Bywater Call on October 15.
Each episode will debut on Andy Tough's YouTube channel, and will remain available for viewing permanently after its premiere.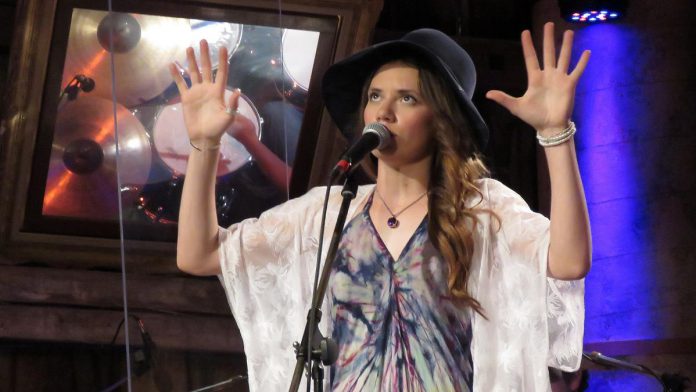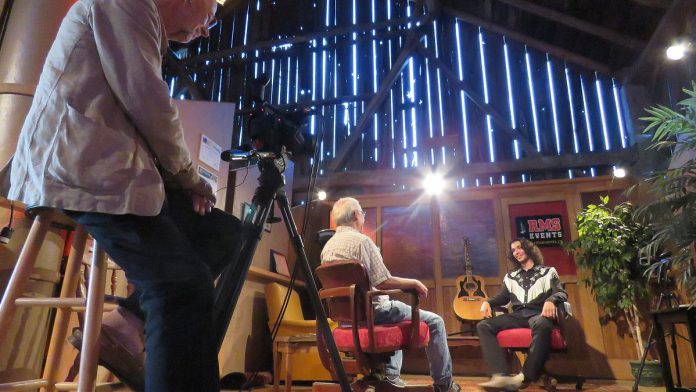 "The response has been great from all of the bands, and some have got gigs as a result." says Tough. "I got a call from the manager of the Holiday Inn. He thought I was the bands' agent and wanted to talk to me about bands playing at the Riverside Grill and Gazebo. I said 'I'm not their agent but certainly I'll talk to you about them.' He ended up booking quite a few of them. That was part of the goal — to give starving musicians some more work."
The merit of the Live! At The Barn series, meanwhile, hasn't gone unnoticed. The series is a finalist for the Peterborough Chamber of Commerce's annual Peterborough Business Excellence Awards, vying for the 'Local Focus' award along with Lang Pioneer Village and Living Local. The awards will be presented digitally on October 20.
"As much as it's rewarding for myself and Linda to be a finalist, it represents all the bands and all those who joined the fray that is Live! At The Barn, worked hard, and gave their best performances," Tough notes, adding "and it's certainly local."
Advertisement - content continues below
As was the case in seasons one and two, interview segments are included as part of each performance video, with this writer serving as the host interviewer.
"Who they are, where they come from, what their backgrounds are, what their influences are," says Tough of what the interviews cover. "And there's a certain amount of conversation about how they've had to deal with the impact of COVID. Musicians are very resilient. Now the challenges are even greater, but they're stepping up. I applaud them."
Viewers will notice this go-round the series production values have been enhanced as a result of Tough's investment in high-definition video-recording equipment, additional cameras, and stage upgrades.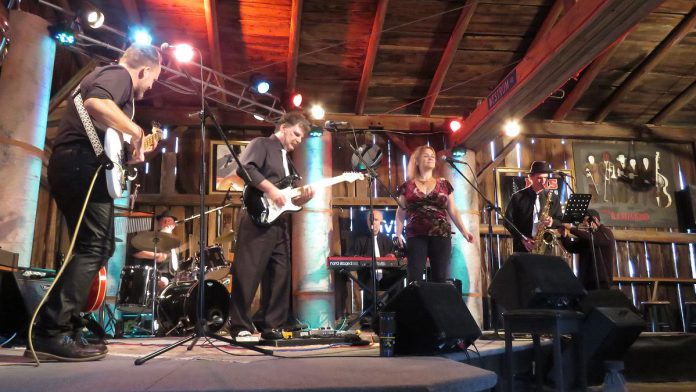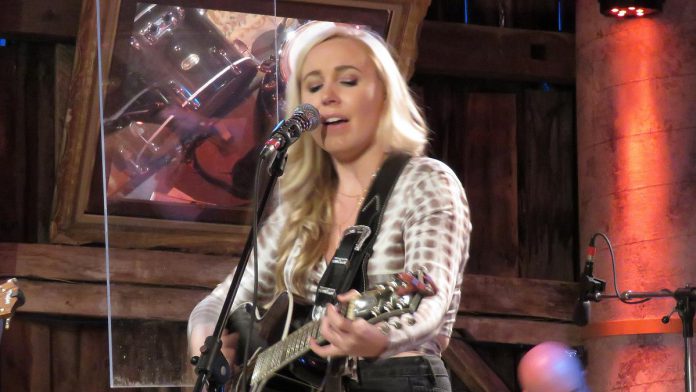 "We have two extra camera angles we didn't have before, and it's now wide screen and it's crystal clear. It's an upgrade that had to happen. It certainly made the post-production process a little easier for me."
Also integral was the contribution of an additional cameraperson in the form of Brian Tyson.
"Brian is a friend of mine from a long time ago in my earlier career as a corporate video producer/director," notes Tough. "He's done a lot of network and corporate camera work. Because of COVID, all of his gigs were cancelled, so he called me out of the blue and said 'Hey, you want some help?' That added a whole new element to the production value. His eye is fantastic."
Advertisement - content continues below
And for those who like a surprise … there's the raccoon who made a cameo appearance.
"Well, it is a barn and there is wildlife here," says Tough. "During SJ Riley's performance, a raccoon ran across the stage in the middle of one of her songs. No one on stage noticed it. I was on the camera and was like 'What the heck?' You'll see it in the first episode. I did a slow-motion replay so you can see the thing. We just had to include the special guest."
As the post-pandemic world slowly comes into view and musicians return to performing in front of live audiences, season three will likely mark the end of the Live! At The Barn series. Still, Tough has plans moving forward for his very unique barn performance space.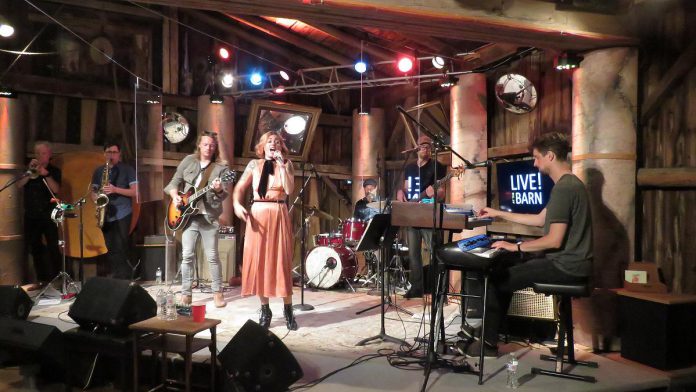 "Our original plan was to do corporate events here at the barn centred around team building, a day at the farm kind of thing," Tough explains.
"Having done this and seeing the reaction to the in-studio experience, we're going to push that idea as sort of the theme for live events next summer — 'Come and be part of the studio audience and see how a show is put together.'
"We had a small audience for the Bywater Call recording," he points out. "Having that little core of 10 guests electrified the band."
Advertisement - content continues below
"The barn itself kept morphing year after year as I added more things." Tough recalls. "I used to be an avid auction goer. I'd find all sorts of neat things. I've had all sorts of people walk around and look at the walls and say 'Look at that.' There's some history here and that opens up conversation."
While Live! At The Barn has been a labour of love for both Andy and Linda — some help has come by way of series sponsors including kawarthaNOW — Tough says it has been "heartening to provide an opportunity for people to feel good about what they do."
"I've had a lot of people who have been here tell me it's nurturing and good for the soul. That makes me very happy."
VIDEO: "Live! At the Barn" Season 3 Promo

As a long-time supporter of local music, kawarthaNOW.com is proud to be a media sponsor of Live! At The Barn.