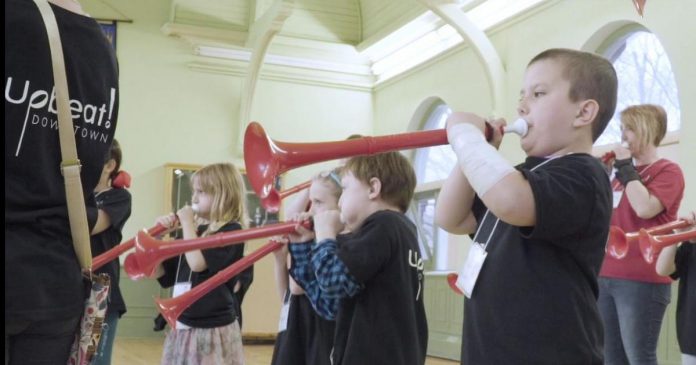 At its third virtual meeting this year, 100 Women Peterborough raised around $7,000 for Kawartha Youth Orchestra's 'Upbeat! Downtown', a fully subsidized after-school music program for children living in Peterborough who would otherwise not have access to music education.
The collective philanthropy group met on Zoom on Tuesday (September 21) to raise funds for an organization in need. Prior to the pandemic, the group met in person four times a year, with each of the 100 members committing to donate $100 at each meeting, for a total donation of $10,000. The group has been meeting virtually during the pandemic, with attendance at meetings optional in recognition of the financial impact of the pandemic on some members.
Whether meeting in person or virtually, the group hears presentations from three organizations randomly drawn from a larger list of organizations nominated by the group's members. The organization receiving the most votes from members receives the donations contributed by the group's members.
Advertisement - story continues below
The three organizations that presented to 100 Women Peterborough at Tuesday's virtual meeting were Kawartha Youth Orchestra, Habitat for Humanity, and Trent University's Fisheries Research Program. Kawartha Youth Orchestra was chosen by majority vote to receive the funds, and 100 Women Peterborough expects the total donation to be around $7,000.
Kawartha Youth Orchestra plans to use the funds for its Upbeat! Downtown program, modelled on an internationally acclaimed Venezuelan after-school music program for children facing socio-economic barriers through music.
"Upbeat! Downtown empowers children through music," Kawartha Youth Orchestra states. "It is an action-filled, fun-filled, ensemble-based experience for young children. Each week, through games, creative expression, musical instrument instruction and play, we learn how to build a caring community and how to take pride in ourselves and our contributions to the community."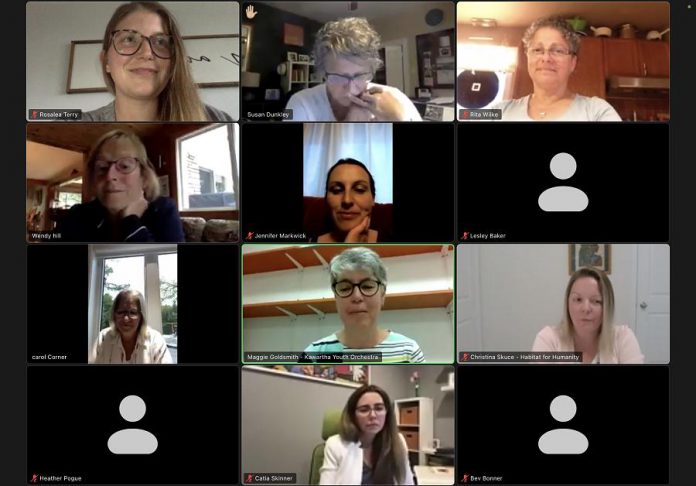 "Participant children come from across the city, speak many languages, represent many cultures and traditions, and have different life experiences. Together we are learning the global language of music and developing positive personal characteristics. 100 Women Peterborough's support helps ensure that all participating children benefit from skilled nurturing leadership that fosters the development of positive mental health and interpersonal skills and strategies. With 100 Women Peterborough's help, we can make a difference in each child's life."
100 Women Peterborough was founded in February 2018 by Rosalea Terry, Catia Skinner, Wendy Hill, and Alyssa Stewart, who were inspired by similar groups in other communities.
The concept of collective philanthropy began in the United States in November 2006, when Karen Dunigan of Michigan formed the "100 Women Who Care" group. After their first meeting, the women raised over $10,000 for the purchase of 300 new baby cribs for a local organization.
Advertisement - story continues below
The movement has grown over the past 15 years to include groups of men, women, youth, and children around the world, with more than 210 chapters in Canada alone.
Since its formation, 100 Women Peterborough has collectively donated more than $120,000 to 14 local organizations: Hospice Peterborough, Peterborough Youth Unlimited, One Roof Warming Room, New Canadians Centre, Cameron House, Five Counties Children's Centre, Casa De Angelae, Lakefield Animal Welfare Society, Community Care Peterborough, Kawartha Sexual Assault Centre, Community Counselling and Resource Centre, Peterborough Pregnancy Support Services, Heads Up for Inclusion, and Kawartha Youth Orchestra.
The group's final meeting of 2021 will be held on Tuesday, December 14th. 100 Women Peterborough is hoping to bring the group's size back to 100 members by the end of the year, so each organization moving forward will receive the $10,000 per meeting that the group had initially intended prior to the pandemic. Women who interested in joining 100 Women Peterborough should visit www.100womenptbo.ca for more information.