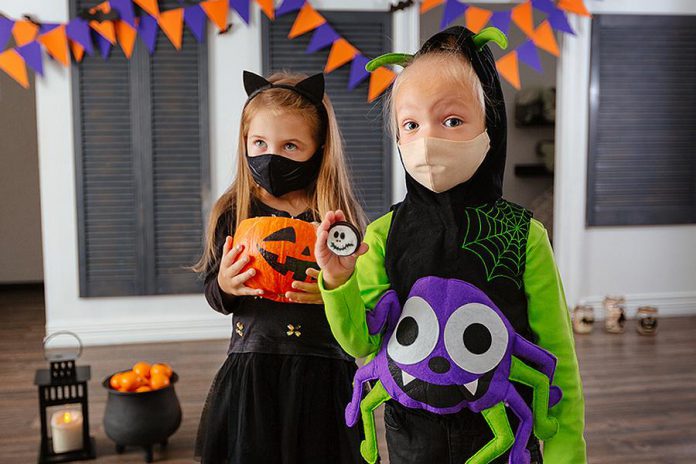 In advance of Halloween, Peterborough Public Health is sharing recommendations for how to plan fun and COVID-safe celebrations.
For those trick-or-treating:
Screen for COVID-19 symptoms before heading out. Stay home if you are experiencing symptoms or feel ill, even for minor symptoms like a runny nose.
Wear a cloth face covering when knocking on a door or going inside. A costume mask is not a substitute for a face covering. A costume mask should not be worn over a cloth face covering because it can be dangerous if the costume mask makes it hard to breathe.
Make sure costumes are visible at night by wearing bright or reflective clothing.
Avoid crowding in hallways or by doors. Do not sing or shout for your treats.
Wash or sanitize hands frequently. Make sure hands are clean before eating any treats.
Throw away anything homemade or repackaged treats. There is no need to clean or disinfect prepackaged treats.
Advertisement - story continues below
Some people may not feel comfortable handing out treats this year. Look for signage to indicate whether a house is participating and whether porch lights are on or off. Be respectful of personal
decisions whether to participate or not.
For those who are handing out treats:
Do not participate if you feel ill or are experiencing symptoms, even if they are mild.
Use tongs or other tools when handing out treats. Avoid leaving treats in a bowl for trick-or-treaters to grab.
Wear a face covering that fully covers your mouth, nose, and chin.
Keep interactions with trick-or-treaters brief and encourage them to move along after receiving their treat from you.
Place a sign by your door asking trick-or-treaters to knock instead of ringing the doorbell. If you do use a doorbell, try to frequently disinfect it.
Wash or sanitize hands frequently. Sanitize other frequently touched surfaces such as railings or doorknobs.
Give out only purchased, prepackaged treats.
For anyone who is looking to attend a costume party or other similar gathering, Peterborough Public Health reminds residents private social gatherings must be limited to 25 people indoors and 100 people outdoors, and encourages outdoor gatherings over indoor ones.
Advertisement - story continues below
If you are attending a social gathering, remember to wash your hands frequently and avoid sharing food or drinks with others. Be aware of who your close contacts are, and maintain physical
distancing. Hosts are encouraged to keep a list of guests in case contact tracing is needed.
For those not comfortable going out on Halloween, the health unit suggests other options including:
Making spooky snacks at home with your household.
Decorating your house. Have a contest with your neighbours. Remember to physically distance if you're not part of the same household and wear a non-medical mask or face covering if you can't keep two meters apart.
Having an outdoor scavenger hunt with those in your household.