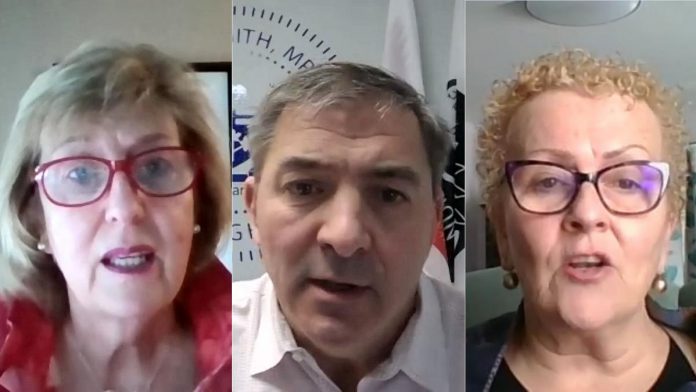 YWCA Peterborough Haliburton and the Kawartha Sexual Assault Centre are collectively receiving over $200,000 in provincial funding to help address the growing demand during the pandemic for rural services for women who have experienced violence and exploitation.
Haliburton-Kawartha Lakes-Brock MPP Laurie Scott and Peterborough-Kawartha MPP Dave Smith made a virtual announcement on Thursday (February 10), along with Kim Dolan, executive director of YWCA Peterborough Haliburton.
YWCA Peterborough Haliburton will be receiving $142,949 to support the Haliburton Emergency SafeSpace (HERS) program — which provides a safe space within Haliburton County so that women and their children can move away from the abusive situation in their home, without leaving their support systems, jobs and schools, families and friends behind — as well as an additional $8,272 for training initiatives.
Advertisement - content continues below
Tweet this quote
"The YWCA Peterborough Haliburton and Kawartha Sexual Assault Centre provide services to the most vulnerable members of our community," Scott said. "This funding will help ensure they can continue to deliver supports and operate local shelters during the pandemic, especially for those who are in rural and remote areas and face transportation barriers."
The Kawartha Sexual Assault Centre will be receiving $55,088 to deliver crucial services and supports to survivors of human trafficking and women who have experienced violence.
The funding will be used to support a collaborative project between Kawartha Sexual Assault Centre and Niijkiwendidaa Anishnaabekwewag Services Circle to provide public education (including events, conferences, and workshops) in Curve Lake First Nation, Alderville First Nation, and Hiawatha First Nation for human trafficking victims and survivors and those at risk of human trafficking.
"Today's funding will help so they can write a better ending to their story," Smith said during the announcement, acknowledging Scott's advocacy work for services for vulnerable women in her riding.
Advertisement - content continues below
Tweet this quote
The funding from Ontario's Ministry of Children, Community and Social Services is part of the Ontario government's $3.6 million investment in rural frontline agencies to address the growing strain on services due to COVID-19.
According to Dolan, calls to the HERS program from women experiencing gender-based violence have increased throughout the pandemic.
"For women who are living with violence, there's always unpredictability and uncertainty," said Dolan. "(The pandemic has) added additional barriers to women who are contemplating leaving. It's made it much more complicated for women to reach out and for services to reach in."