In the face of adversity, the uniting power of music — and particularly the joy of sharing music with others — has prevailed to bring the Peterborough Pop Ensemble to a very good place.
That will be very much in evidence on Saturday, June 4th when Peterborough's 'musical ambassadors' return to the Market Hall Performing Arts Centre in downtown Peterborough to present "And The Beat Goes On!" General admission tickets to the 7 p.m. performance are $25 ($15 for those 16 and under) and are available at the Market Hall the box office and online at markethall.org.
According to longtime ensemble member and board member Melissa Cronkwright, the road to this concert has been a challenging journey that began in October 2019 with the devastating loss of ensemble founder, director, and inspirer-in-chief Barbara Monahan at age 59 after a brief battle with cancer.
Advertisement - story continues below
Tweet this quote
"We took some time off because we needed to grieve," recalls Cronkwright, a soprano who came into the ensemble fold in 2012. "This was Barb's group. She was the director. She was the head of the board. She wrote the songs. She picked the music. She did the arrangements. She did everything."
"We were very concerned that we weren't going to make it," Cronkwright adds. "There were conversations around should we even try … if Barb's not going to be part of it, do we even try? We went to Barb's family and said if you want this (the ensemble) laid to rest with Barb, we will. They looked at us and said absolutely not. It wasn't a question."
That settled, the ensemble came together for a concert four months later on February 20, and the future looked bright. But COVID had other plans, putting a halt to all live music performances in March 2020 for the foreseeable future. If that wasn't enough, the ensemble's board disbanded — a combination of board terms ending and some not returning.
The fallout of these worlds colliding was an absence from performing for almost two years, with the ensemble's December 2021 "Christmas Is" concert at Peterborough's Emmanuel United Church marking its return to what it loves to do and does so very well.
"We're still rebuilding and we know that," says Cronkwright, a teacher at Apsley Public School where she also instructs a small instrumental music program. "I don't think anybody is ever going to say we're going to be stronger without Barb. That won't happen, but we have come together and we're building it back up."
Anchoring ensemble members' determination to move forward, much as it has since the ensemble was founded in 2000, is an unabashed "love of the particular type of music we're doing."
"Other choral groups do a lot of religious music or a lot of big pieces like Handel's Messiah," Cronkwright points out. "We do the songs you hear on the radio, so there's that fun factor of the music."
But there's something else that can't be overstated.
"It's the relationships that you make on day one (of being a member). My very first day, I was nervous as anything. Barb had assigned Maureen (Harris-Lowe) to be my mentor. She was the one who greeted me when I came through the door."
"She said 'You must be Melissa' and I said 'Yes' and I was getting a hug. I was like 'I don't know who you are but you're hugging me.' Then the next person came to me and introduced themselves. It was minute one and you were in."
Advertisement - story continues below
Tweet this quote
As well as showcasing some very familiar pop music tunes, And The Beat Goes On! on June 4 is also billed as a celebration of the ensemble's 20th anniversary — a milestone that would have been marked with a concert in COVID-darkened 2020.
It was in 2000 that Peterborough Singers director Syd Birrell asked Monahan, a much-respected and loved Kenner Collegiate music teacher, to lead a small choral group to perform a selection of popular songs for a Velantine's Day concert. That initial group, known as the Peterborough Singers Pop Ensemble, stayed at it and performed independently, breaking away from the Peterborough Singers and adopting the Peterborough Pop Ensemble handle in 2008.
When the ensemble takes to the stage at Market Hall on June 4, it will include amongst its number four original members: Madeleine McDonald, David Hunter, Ken Gray, and Maureen Harris-Lowe who, along with Arlene Gray, is now co-director of the group — fulfilling a request made by Monahan for how the ensemble should be governed following her passing.
"The beginning of the (June 4) show is going to mark a new beginning of the group," Cronkwright says. "When the group started, it performed a lot of a cappella pieces with Barb at the piano. It sang songs like Good Old A Cappella and Java Jive — quite old songs that didn't require any accompaniment."
"Before COVID, we were supposed to celebrate our 20th anniversary," she adds. "Barb asked the group for their favourite songs, so we have a selection of group favourites that we're going to showcase as well, like Leonard Cohen's Hallelujah."
VIDEO: Peterborough Pop Ensemble rehearsing "Big Yellow Taxi"
Just a snipit of Joni Mitchell's' Big Yellow Taxi'. We will be unmasked and ready to sing for you on June 4th at Market Hall. Get your tickets now!

Posted by Peterborough Pop Ensemble on Thursday, May 19, 2022
The second half of the concert, says Cronkwright, will see a number of ABBA songs, originally arranged and practised for an earlier planned tribute to the Swedish pop band, performed as well as a selection of pop music hits from the 1970s including Joni Mitchell's "Big Yellow Taxi." Augmenting each song performance will be a pit band comprised of Barry Haggerty, Andrew Affleck, Janina Krau, and Kyle Monahan — Barb's son.
"We hope it's pleasing to the ear," says adds. "That's our first priority, but we make it a show. There's movement, there's dancing, and there's costume changes. We start out wearing black t-shirts and jeans to demonstrate the simplicity of when we got started."
"When we get to the '70s, you're going to see a lot of colour. And we have ABBA costumes — oh, they're something. And The Spice Girls are going to hit the stage. I'm Baby Spice. My dress won't be quite as short as what she would wear."
Tweet this quote
Cronkwright adds audience members will be greeted by "lots of smiles, not only from the stage but also to their right and left and all points in between."
"We love seeing the audience singing with us and dancing and all that kind of stuff. It gives us the feeling that we're making a difference in people's lives. With everything that society has been through over the last two years, that's what we need right now."
Advertisement - story continues below
And yes, Monahan will be very much present, if not in body than certainly in spirit.
"There's a line in one of the songs we're singing, Fire and Rain, which was sung at Barb's funeral," Cronkwright says. "It's a song that was near and dear to her heart. The line says 'Hours of time on the telephone line to talk about things to come.' There isn't one of us that can get through that line without a smile or a tear. I already have my Kleenex in my folder."
"The emcee is Gord Gibb. He's going to say a few words (about Monahan). It makes me cry just thinking about it. And of course, she's in so many of the pictures in the slide show. She is definitely going to be there."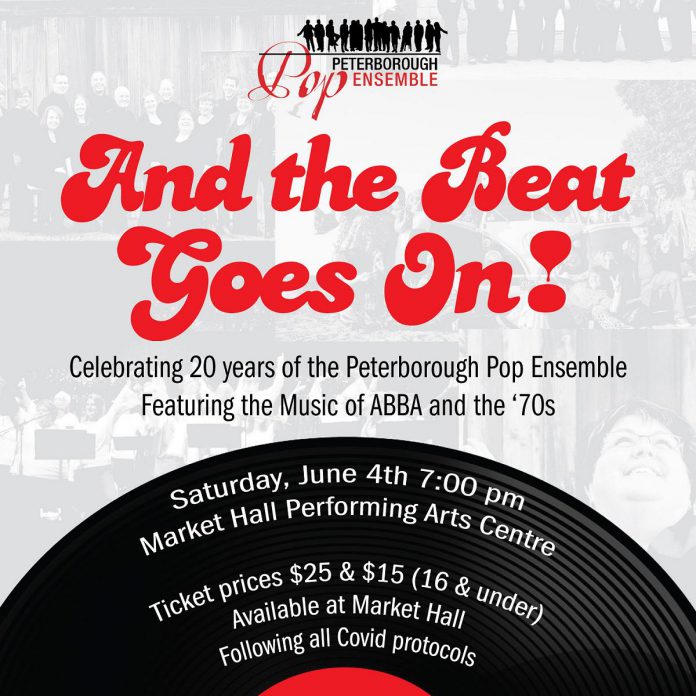 Tweet this quote
For Cronkwright, who grew up singing in church, high school, and university choirs, her thoughts revert back to her first encounter with Monahan — an introduction that came about as a result of her drummer husband's involvement with the ensemble at the time.
"After my son was born — I have two children — it was 'Mom needs a hobby to get her out of the house.' I don't knit or do any of those kinds of things. I sing. My husband said 'You've got to get out there and do this.'"
Ten years on, she's still doing it, looking forward to not only the upcoming show but also a busy 2002 with a June 10th concert at Activity Haven, a return performance at Peterborough's Dragon Boat Festival on June 11th, and the annual Christmas concert at Emmanuel United Church.
"I'm very anxious," she admits. "I want to get back on the stage and make that connection with the audience. We all do. We're all very ready for it."
For more information on the Peterborough Pop Ensemble, visit www.popensemble.com.