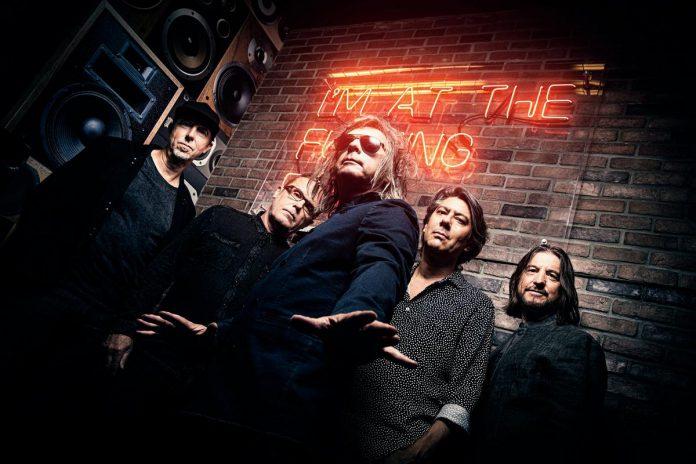 Monday, December 8, 1980. As events that would first horrify, and then sadden, the world unfolded outside of John Lennon's residence in New York City, Neil Osborne, Brad Merritt, and Ian Franey performed their first gig as 54-40 in Coquitlam, BC.
Such is the circle of life. As Mark David Chapman's hateful barrage took away one of the world's most beloved and gifted songwriters and musicians, a Canadian alternative rock treasure was taking its first baby steps. Forty-plus years and eight Juno Award nominations later, 54-40 is still delivering the goods, satisfying the appetite of longtime fans while winning new ones.
Franey is long gone but Osborne (vocals/rhythm guitar) and Merritt (bass), friends since high school, remain front and centre, joined by Dave Genn (lead guitar), Matt Johnson (drums), and David Osborne (organ/saxophone).
On Wednesday, July 27th, 54-40 returns to Del Crary Park — they last performed there almost three years ago to the day — as Peterborough Musicfest's milestone 35th season continues. As has been the case since the concert series debuted in July 1987, admission to the 8 p.m. concert is free.
Advertisement - story continues below
While a coveted Juno statue has eluded the band, 54-40's catalogue of work is as impressive as it gets. With 14 studio albums to its credit, the West Coast-bred quintet's music has remained relevant in a world where fame is more often of the fleeting variety as opposed to enduring.
With the release of its debut album Set The Fire in 1984, attentive ears perked up to 54-40's blending of roots rock, folk, pop, country, and alt-rock influences. Two years later, their self-titled follow-up album brought forth two singles of note, "I Go Blind" and "Baby Ran" that, while failing to chart, remain must-be-heard songs at the band's live shows.
In 1994, "I Go Blind" was given a new lease on life when American rockers Hootie & the Blowfish recorded its cover of the song; a rendition that catapulted spent 39 weeks on Billboard's Hot 100 and was featured in an episode of the hit '90s sitcom Friends. Suddenly, everyone was blowing the dust off the 1986 original.
VIDEO: "I Go Blind" – 54-40

VIDEO: "I Go Blind" performed by Hootie & The Blowfish

As for 54-40, the band first cracked the Canadian singles chart in 1987 with the single "One Day In Your Life" from Show Me — a commercial breakthrough built upon in 1992 with Dear Dear. That album was certified platinum, a feat achieved in 1994 and again in 1996 by the albums Smilin' Buddha Cabaret and then Trusted By Millions. High-charting singles "Nice To Luv You," "She La," "Ocean Pearl," "Love You All," and "Lies To Me" cemented 54-40's position as a premier Canadian music act.
Since 1998's gold-certified Since When and its hit title track, 54-40 has recorded six albums, the latest being 2018's Keep On Walking.
"There's continuity when you look at our records," said Merritt in an October 2018 interview with Peter Lozinski of the Prince Albert Daily Herald.
Advertisement - story continues below
"We've quite often put something out and then the next thing we do is turn 180 degrees and say 'This is a rock record. We're going to do something a little more personal singer-songwriter style. This one we're going to do heavy jams and build it up that way and the next is going to be an eclectic thing just to see where the music takes us.'"
As such, 54-40's music style has been hard to pigeonhole, which suits Merritt et al just fine. Such unpredictability, however, isn't a staple of their live performances.
"We figure there are about 10 or 11 songs we have to play no matter what," said Merritt. "Generally we're doing at least 50 per cent more than that, if not twice as many songs. We certainly pull songs from various records that reflect the way we're thinking; the way we represent ourselves and what we want to do."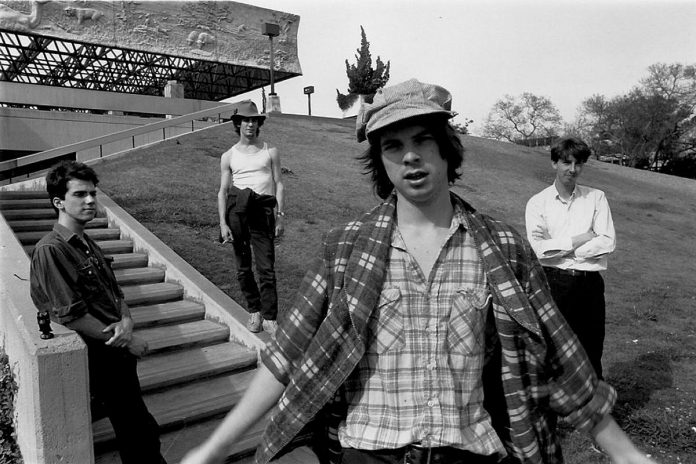 The band's extensive catalogue has given it staying power, according to Genn in an April 2018 interview with Cassie de Jong of The Cascade. Reflecting on a meeting several years earlier with a branding expert, Genn said that process confirmed that the band's music is its brand.
"We thought about what people say when they come to our shows and the thing we hear the most is 'I had no idea you guys played so many songs that I know,'" said Genn.
"That's kind of a blessing and a curse. It's testament to the fact that we have this catalogue and so many songs that people are familiar with and that people love. On the other hand, they haven't necessarily put a band name or a face to those songs."
Advertisement - story continues below
Four decades plus since Merritt coaxed Osborne to return to Vancouver and its burgeoning punk rock scene from Boston's Berklee College of Music, 54-40 is enjoying the fruits of its sustained success. In 2011, the band was inducted into the Western Canada Music Awards Hall of Fame and, six years later, was awarded entry into the Canadian Music Hall of Fame.
Meanwhile, because enquiring minds need to know, the band's name is a nod to an American political slogan from the 1840s — Fifty-four Forty or Fight! — that called for the American annexation of what is now British Columbia.
You can bet that thousands of fans of 54-40 are grateful that didn't come to pass.
VIDEO: "Ocean Pearl" – 54-40

VIDEO: "She-La" – 54-40

VIDEO: "Casual Viewin'" – 54-40

Advertisement - story continues below
Peterborough Musicfest is presenting 16 free-admission concerts during its milestone 35th anniversary season, each staged Wednesday and Saturday nights at Del Crary Park in downtown Peterborough.
Overseen by general manager Tracey Randall and staff, a board of directors, and numerous volunteers, Peterborough Musicfest's stated mission remains "to provide diverse, affordable live music to enrich cultural and economic prosperity in our community."
For more information on this concert or the entire 2022 season, visit www.ptbomusicfest.ca or phone the Peterborough Musicfest office at 705-755-1111.