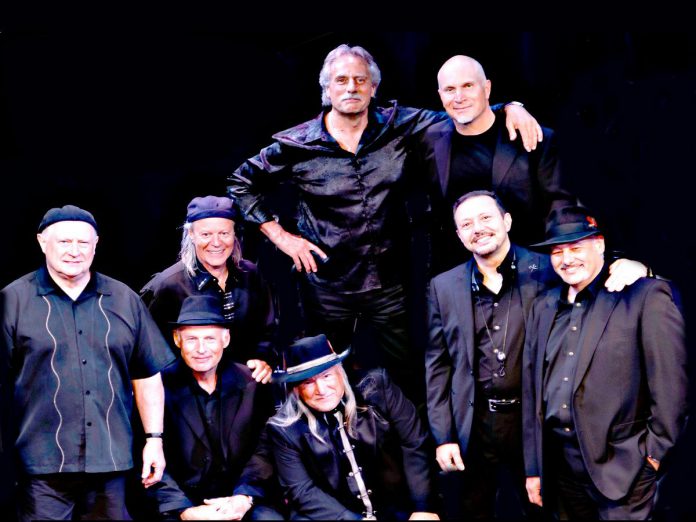 When one reflects on the great horn bands of music eras past, the resulting list is long and impressive. The orchestras of Glenn Miller and Benny Goodman, Lighthouse, Blood Sweat and Tears, Tower of Power, and The Memphis Horns come to mind quickly.
But there's another list populated by just one band … and rightly so.
Close to 55 years after forming, Chicago has been and remains in a league of its own when it comes to brass-infused popular music that still resonates with the masses years after it debuted. That fact hasn't been lost on Hamilton-based Powerhouse that, in the early 1990s, pulled together a full (horn) blown tribute to Chicago.
On Saturday, August 13th at Del Crary Park, Peterborough Musicfest welcomes Chicago Transit as the festival's 35th season counts down to its August 20 conclusion. Admission to the 8 p.m. concert, as always, is free.
Advertisement - story continues below
Originally formed in 1985 to pay tribute to 1960s-era horn bands as well as perform soul, R&B, and Motown classics, Powerhouse quickly gained quite a following in Steeltown. Buoyed by that success, Carlo Di Battista (trumpet/flugelhorn/vocals) et al later opted to take a crack at Chicago's extensive catalogue of hit music and turn that attempt into a full tribute called Chicago Transit.
Billed as the first and longest-running Chicago tribute act in the world, Chicago Transit features four lead vocalists and a three piece-horn section, not unlike the Grammy-awarded band it pays homage too.
Also featured is a five-piece rhythm section, providing the pulse for Chicago hits such as "Make Me Smile," "25 Or 6 To 4," "Saturday In The Park," and "Feelin' Stronger Everyday," toning things down for softer ballads such as "Colour My World" and "If You Leave Me Now."
VIDEO: Chicago Transit promo

Chicago Transit has headlined at festivals, theatres, casinos and other venues across North America, earning praise from the band it so very well brings to life for audiences. On Canada Day in 2016, Powerhouse brought its Chicago salute to Del Crary Park as the opener of Peterborough Musicfest's 30th season.
As for the tribute band's namesake, Chicago originally formed as The Big Thing in 1967 before calling themselves Chicago Transit Authority in 1968 and then shortening the name to Chicago in 1969, when they released their self-titled debut double album — a rarity at the time for a band's first release. And what a debut it was, with the album soaring to number 17 on the Billboard 200 album chart and selling more than one million copies to earn platinum status.
Album after album, and hit after hit, followed through the 1970s into late 1980s — a remarkable run that saw Chicago record and release a new album every year. Chicago albums have been fewer and further between since, but this past July saw the release of Chicago XXXVIII: Born For This Moment — the band's 38th album featuring the new single "If This Is Goodbye."
Advertisement - story continues below
The recipient of a Grammy Lifetime Achievement Award in 2020 (Chicago has been nominated for 10 Grammy awards, winning for "If You Leave Me Now"), the band's original lineup was inducted into the Rock and Roll Hall of Fame in 2016.
Original founders Robert Lamm, Peter Cetera, and James Pankow awarded entry to the Songwriters Hall of Fame the following year. Lamm and Pankow, along with Lee Loughnane, remain with Chicago today as original members of the 11-member band lineup.
What started inconspicuously as "a rock and roll band with horns," Chicago remains one of the top-selling bands of all time with albums sales in excess of 100 million. In total, 23 Chicago albums have been certified gold, 18 have earned platinum status, and eight have achieved double-platinum credit.
VIDEO: "Saturday in the Park" / "Does Anybody Really Know What Time It Is?" – Chicago

VIDEO: "25 or 6 to 4" – Chicago

VIDEO: "If You Leave Me Now" – Chicago

Advertisement - story continues below
Peterborough Musicfest is presenting 16 free-admission concerts during its milestone 35th anniversary season, each staged Wednesday and Saturday nights at Del Crary Park in downtown Peterborough.
Overseen by general manager Tracey Randall and staff, a board of directors, and numerous volunteers, Peterborough Musicfest's stated mission remains "to provide diverse, affordable live music to enrich cultural and economic prosperity in our community."
For more information on this concert or the entire 2022 season, visit www.ptbomusicfest.ca or phone the Peterborough Musicfest office at 705-755-1111.